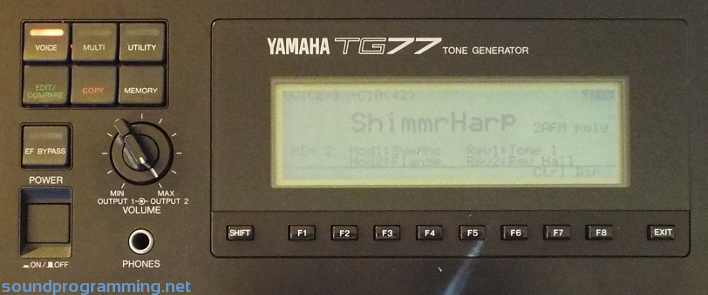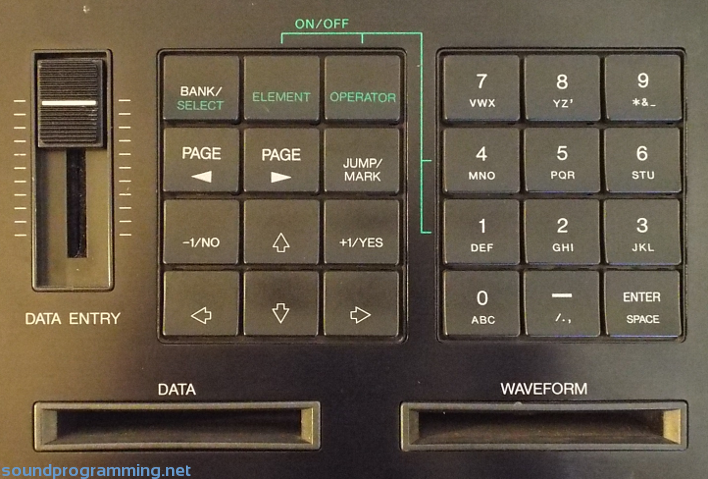 The TG77 is a hybrid synthesizer that combines 6-operator FM and AWM2 synthesis for some very expansive sound creation capabilities. Yamaha refers to the FM synthesis as AFM, meaning Advanced Frequency Modulation. The "advanced" part comes from the availability of extra oscillator waveforms - 16 in all, with 45 different algorithms available. Each of the two engines is 16-note polyphonic, allowing for up to 32 notes of polyphony depending on how sounds are structured.
The TG77 is a rackmount version of the Yamaha SY77. It lacks a sequencer, but is otherwise nearly identical. The Yamaha TG55 is an AFM-only rackmount tone generator from around the same time and uses the same button style.
It has PCM waveform and data card slots, and expansion cards typically come in pairs. View the available expansion cards.
The display back light commonly burns out on these units. It can be replaced, and the screen is usable without it, but it is harder to read without a working backlight.
Yamaha LSI Chips used in the TG-77:
YM3029 (x3) - DAC. (Four channels per DAC).
YM7102 (x2)
YM7103 (x2)
YM7107 (x2)
YM7119 (x2)
Specifications
Year Released: 1990
MSRP: $1995.00
Polyphony: 32 notes
Multitimbral: 16 parts
Preset Patches: 128
User Patches: 64
Preset Performances: 16
User Performances: 16
ROM: 4MB (112 waveforms)
Effects: 2 digital effects processors
Screen: 240 x 64 pixel backlit LCD
Outputs: 12 x 1/4 inch (2x stereo pair, 8x individual)
Power Consumption: 28 watts
Dimensions: 490 mm x 390 mm x 132 mm
Weight: 8 kg
This is a 3-space rack unit.
User Demo Videos
Rating
Sound Samples
WAV samples are available on freewavesamples.com.
File Downloads
Items for Sale on Reverb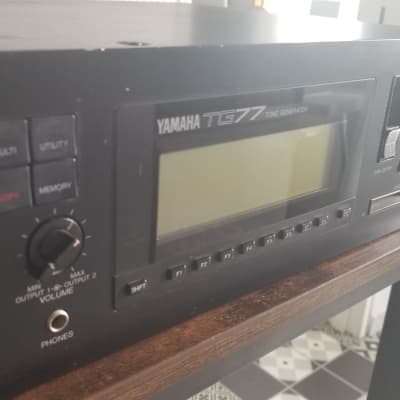 Yamaha TG77 black ($1,237.53)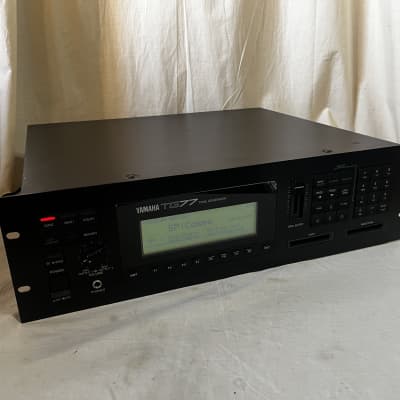 YAMAHA TG77 TONE GENERATOR New internal battery & display backlight panel SY77 ($550)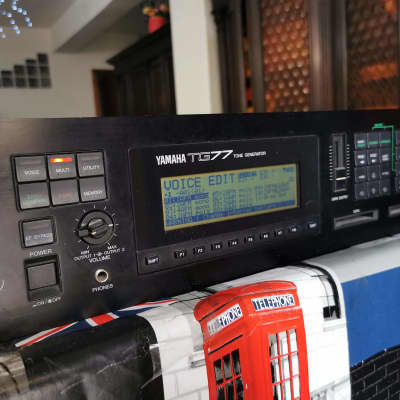 Yamaha TG77 1990 Glorious Synth ($517.51)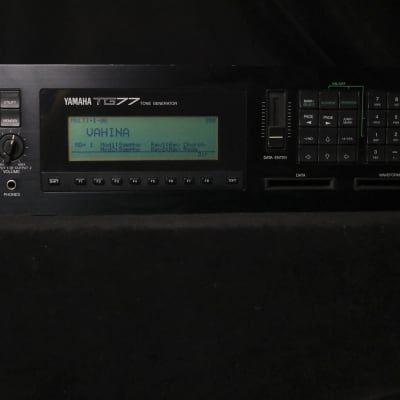 Yamaha TG77. New backlight ($731.27)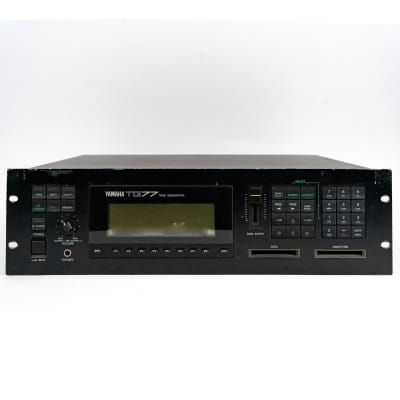 Yamaha TG77 Rackmount FM Synthesizer Synth Tone Generator ($675)
Yamaha TG77 Tone Generator 1990 - Black ($562.52)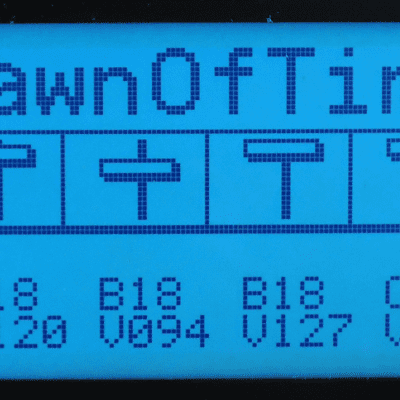 YAMAHA 90' Rétro éclairage partie LCD Ecran TG77 SY 77 SY99 QS300 W5 W7 DEQ5 ($29.25)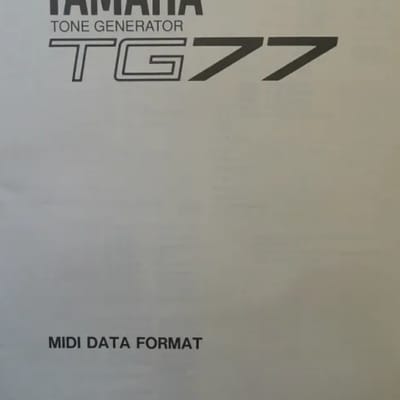 Rare Original YAMAHA 90' TG77 TG-77 SY MIDI DATA FORMAT UK English DE FR ($6.75)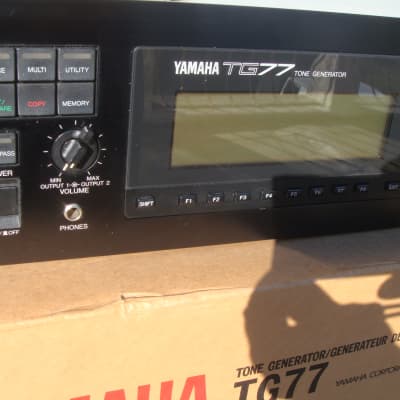 Yamaha 10000 SOUNDS Library for SY77 SY99 TG77 TG SY .syx format download ($21.38)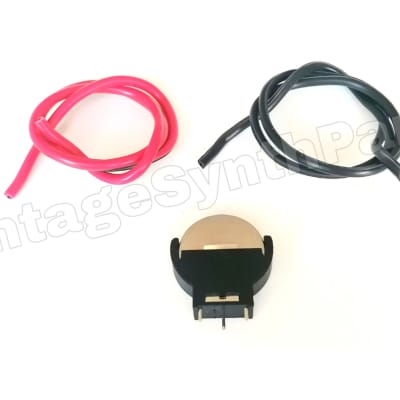 YAMAHA dx7, dx7 II, dx9, dx27, dx100 tg77 sy77 tx802 tx7 - Battery Replacement fix ($11.19)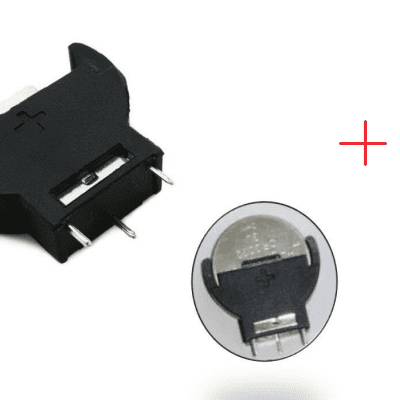 Yamaha DX7 DX7 II DX9 DX27 DX100 TG77 SY77 TX802 TX7 - Battery Replacement ($11.19)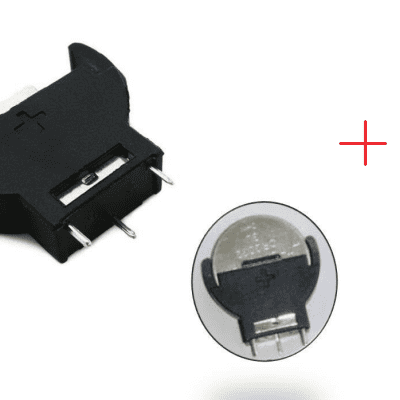 Replacement 3V Battery for Yamaha DX7 TX7 DX21 TG77 RX15 RX17 RX21 + many others ($11.19)
Yamaha SY77, SY55, SY99, TG55, TG77, V50 Battery ($4.99)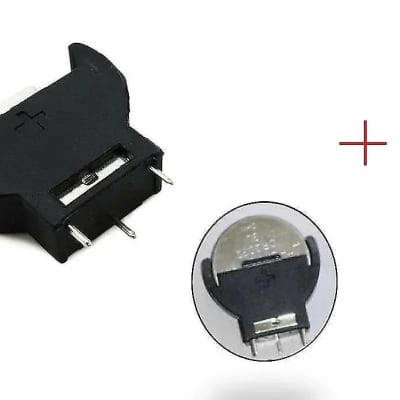 Yamaha SY77, SY55, SY99, TG55, TG77, V50 - Battery 3V Replacement Repair Fix V-50 ($11.19)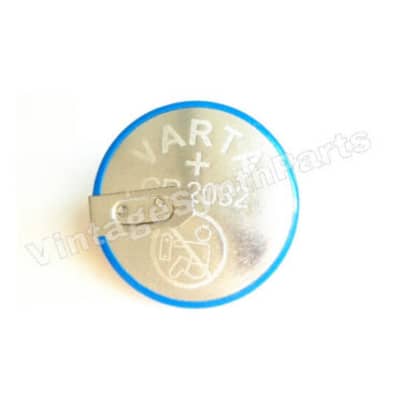 Yamaha SY77, SY55, SY99, TG55, TG77, V50 Battery ($5.57)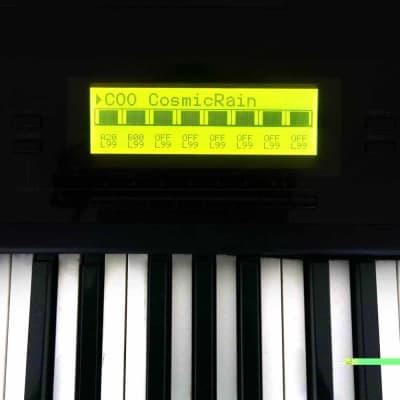 LCD Display for Yamaha TG77 yellow with cable Kit ($82.51)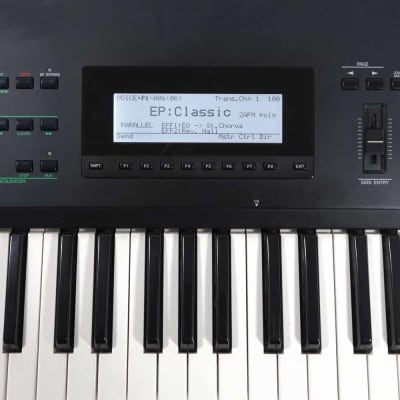 LCD Display white with cable Kit for Yamaha TG77 ($82.51)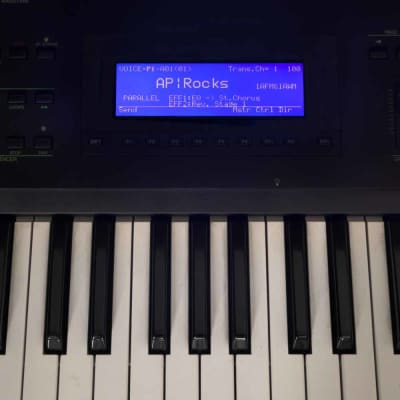 Yamaha TG77 LCD Display blue with cable Kit ($82.51)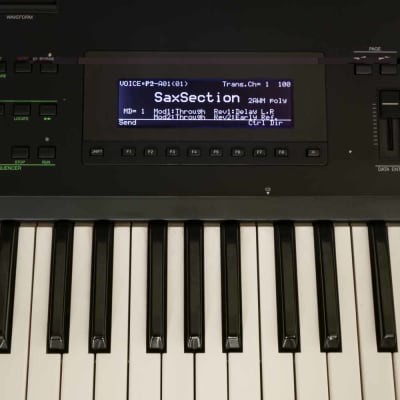 Yamaha TG77 new LCD Display black with cable Kit ($82.51)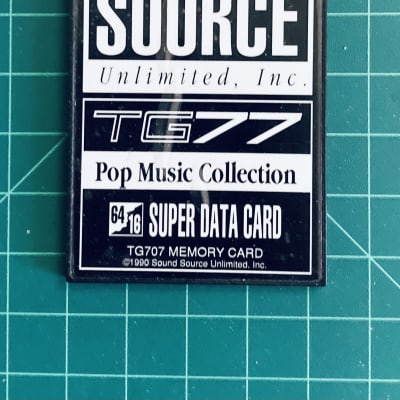 SOUND SOURCE UNLIMITED SUPER DATA CARD: Yamaha TG77 Pop Music Collection Memory Card-TG707 1990 ($72)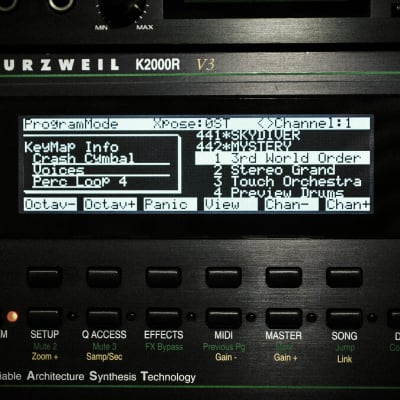 Graphic Display Upgrade - Yamaha TG-77 SY-77 SY-99 Kurzweil K2000 K2000R K2000VX ($170.64)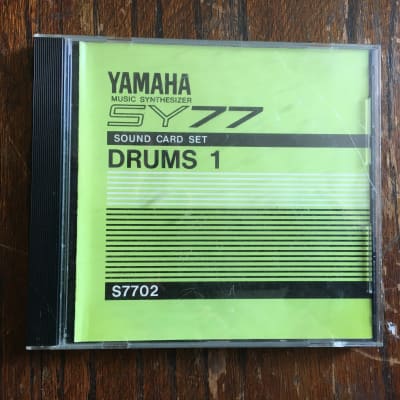 Yamaha SY77 Drums 1 — Sound Card Set SY7702 — Japan 1990 — rare PCM/ROM for SY77/TG77 ($185.63)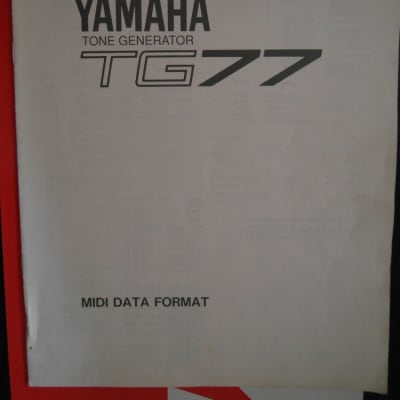 YAMAHA tone generator TG-77 original MIDI DATA FORMAT Book control change OOOOOO ($15.75)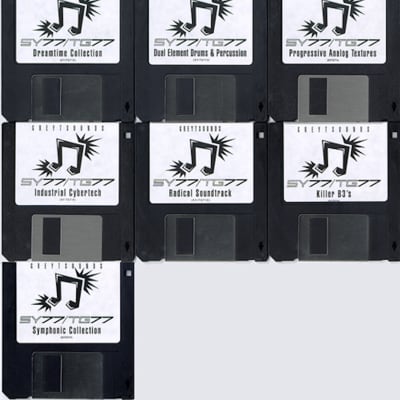 Yamaha SY 77 / TG 77 Synth Patches • 13 Bank Set • Digital Download ($35)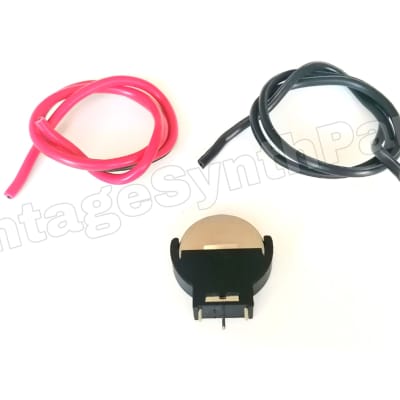 YAMAHA tg33 sy35 sy55 sy77 sy99 - Battery Replacement fix ($11.19)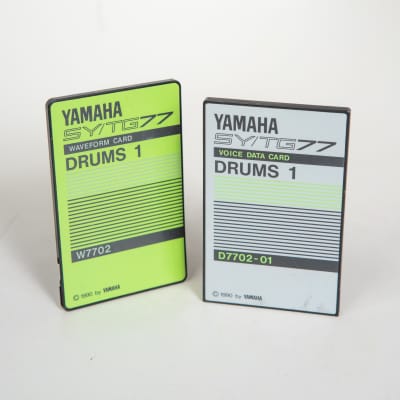 YAMAHA TG/SY77 DRUMS 1 WAVEFORM + VOICE DATA CARD W7702 D7702-01 ($150)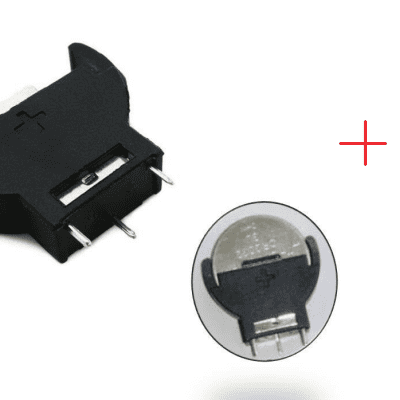 Yamaha TG33 SY35 SY55 SY77 SY99 - Battery Replacement Fix + Wire ($11.19)