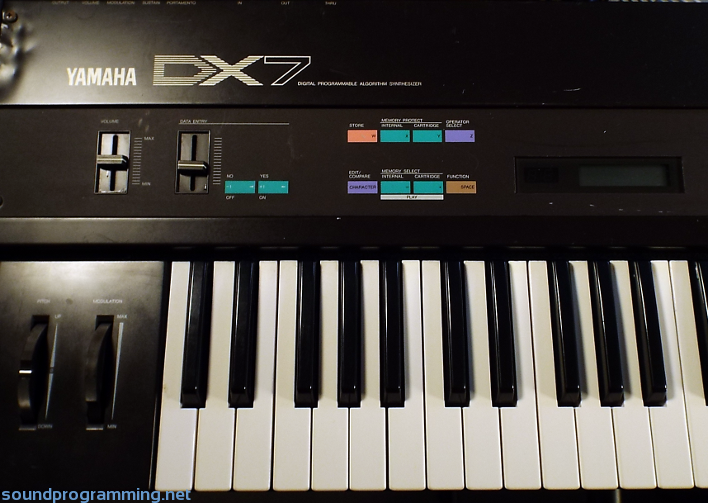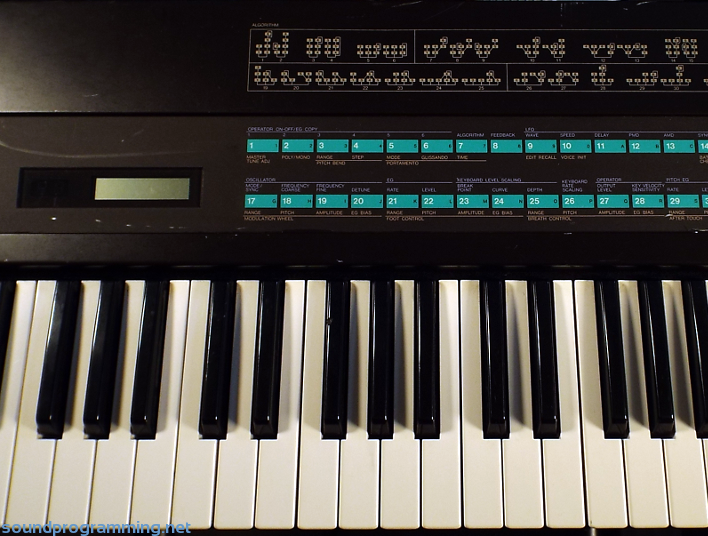 The Yamaha DX7 is a six-operator FM synthesizer and one of the best-selling hardware synths of all time, with more than 200,000 units sold. Its sound dominates many recordings from the 1980's.
The DX7 is also available in rackmount form as the TX802. The DX1 and DX5 were higher-end models and the DX9 a lower-end model available at the same time. Revised versions of the DX7 were released as the DX7S, DX7IID, and DX7IIFD.
A number of aftermarket ROMs and modifications were produced, including the Grey Matter E! board and the SuperMax. They had various features, including more patch memories, better MIDI support, arpeggiators, delay, layering improvements, and other features.
The DX7 engine was reimplemented in the PLG100-DX and PLG150-DX plugin boards, and later as the Yamaha Reface DX.
Specifications
Year Released: 1983
MSRP: $1995.00
Keyboard: 61 keys with velocity and aftertouch
Polyphony: 16 notes
Multitimbral: 1 parts
User Patches: 32
Power Consumption: 40 watts
Dimensions: 1018 mm x 329 mm x 102 mm
Weight: 15 kg
Firmware Revisions (ROM XC314):
Version 1.1 released 12-1986
Version 1.2 released 01-1987
Version 1.3 released 01-1987
Version 1.5 release date unknown (Japanese market)
Version 1.6 released 04-1987 (has built in test program)
Version 1.8 release date unknown (servicing ROM XC314006)
Version 1.9 released 07-1988 (servicing ROM XC314007)
User Demo Videos
Rating
Sound Samples
WAV samples are available on freewavesamples.com.
File Downloads
Yamaha DX7 and DX9 Service Manual
Items for Sale on Reverb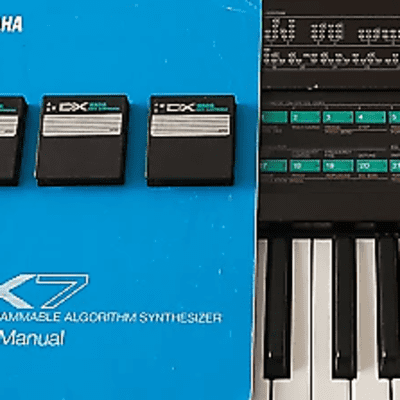 Yamaha DX7 mk II for Nord (FREE)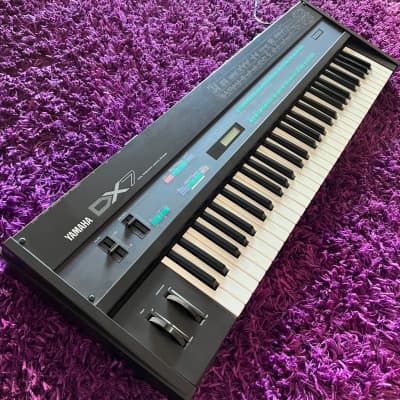 Yamaha DX7 Keyboard Synthesizer (w/ Road Case) (Made in Japan) ($787.55)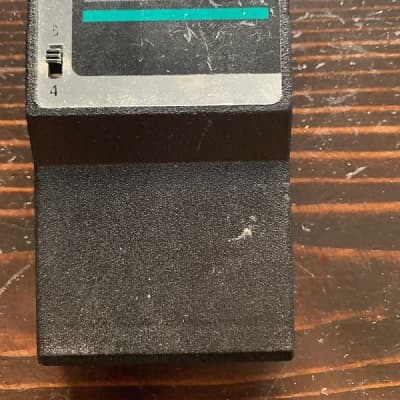 Yamaha DX7 Data RAM Cartridge 128 ($95)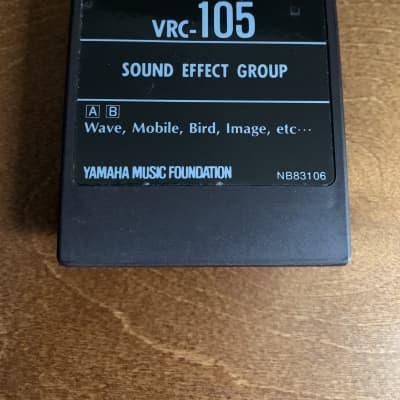 YAMAHA Yamaha DX7 Voice ROM VRC-105 ($89.65)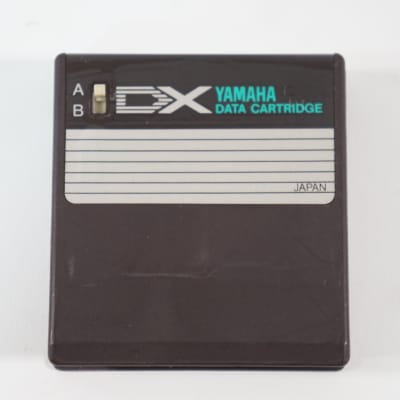 Yamaha DX DATA CARTRIDGE DX7 Voice ROM VRC-105 SOUND EFFECT Group for DX7 Synthesizer ($89.99)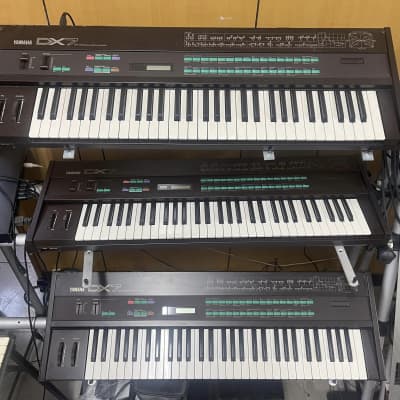 YAMAHA DX7 Digital Algorithm Synthesizer ($800)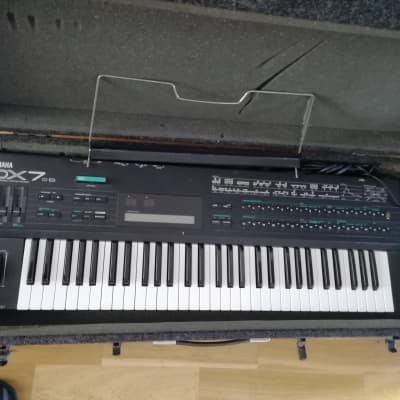 Yamaha DX7 Programmable Algorithm Synthesizer 1983 - 1987 - Black ($1,050)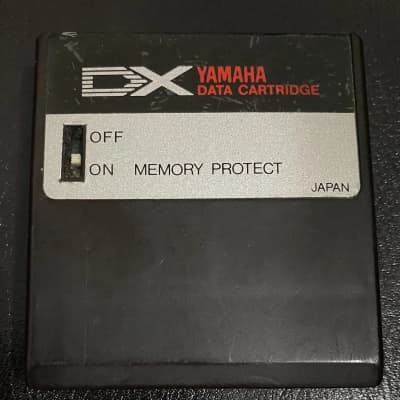 Yamaha DX7 Data ROM Cartridge ($49.99)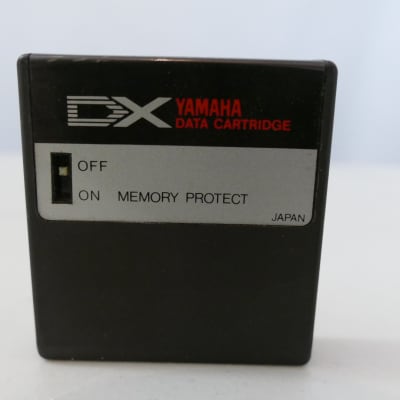 Yamaha DX7 RAM1 Cartridge - loaded with Ambient Sounds ($71.99)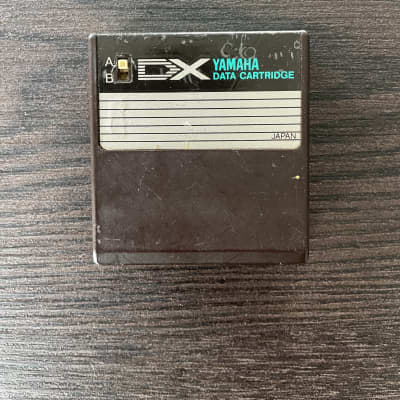 Yamaha DX7 Data ROM Cartridge ($74.22)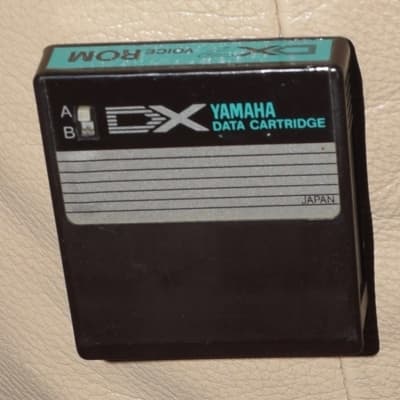 Yamaha DX7 Data ROM Cartridge #1 Master Group ($77.29)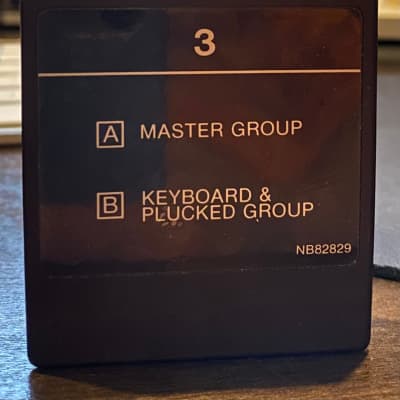 Yamaha DX7 Data ROM Cartridge 3 ($110)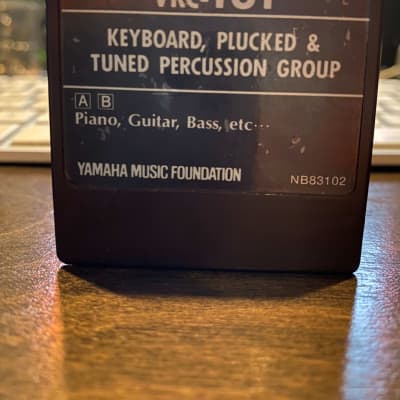 Yamaha DX7 Data ROM VRC-101 Keybord, Plucked, & Tuned Percussion Group RARE ($180)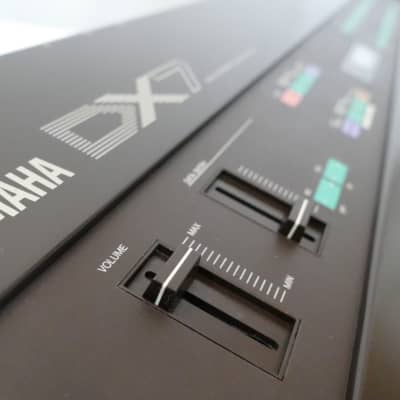 Yamaha DX7 Digital FM Synthesizer - Super Fresh ($699.99)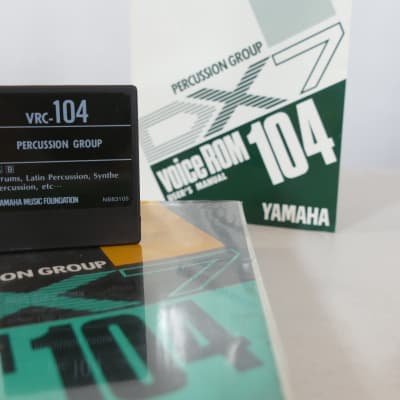 Yamaha DX7 - VRC-104 Sound Cartridge - Drums and Percussion Group - DX TX VRC ($79.99)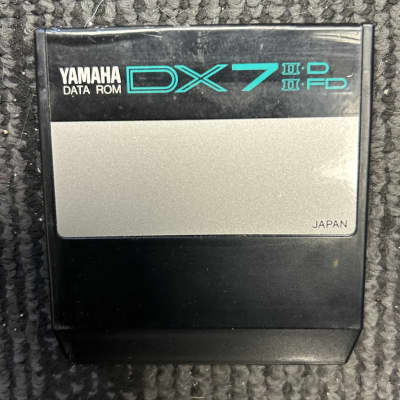 Yamaha DX7 II-D / II-FD Data ROM Cartridge ($108.21)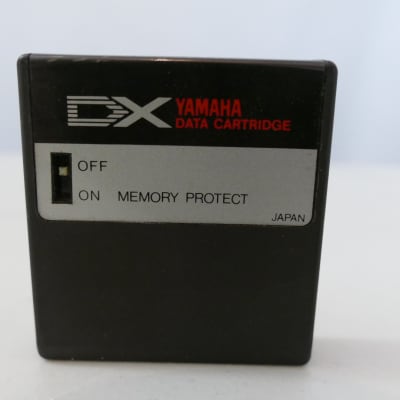 Yamaha DX7 Ram1 Cartridge - Loaded with FM Piano and Rhodes Sounds ($71.99)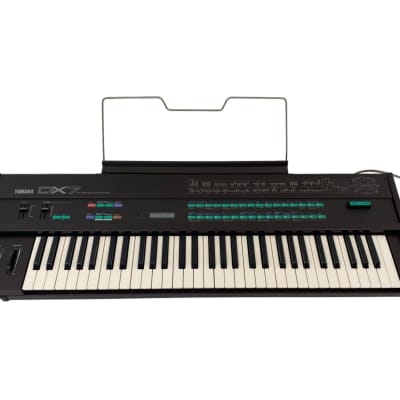 Yamaha DX7 Synth - Data Card - ROM Upgrade - Pro Serviced - Warranty ($1,560.40)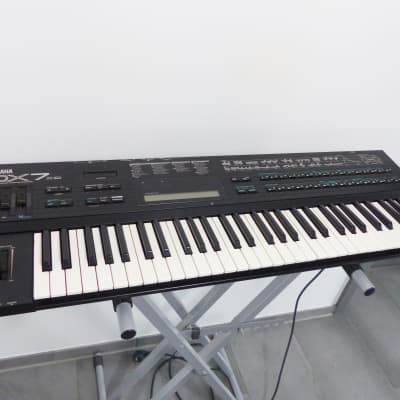 YAMAHA DX7 - 61 Tasten vintage Synthesizer +1 Jahr Gewährleistung ($713.81)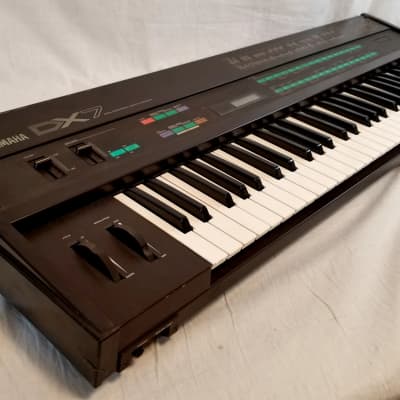 Yamaha Vintage DX7 Programmable FM Algorithm Keyboard Synthesizer ($599.99)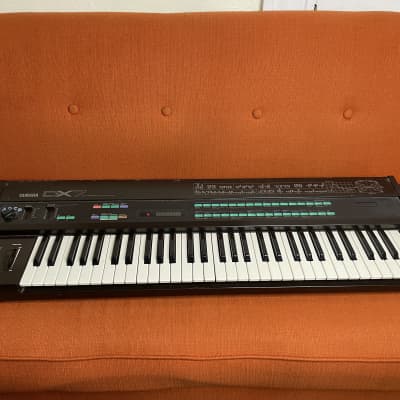 Yamaha DX7 Programmable Algorithm Synthesizer 1983 - 1987 - Black ($530)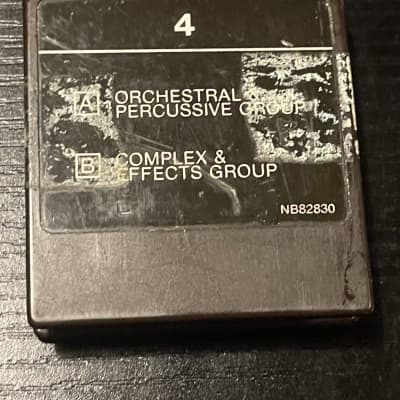 Yamaha DX7 Data ROM Cartridge 4 ($70)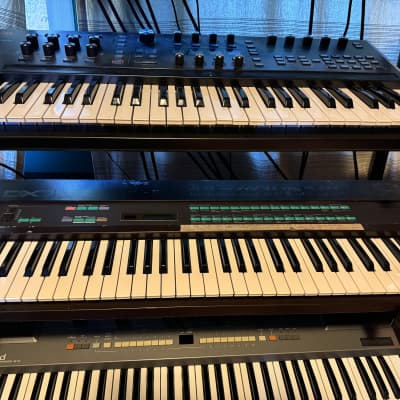 Yamaha DX7 Programmable Algorithm Synthesizer 1983 - 1987 - Black ($950)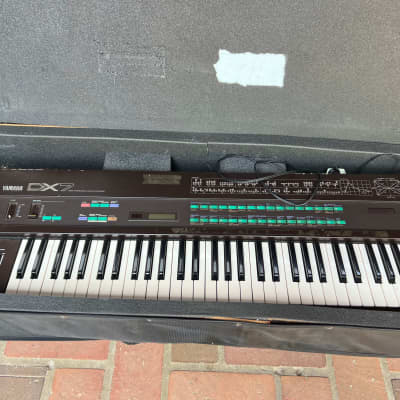 Yamaha DX7 Programmable Algorithm Synthesizer 1983 - 1987 - Black ($600)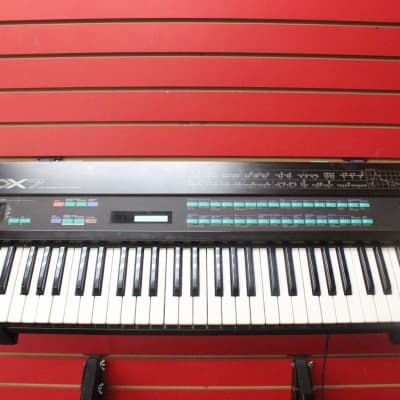 Yamaha DX7 Programmable Algorithm Synthesizer 1983 - 1987 - Black ($879.99)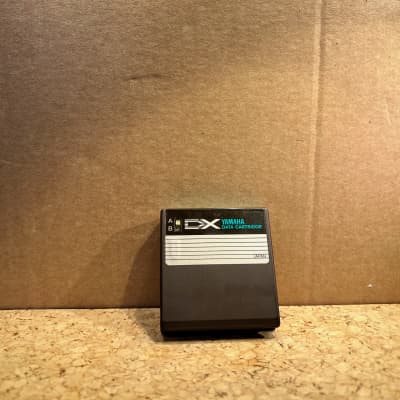 Yamaha DX7 - DATA ROM Cartridge 01 (Master Group - Keyboard&Plucked group) ($112.35)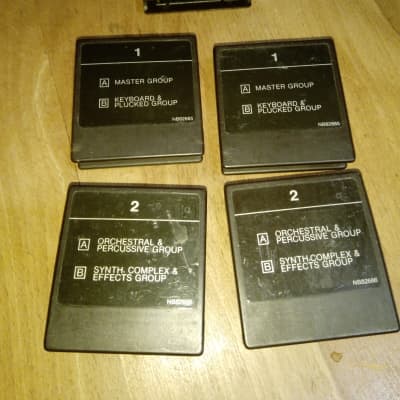 Yamaha DX7 1x Data RAM Cartridge, 4x Voice ROM Cartridges ($68.09)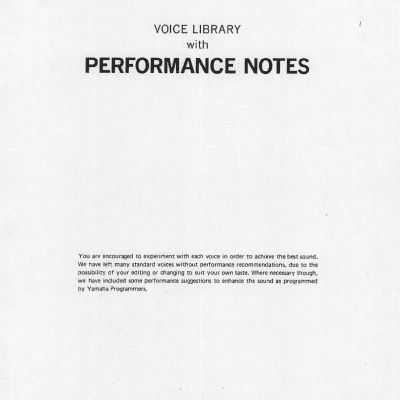 Yamaha DX7 Performance Notes (FREE)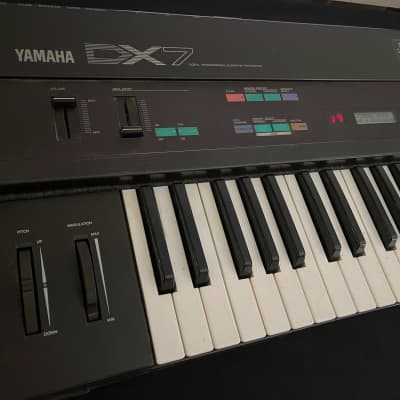 Yamaha DX7 Digital FM Synthesizer ($851.13)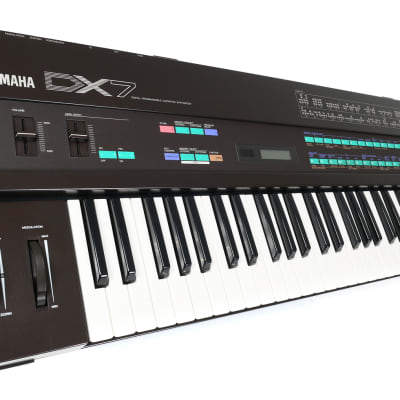 Yamaha DX7 FM Synthesizer Keyboard Klassiker / Top-Zustand + Rechng + 1J GEWÄHR! ($1,007.74)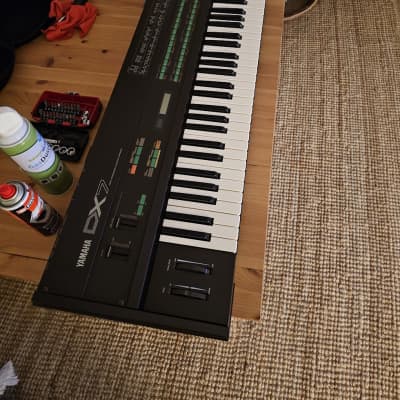 Yamaha DX7 Legendary Synth + 1 Cardridge - Excellent Condition - Revised ($1,134.84)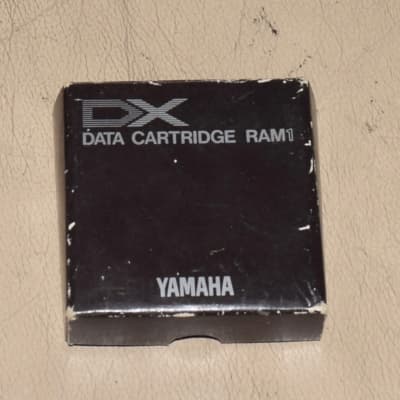 Yamaha DX7 Data RAM Cartridge ($69.56)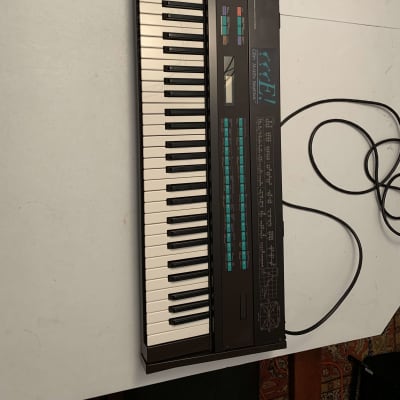 Yamaha DX7 Programmable Algorithm Synthesizer 1983 - 1987 - Black ($500)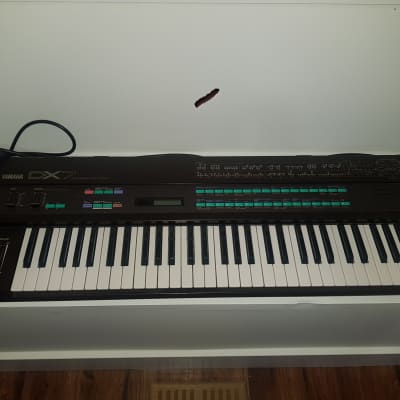 Yamaha DX7 Programmable Algorithm Synthesizer 1983 - 1987 - Black ($1,082.09)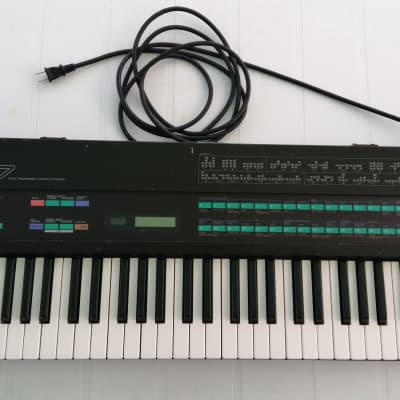 Yamaha DX7 Programmable Algorithm Synthesizer 1983 - 1987 - Black ($340.45)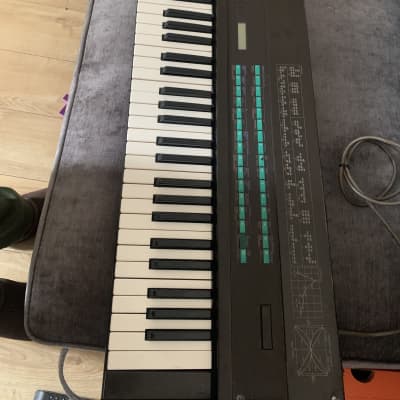 Yamaha DX7 Programmable Algorithm Synthesizer 1983 - 1987 - Black ($331.36)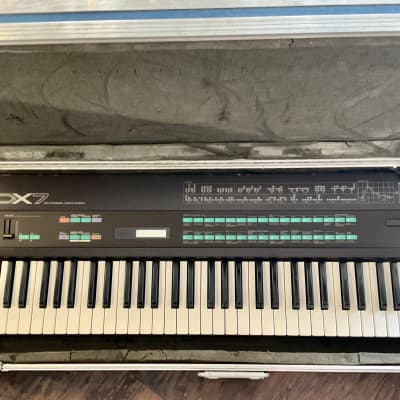 Yamaha DX7 Programmable Algorithm Synthesizer w/ Viking Hard Case ($999)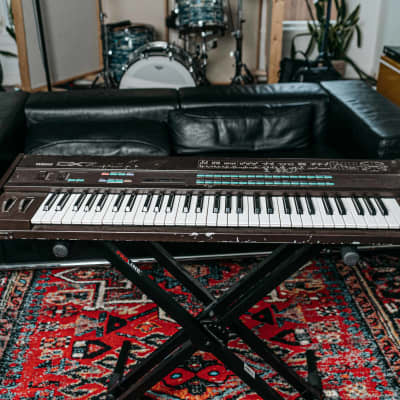 Yamaha DX7 Programmable Algorithm Synthesizer 1983 - 1987 - Black ($800)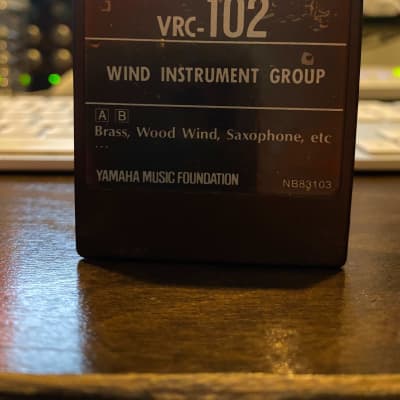 Yamaha DX7 Data ROM VRC-102 Wind Instrument Group VERY RARE ($220)
Yamaha DX7 Data ROM Cartridge 3 ($110)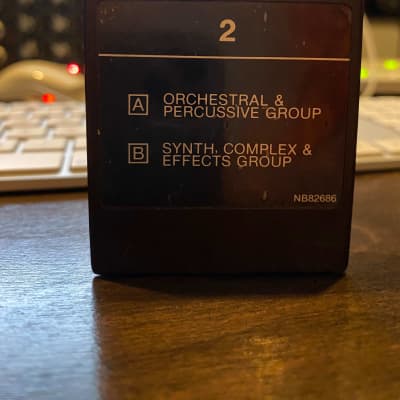 Yamaha DX7 Data ROM Cartridge 2 ($90)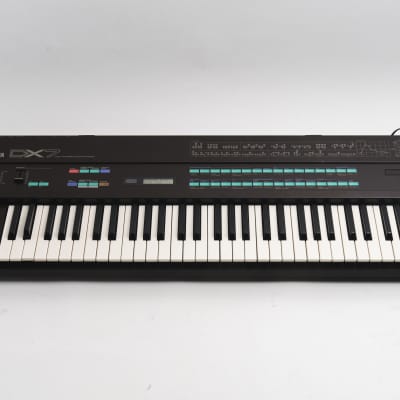 Yamaha DX7 Programmable Algorithm Synthesizer 1983 - 1987 - Black ($420)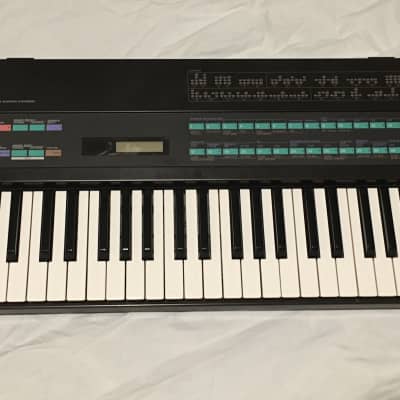 Yamaha DX7 (mark 1) with Grey Matter E! upgrade, battery upgrade ($549)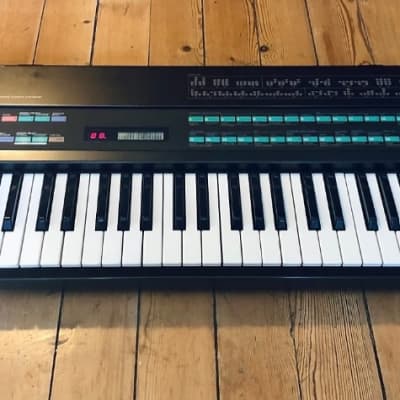 Yamaha DX7 Programmable Algorithm Synthesizer 1983 - 1987 - Black ($873.47)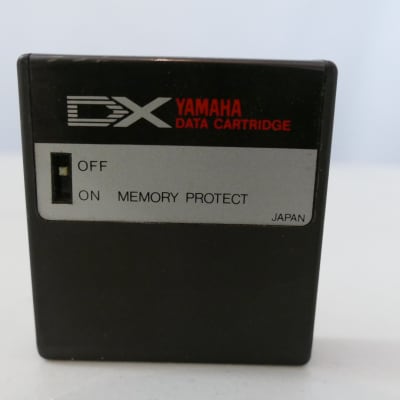 Yamaha DX7 Ram1 Cartridge - Loaded with Original Factory Sounds. ($69.99)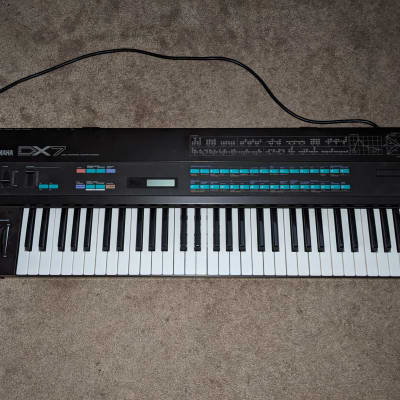 Yamaha DX7 Programmable Algorithm Synthesizer 1983 - 1987 - Black ($600)
Yamaha DX7 Programmable Algorithm Synthesizer 1983 - 1987 - Brown ($851.13)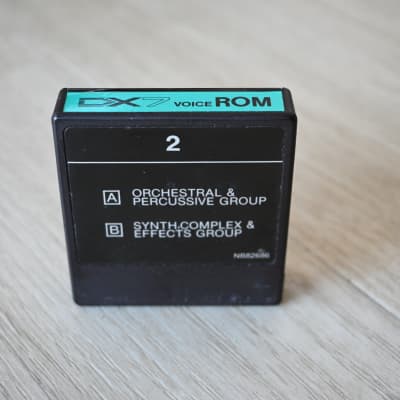 Yamaha DX7 Data ROM Nr.2 Cartridge ($60)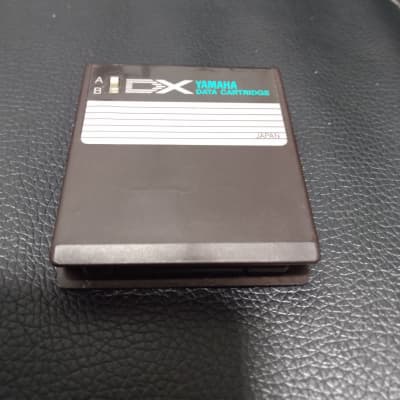 Yamaha DX7 Rom 1 CARTRIDGE - Master Group - Keyboard & Plucked FREE WW SHIPPING ($101)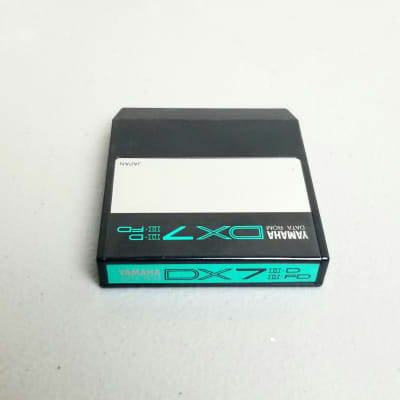 Yamaha DX7II DX7 II IIFD IID Original ROM Sound Cartridge ($99)