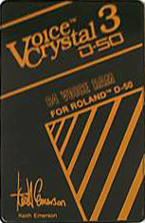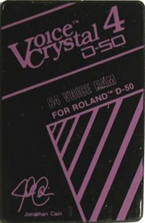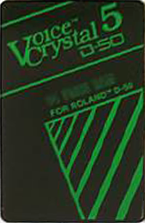 The D-50 introduced LA Synthesis (linear arithmetic), which is a method of synthesis that combines ROM samples of attack and sustain waveforms in order to build instrument sounds. Sounds are built using four tones, two "upper tones" and two "lower tones".
The PG-1000 editor can be used to make patch editing easier. Patches can be saved to an M-256D or M-256E RAM card and its patch memories are maintained with a standard CR2032 lithium battery.
The D-50 is monotimbral but can be expanded to 8-part multitimbral with the M.EX multimode expansion (which also adds 192 patch memories). Roland also released a series of 4 memory cards (PN-D50-01 through PN-D50-04) containing patches but no additional sound waveforms. Eye and I Productions has also produced six Voice Crystal expansion cards for the Roland D-50.
The rackmount version of the Roland D-50 is the Roland D-550. It was followed by the Roland D-5, D-10, D-20, and D-110.
The D-50 was also implemented as a plugin card for the Roland VariOS.
Specifications
Year Released: 1987
MSRP: $1995
Keyboard: 61 keys with velocity and aftertouch
Polyphony: 16 notes
Multitimbral: 1 parts
User Patches: 64
ROM: 128 kb (100 waveforms)
Effects: reverb, delay, chorus, flanger, and 2-band EQ
Screen: 40 x 2 character backlit LCD
Dimensions: 974 mm x 332.5 mm x 94 mm
Weight: 10.7 kg
User Demo Videos
Rating
File Downloads
Roland PN-D50-00 SysEx Patch Data
Roland PN-D50-01 SysEx Patch Data
Roland PN-D50-02 SysEx Patch Data
Roland PN-D50-03 SysEx Patch Data
Roland PN-D50-04 SysEx Patch Data
Items for Sale on Reverb
Reverb Roland D-50 Ableton Instrument Rack (FREE)
Custom padded cover for Roland D-50 Synthesizer D50 D 50 ($49)
Roland TD-07KV V-Drums Electronic Drum, (2) KRK RPG5G4 Monitors, Monitor Stands, GP D719 Pedal, Pearl D-50 Chair, (3) Drum Sticks, (2) 1/4 Cables Bundle ($1,369.99)
Roland TD-07KV V-Drums Electronic Drum, Mackie Thump12A, GP D719 Pedal, Pearl D-50 Chair, Tascam TH02, (3) Drum Sticks Bundle ($1,369.99)
Roland TD-07KV V-Drums Electronic Drum, GP D719 Pedal, Pearl D-50 Chair, Tascam TH02, (3) Drum Sticks Bundle ($1,099.99)
Roland D-50 - Legendary Synthesizer - Accessories - Roland D-50 Fly Case - Very Good Condition ($1,012.31)
Roland D-50 61-Key Linear Synthesizer ($575)
Roland D-50 61-Key Linear Synthesizer ($454.27)
Roland D-50 61-Key Linear Synthesizer Clean D50 Keyboard Serviced //ARMENS//. ($1,099)
Roland D-50 61-Key Linear Synthesizer ($253.08)
Roland D-50 (ex - Gary Numan) ($2,204.43)
Roland D-50 61-Teclas Linear Synthesizer Latino ($999.99)
Roland D-50 61-Key Linear Synthesizer ($729.97)
Roland D-50 61-Key Linear Synthesizer ($700)
Roland D-50 61-Key Linear Synthesizer Serviced! ($800)
Roland D-50 61-Key Linear Synthesizer - with case and CD-ROM very nice condition a vintage classic! ($884.51)
Roland D-50 61-Key Linear Synthesizer ($780)
Roland D-50 Synthesizer 1988 * Sounds * Books * Software * Cable ($987)
Roland D-50 61-Key Linear Synthesizer & Voice Crystal ROM Card Collection (VC1-VC6) ($1,250)
Roland D-50 61-Key Linear Synthesizer - recently serviced and refurbished ($725)
Roland D-50 61-Key Linear Synthesizer ($500)
Roland D-50 61-Key Linear Synthesizer ($746.58)
Roland D-50 61-Key Linear Synthesizer ($695.96)
Roland D-50 61-Key Linear Synthesizer ($569.42)
Graphic Display Upgrade - Roland W-30 A-50 A-80 D-70 JW-50 E-96 G-600 G-800 RA-800 ($139.61)
ROLAND D-50 / D-550 / D-05 Patch Bank - "Atmospheric Textures and FX, VOL. II" ($7.99)
Tarjeta Coleccion Especial LATINA Para Roland D-50 Con los Mejores Sonidos ($175)
ROLAND D-50 Full set of 54 Pushbuttons Tact Switches New D50 Micro Switch ($25.24)
ROLAND D-50 / D-550 / D-05 Patch Bank - "Atmospheric Textures and FX, VOL. I" ($7.99)
Roland D-50 / D-550 ROM-Card PN-D50-00 - factory presets ($112.62)
Roland D50 Slide Pot - EWANA0X10B14 ($8.39)
Roland D-50 - M-512E RAM Card - Loaded w/ Bo Tomlyn's Top 40 Sounds ($114.99)
Roland Doppio Manuale V-Card VC-1 D-50 e VC-2 Vocal Designer 2005 Red ($63.27)
Roland "G" Key for D-50 / JX8P / JX10 / Juno2 & others ($10.99)
Roland D-50 Komplettset 54 Taster ($21.90)
Roland "A" Key for D-50 / JX-8P / JX-10 / Juno2. & others ($10.99)
Roland "#/b" Key for D-50 / JX-8P / Juno 2 / VK1 & others ($9.99)
ROLAND RS-50 Juno-D Original Rotary Panel Knob. Very Rare !.... ($9.99)
ONE vintage Roland M-128D card RAM D-50 D-10 D-110 GC-8 Pad 80 PM-16 R-880 TR-626 memory patch data ($99)
Roland D-50 D-550 Linear Synthesizer New Back-light Replacement ($29.99)
Virtual PG-1000 editor / programmer - Roland D-50 / D-550 - LOGIC v4 - X ($34.99)
ROLAND D-50 OS FIRMWARE UPDATE UPGRADE 2.22( latest version ) D50 Eprom ($12.65)
ROLAND D-50 OS FIRMWARE UPDATE UPGRADE 1.10 ( old version ) D50 Eprom ($18.92)
ROLAND D-50 OS FIRMWARE UPDATE UPGRADE 2.22 ( Later version ) D50 Eprom ($22.71)
ROLAND White Top-C key for D-50 JX-10 JX-8P Juno-6/60, Jupiter-6/8, Juno-2, JX-3P... Very Rare !. ($19.99)
ROLAND D-50 OS FIRMWARE UPDATE UPGRADE 1.10 ( old version ) D50 Eprom ($18.92)
Roland TD-27KV V-Drums Kit- Roland PM-200 - Pearl Throne D50 - Gibraltar 6707 - Gibraltar 6706 - Pearl Bass P530 - Drum Sticks ($3,449.99)
Roland TD-27KV V-Drums Kit - Roland PM-100 - Pearl Throne D50 - Gibraltar 6707 - Gibraltar 6706 - Pearl Bass P530 - Drum Sticks ($3,259.99)
Roland TD-27KV V-Drums Kit - Roland PM-200 - Pearl Throne D50 - TH02 Headphone - Drum Sticks ($3,219.99)
Roland TD-27KV V-Drums Kit - Pearl Throne D50 - Sennheiser HD300 - Drum Sticks - Drum Set Dust Cover - SD Card 32GB ($3,099.99)