Synths ⇝ Kurzweil ⇝ Kurzweil 1000SX String Expander
The Kurzweil 1000SX is part of the K1000 expander series, which includes the K1000HX, K1000PX, and K1000GX. It includes violin, cello, orchestral string section, and pizzicato string sounds. An SXA expansion ROM was available that added clarinet, flute, oboe, bassoon, french horn, and timpani sounds.
Specifications
Year Released: 1988
Polyphony: 20 notes
Preset Patches: 99
User Patches: 64
Power Consumption: 30 watts
Dimensions: 19 in. x 14.75 in. x 3.44 in.
Weight: 9.1 kg
This is a 2-space rack unit.
Rating
File Downloads
Kurzweil 1000 Series Expander Musician's Guide Manual
Items for Sale on Reverb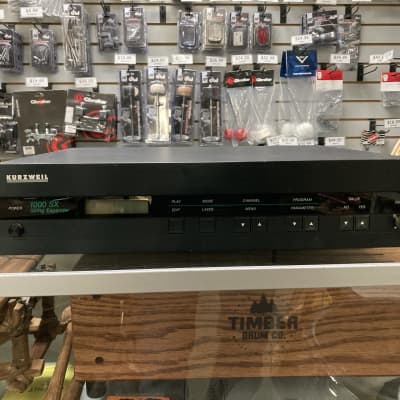 Kurzweil 1000 SX String Expander ($200)