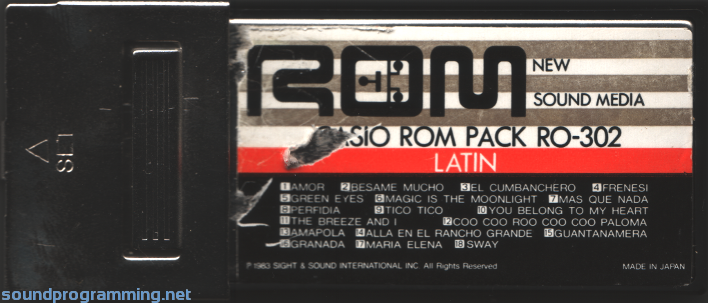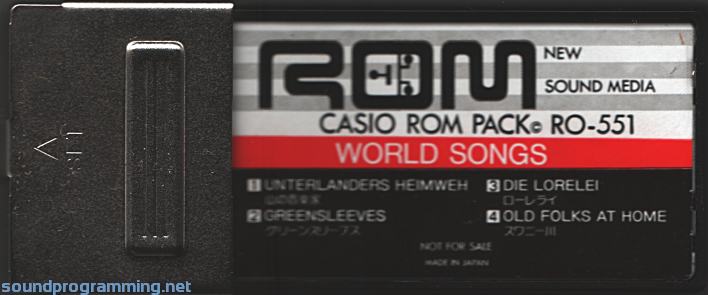 Many Casio home keyboards have the ability to use ROM packs that contain song sequences you can learn by playing along to light-up key sequences.
These Casio models support ROM packs: CT-800, CT-805, CT-810, CT-840, MT-18, MT-28, MT-85, MT-86, MT-88, MT-800, MT-820, PT-40, PT-50, PT-80, PT-82, PT-87, PT-88, PT-180, PT-280, PT-380, PT-480, SK-8, SK-8A, the DH-280 digital horn, and the DH-800 digital horn.
This is a partial list of the ROM packs that were produced:
RO-201 - Fun With Your Casio Keyboard
RO-251 - How To Play Your Casio ROM Keyboard
RO-252 - Film Classics: Fame, Up Where We Belong, For Your Eyes Only, Gonna Fly Now
RO-253 - Pop/Rock: Thriller, Don't Be Cruel, It's Still Rock and Roll, Karma Chameleon
RO-254 - Movie Pops: Arthur's Theme, Can You Read My Mind, Eye of the Tiger, The Summer Knows
RO-255 - Rock On: Listen to the Music, Ventura Highway, Escape (The Pina Colada Song), Slow Hand
RO-256 - Top Pops: Love Story, Scarborough Fair, Have You Never Been Mellow, Top of the World
RO-257 - Super Songs: Tijuana Taxi, Colour My World, The Boy from New York City, Hard to Say I'm Sorry
RO-258 - Latin Hits: El Cumbanchero, Sway (Quien Sera), Guantanamera, Tico-Tico
RO-259 - Pop Hits: Fascination, Song of the Pearl Fisher, Besame Mucho (Kiss Me Much), An Old Fashioned Love Song
RO-260 - Music Collection: You Are The Sunshine Of My Life, Feelings, Brazil, Mona Lisa
RO-261 - Pop Selection: The Entertainer, Eye in the Sky, Goodbye to Love, We've Only Just Begun
RO-262 - Country Greats: Drivin' My Life Away, Don't It Make My Brown Eyes Blue, Nine to Five, On The Road Again
RO-263 - Hymns and Gospel: Oh Happy Day, He's Got the Whole World in His Hands, Will the Circle Be Broken, Amazing Grace
RO-264 - Pop Country: Could I Have This Dance, There's No Gettin' Over Me, Take Me Down, To All The Girls I've Loved Before
RO-265 - Pop Superstars: Against All Odds (Take a Look at Me Now), Holiday, Born in the U.S.A., We Don't Need Another Hero (Thunderdome)
RO-266 - Songs For Children: Alphabet Song, Farmer in the Dell, I'm a Little Teapot, I've Been Working on the Railroad, Mary Had a Little Lamb, Old MacDonald, Ten Little Indians, This Old Man
RO-268 - Golden Hits: Mona Lisa, Moon River, A Time For Us, Speak Softly Love
RO-269 - Rhythm and Blues: Caribbean Queen, Emergency, How will I know, Nightshift
RO-270 - Christmas: Jingle Bells, Silent Night, Joy to the World, Here Comes Santa Claus, Silver Bells, Santa Claus is Comin' to Town
RO-271 - Beatles No. 1 Hits: Eight Days a Week, Hey Jude, Penny Lane, Yesterday
RO-272 - Rock and Roll Classics:Bad Moon Rising, Chantilly Lace, The Dock of the Bay, I'm Walkin', Respect
RO-273 - Best of Motown: I Hear a Symphony, I Heard it Through the Grapevine, My Girl, My Guy
RO-274 - Hot Pop and Rock: Dancing In The Dark, King For A Day, These Dreams, Walk Of Life
RO-275 - Today's Superstars: Greatest Love of All, Overjoyed, Rhythm of the Night, What's Love Got To Do With It?
RO-276 - T.V. Tunes: Theme From Hill Street Blues, Theme From Cheers, Theme From Dynasty, Theme From St. Elsewhere
RO-277 - When You Wish Upon a Star and Other Disney Movie Songs: When You Wish Upon a Star, Some Day My Prince Will Come, Heigh-Ho, Who's Afraid of the Big Bad Wolf?, Whistle While You Work
RO-278 - Songs of Sesame Street: Green (Bein Green), Rubber Duckie, Sesame Street Theme, Sing
RO-279 - Solid Gold Rock and Pop: All I Need is a Miracle, Back in the High Life Again, La Isla Bonita, Land of Confusion
RO-280 - Star Studded Rock: The Final Countdown, Here I go Again, Livin' on a Prayer, You Belong to the City
RO-281 - Chartbusting Pop: Heaven is a Place on Earth, Moonlighting, Saving All My Love For You, Who's That Girl
RO-282 - New Kids on the Block Greatest Hits: Step By Step, (You've Got It) The Right Stuff, I'll Be Loving You (Forever), Cover Girl
RO-301 - Popular Hits: Speak Softly Love (Love Theme From "The Godfather"), Moon River, Love Story ("Where Do I Begin"), Entertainer, The Way We Were, Song From Moulin Rouge, We've Only Just Begun, Scarborough Fair, Born Free, Snowbird, Wonderland By Night, Have You Never Been Mellow, I Won't Last A Day Without You, It's Going To Take Some Time, Danke Schoen, L-O-V-E, Cabaret, The Look Of Love
RO-302 - Latin: Amor, Besame Mucho, El Cumbanchero, Frenesi, Green Eyes, Magic is the Moonlight, Mas Que Nada, Perfidia, Tico-Tico, You belong to my Heart, The Breeze and I, Coo Coo Roo Coo Coo Paloma, Amapola, Alla En El Rancho Grande, Guantanamera, Granada, Maria Elena, Sway
RO-303 - Easy Listening: Top of the World, Calcutta, Fascination, Green Green Grass of Home, I Believe in Music, Mona Lisa, Song of Pearl Fisher, Spanish Eyes, Strangers in the Night, A Time For Us, Goodbye To Love, Bless the Beasts and Children, An Old Fashioned Love Song, Ben, Nadia's Theme, The Diary, Beyond the Reef
RO-351 - Best of Carpenters: Only Yesterday, Rainy Days and Mondays, Please Mr. Postman, Hurting Each Other
RO-352 - All Time Movie Hits: Chitty Chitty Bang Bang, Somewhere My Love, Never on Sunday, The Shadow of Your Smile
RO-353 - Beatles: Ob-La-Di Ob-La-Da, P.S. I Love You, Michelle, Let It Be
RO-354 - Pop Themes: Live For Live (Vivre Pour Vivre), Aquarius, From Russia With Love, Baby Elephant Walk
RO-355 - Jazz Standards: On the Sunny Side of the Street, Georgia on My Mind, I Left My Heart in San Francisco, Memories of You
RO-356 - Disney Movie Magic: When You Wish Upon a Star, Some Day My Prince Will Come, Heigh-Ho, La-La-Loo, Bibbidi Bobbidi Boo, Chim Chim Cheree
RO-551 - World Songs: Unterlanders Heimweh, Die Lorelei, Greensleeves, Old Folks At Home
RO-552 - Classic: Chopin's Nocturne, Schubert's Serenade, Tchaikovsky's Piano Concerto No.1, Scene From "Swan Lake"
RO-554 - Family Songs: When The Saints Go Marching In, Santa Lucia, Long Long Ago, Ach Du Lieber Augustin, The Stagecoach, Air On The G String
RO-555 - Home Melodies: When the Saints Go Marching In, Air on the G String, Jingle Bells, Chopin's Nocturne, March from "Nutcracker"
Specifications
Rating
Items for Sale on Reverb
Casio Casiotone PT-82 w/RO-551 Rom Pack ($38)