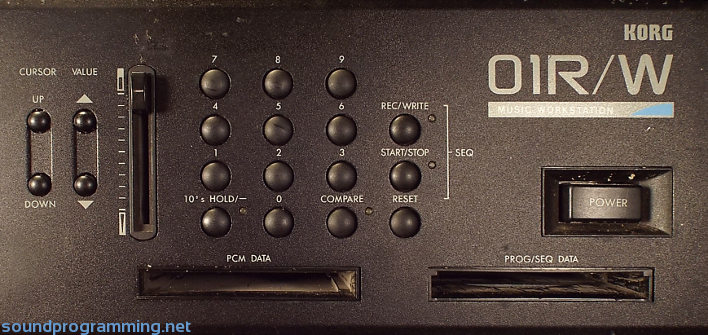 The 01R/W is a rack module version of the 01/W keyboard. The 03R/W is a 1U variation.
Specifications
Year Released: 1991
Polyphony: 32 notes
Multitimbral: 16 parts
User Patches: 200
User Performances: 200
ROM: 6MB (255 waveforms) at 16-bit and 32 kHz resolution)
Sequencer Memory: 7,000 notes
Screen: 240 x 64 pixel backlit LCD
Weight: 5 kg
This is a 2-space rack unit.
User Demo Videos
Rating
Sound Samples
WAV samples are available on freewavesamples.com.
File Downloads
Items for Sale on Reverb
Korg 01R/W 1991 Black ($400)
Korg 01R/W Version #35 Firmware Update Eprom Upgrade OS for 01RW Synthesizer ($23.98)
Korg 01R/W Version #35 Firmware Update Eprom Upgrade OS for 01RW Synthesizer ($23.98)
Korg - X2/3 , M1, M1R , 707 , 01/W , 01R/W , Prophecy - New Battery holder ($3.90)
Korg - Oasys , 01/W , 01R/W , Karma , EC-120 - New Slide Potentiometer ($14.90)
Korg - M3R . Wavestation SR Rack , 01R/W , 03R/W - Rotary potentiometer Volume ($6.95)
Korg - T Series , DS-8 , M1 , Triton Series - New Slide potentiometer ($14.90)
Korg - 01/W ,01R/W - New Power switch ($9)