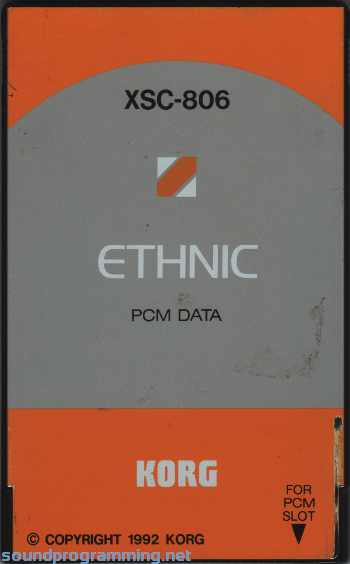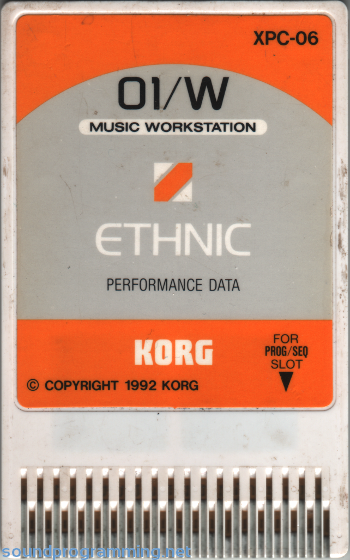 The 01/W can be expanded with XSC/XPC expansion card pairs containing a PCM waveform data card and a performance data card.
The 01/WFD is an otherwise identical version with more sequencer memory and a floppy drive. It is also available in rackmount form as the 01R/W. The 01W/Pro is a 76-key version and the 01W/ProX is an 88-weighted-key version.
Specifications
Year Released: 1991
Keyboard: 61 keys with velocity and aftertouch
Polyphony: 32 notes
Multitimbral: 16 parts
User Patches: 200
User Performances: 200
ROM: 6MB (254 waveforms at 16-bit resolution)
Sequencer Memory: 7,000 notes
Screen: 240 x 64 pixel backlit LCD
Power Consumption: 20 watts
Dimensions: 1059.5 mm x 344 mm x 115.5 mm
Weight: 13.4 kg
User Demo Videos
Rating
Sound Samples
WAV samples are available on freewavesamples.com.
File Downloads
Korg 01/W and 01/WFD Service Manual
Items for Sale on Reverb
Korg Korg 01/W pro Synthesizer Workstation Black ($647.80)
KORG 01/W Music Workstation synthesizer in very good condition ($699)
Korg 01/W O1/W - 90's Digital Synthesiser Workstation - 240V ($675.76)
Korg 01/W ($404.88)
Korg 01/W pro 1980s Black ($885)
Vintage Korg 01/WFD Workstation Synthesizer 01/W ($889.99)
Korg 01/W synthesizer ($495.57)
Korg 01/W Pro Music Workstation Synthesizer in Very Good Condition ($699)
Korg 01/W FD Music Workstation Synthesizer in Very Good Condition ($580)
Alexander Korg 01/W Sound Making Book Level 1, Cookbook kit, Drum Tracks & Drum patterns, Sequencing ($100)
Korg 01/W Workstation 90s classic synthesizer from collector in very nice condition ($646.72)
Korg 01/W FD Music Workstation Synthesizer in Very Good Condition ($650)
Korg 01/W FD Music Workstation Synthesizer in Very Good Condition ($650)
Korg 01/W FD Music Workstation Synthesizer in Very Good Condition ($650)
Korg 01/W - 01/W PRO - 01/W PROX Full set of 37 Pushbuttons Tact Switches ($16.14)
Korg - 01/W, 01/W Pro, 01/W ProX - Full set of 37 Panel Switches ($13.90)
Graphic Display Upgrade - Korg 01/W T1 T2 T3 i2 i3 Wavestation EX A/D Oberheim OB-12 ($121.21)
Korg - 01/W ,01R/W - New Power switch ($9)
KORG 01/W 01/W Pro 01/W Pro X Complete Set 37 tact switches ($17.38)
Korg - Oasys , 01/W , 01R/W , Karma , EC-120 - New Slide Potentiometer ($14.90)
Korg - X2/3 , M1, M1R , 707 , 01/W , 01R/W , Prophecy , C15, C15S - New Battery holder ($3.90)
Korg 01/W Disks Pro Performance Series Disk - Set of 4 - Rick Wakeman Yas Kaz ($99.99)
Latest OS #62 ROMs FOR Korg 01/wfd Workstation EPROM ROM upgrade kit set 01wfd 01/w FD ($36.74)
Korg - 01/W - New Memory Battery ($4.90)
Korg 01/W NEW LCD Display replacement black ($77.74)
Korg 01/W NEW LCD Display replacement blue ($77.74)
Korg 01/W NEW LCD Display replacement white ($77.74)
KORG 01/W Left Side Plastic Panel/End. ($29)
Korg 01/W FD Music Workstation Synthesizer 01W 01 W 01Wfd ($538.76)
Korg - Wavestation , 01/W , PA1X/50/80 - New Slide potentiometer ($16.90)
KORG Replacement key for M1 TRITON TRINITY 01/W ... ($4.99)
Korg XPC-04 01/W - Dance card ($77.77)
Korg - T Series , DS-8 , M1 , Triton Series , C3200 - New Slide potentiometer ($14.90)
Korg 01/W FD Music Workstation Synthesizer in Very Good Condition ($750)
Replacement Backup Battery for Korg T3 , 01/W & M1 M1R M1REX [ coin cell ] ($6.49)
Korg X5D MUSIC SYNTHESIZER 01/w series w/bag, power supply New internal battery! ($440)
Korg 01/w OS Version 62 EPROM Firmware Upgrade SET ($21.54)
Korg 01/w OS Version 62 EPROM Firmware Upgrade SET ($25)
Korg 01W ($593.82)
Korg "01/W" Wavestation T3 T1 EL Lamp electroluminescent panel BLUE backlight ($31.31)
Korg 01R/W Rack mount Synth, New Internal Battery ($474.49)
Korg O1w T3 T2 Wavestation Blue ($31.31)
Korg 01R/W Version #35 Firmware Update Eprom Upgrade OS for 01RW Synthesizer ($20.46)
Korg 01R/W Original Owner manual ($25)
KORG 01WFD 720 K° Floppy Disk w/ General midi ORCHESTRAL Sounds 200 sounds RARE ($15.12)
Korg 01R/W Version #35 Firmware Update Eprom Upgrade OS for 01RW Synthesizer ($20.46)
Korg 01W FD 1992 Black ($450)
Korg 01w fd ($491.16)
Korg P3 Piano Module w/ POC-01 Memory Card Synth ($150)
KORG N364 N264 X2 X3 X5 KORG 01W T1 T3 M1 Prophecy Lot of 800 Push Buttons ($99.99)