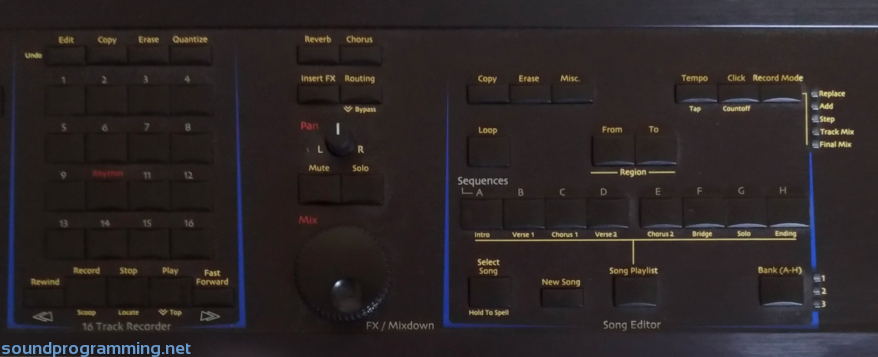 The ZR-76 was one of the last products Ensoniq designed before being acquired and destroyed by Creative Technology. Its sound set is very similar to the MR-76, but with the Perfect Piano expansion board preinstalled. With three slots total, it can be expanded with two more of the Ensoniq EXP-series expansion boards. It can also load WAV and AIFF samples from floppy disk if the 4MB MR-FLASH expansion board is installed.
One of the more popular features of the ZR-76 was the "Idea Pad", which is a feature that has the keyboard always recording MIDI of what's being played so that when you play something you want to keep, you can send it to the sequencer for later editing and refinement.
It also includes an onboard drum machine with 119 rhythms and 8 variations and 8 fills per rhythm.
Its sounds were later included in the Ensoniq Halo by virtue of being contained in the "Sounds of the ZR featuring the Perfect Piano" E-Mu Expansion ROM that shipped preinstalled.
Specifications
Year Released: 1998
Keyboard: 76 keys with velocity and aftertouch
Polyphony: 64 notes
Multitimbral: 16 parts
Preset Patches: 1219
User Patches: 256
Preset Drum Kits: 70
ROM: 30MB (14MB internal plus 16MB from the Perfect Piano expansion) at 16-bit, 44.1 kHz
Sequencer Resolution: 384
Effects: six 24-bit multi-effects busses with 40 different effects
Screen: 20 x 2 character LCD
Outputs: 1/4" stereo pair plus another 1/4" stereo pair for aux outputs
Dimensions: 1282.7 mm x 396.9 mm x 127 mm
Weight: 23.13 kg
User Demo Videos
Rating
File Downloads
Ensoniq ZRD-100 Patch Disk for ZR76
Items for Sale on Reverb
Ensoniq The Main Board will work with ZR-76 and ZR-61 models ($125)
Ensoniq EXP-3 Urban Dance Project Expansion for MR-61/76/Rack, ASR-X Pro, ZR-76 ($199)
Ensoniq EXP-1 The Real World Expansion for MR-61/76/Rack, ASR-X Pro, ZR-76 ($199)
Ensoniq ZR 76 1983 Black ($495)