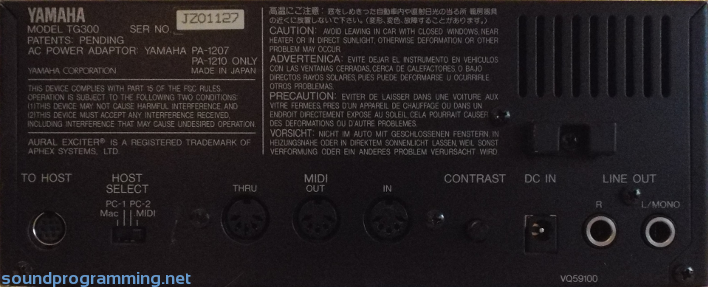 The TG300 is a 2U half-rack rompler with General MIDI capabilities. It is a step up from the TG100 and a step below the TG500.
Some later Yamaha synthesizers such as the CS2x had a TG300B mode for playback compatibility with MIDI sequences created for the TG300.
Specifications
Year Released: 1993
MSRP: $895
Polyphony: 32 notes
Multitimbral: 16 parts
Preset Patches: 456
User Patches: 128
ROM: 6MB (195 waveforms at 16-bit resolution)
Effects: reverb, chorus, and variation
Screen: 21 x 8 character LCD
Power Consumption: 12V, 700 mA
Dimensions: 220 mm x 257.2 mm x 91.6 mm
Weight: 1.9 kg
This is a tabletop module.
User Demo Videos
Rating
File Downloads
Items for Sale on Reverb
Yamaha TG300 TG 300 TG-300 Synth Modul Synthmodul ($145.76)
Yamaha TG300 Tone Generator 1993 Black ($188)
Yamaha TG 300 ($135)
YAMAHA 90' Rétro éclairage partie LCD Ecran TG77 SY 77 SY99 QS300 W5 W7 DEQ5 ($28.07)