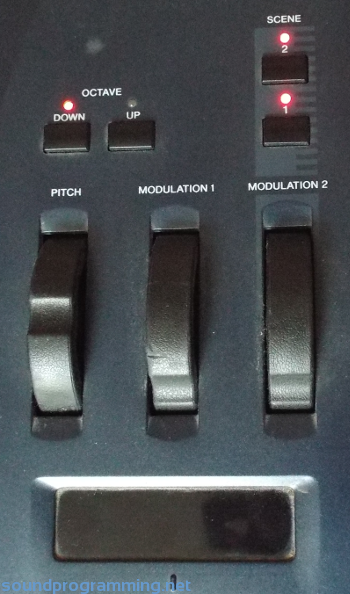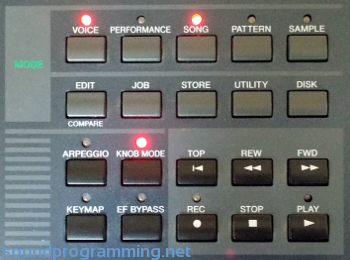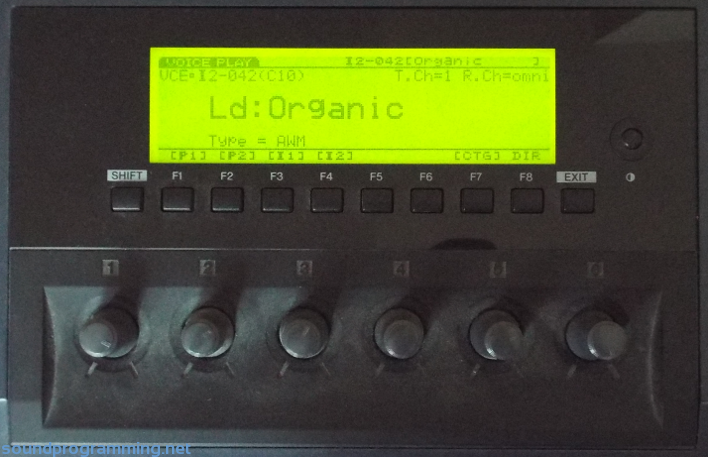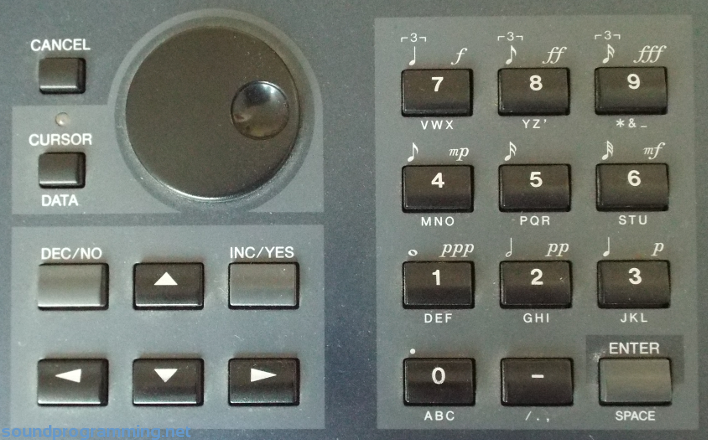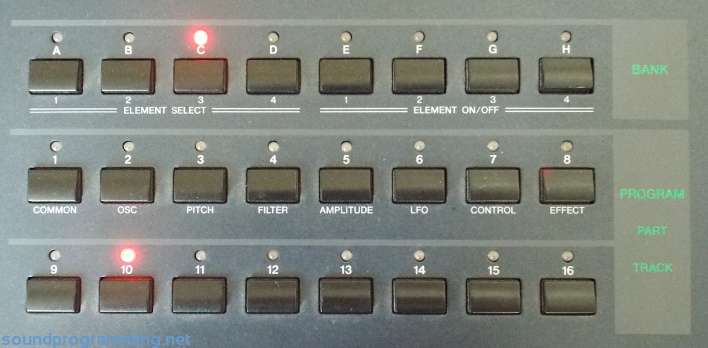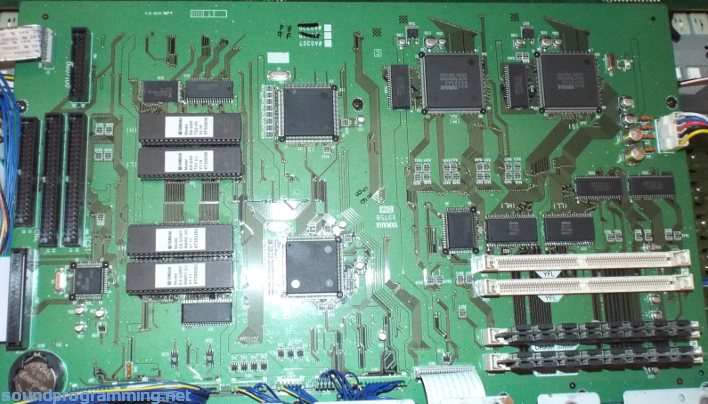 The EX5 is one of the most powerful synthesizers Yamaha has ever released. In addition to its built-in AWM2 ROM and sampler capability, it also has virtual analog, virtual acoustic, and FDSP (Formulated Digital Signal Processing) synthesis engines.
Any samples loaded will be forgotten when the unit is switched off. An EXFLM2 flash board that adds 16MB of non-volatile sample memory can be installed to make the keyboard remember samples across power cycles. Sector101 makes an aftermarket version.
It has "Sondius-XG" printed on the right side of the control panel. That refers to the virtual acoustic technology that Yamaha developed jointly with Stanford University.
The Yamaha EX7 is a less-powerful 61-key version of the EX5. It is also available in rackmount form as the EX5R
Specifications
Year Released: 1998
Keyboard: 76 keys with velocity and aftertouch
Polyphony: 128 notes
Multitimbral: 16 parts
Preset Patches: 256
User Patches: 256
User Performances: 128
ROM: 16MB
Sequencer Memory: 30,000 notes
Sequencer Resolution: 480 PPQN
Effects: 108 effects - 79 insertion, 17 chorus, 12 reverb
Arpeggiator: 50 preset patterns, 50 user patterns
Screen: 240 x 64 pixel backlit LCD
Power Consumption: 32 watts
Dimensions: 1268 mm x 407 mm x 129 mm
Weight: 20 kg
User Demo Videos
Rating
Sound Samples
WAV samples are available on freewavesamples.com.
File Downloads
Items for Sale on Reverb
Yamaha EX5 1999 Blue ($749)
Yamaha EX5 ($971.70)
Yamaha EX5 Synthesizer Workstation Sampler with Flash Rom upgrade 1999 pre-motif-era ($809.75)
Yamaha EX5-R 90s ($1,084.54)
Yamaha Replacement Black KeyAssembly For Yamaha Motif, DX-7,SY77, EX5 Keyboards ($10.99)
Yamaha - EX5 EX5R EX7 - New Memory Battery ($3.20)
Yamaha EX5 EX5R EX7 - Battery Replacement Fix ($10.74)
Yamaha EX5 EX5r firmware OS upgrade update version 1.11 / 1.14 (main+voice) ($31.31)
Yamaha EX5 EX5r firmware OS upgrade update version 1.11 / 1.14 (main+voice) ($31.31)
YAMAHA EX5 EX7 Full Set of 78 Pushbuttons Tact Switches Micro Switch ($26.77)
Yamaha EX5 3.5" Floppy Disk Replacement Drive 2000s Black Face ($44.99)
Floppy Drive Emulator USB for Yamaha EX5 EX5R EX7 incl 2500+ disks EX-5 EX-5R ($75.58)
YAMAHA lot 32 x 2 Barettes 64 MB YAMAHA MOTIF MOTIF7 MOTIF8 SU700 EX5 EX5R EX7 ($42.11)
Yamaha a3000 su700 ex5 ex5r ex7 hard drive power cables original ($24.24)
YAMAHA EX7 EX5 EX5R SU700 QY700 MDF3 1,44 MB Floppy Disk drive HD MITSUBISHI ($31.31)
Yamaha - CVP-92/94/96/98 , DX200 , EX5 , EX7 - New Encoder ($10.90)
LOT x 2 YAMAHA 90' A Sampler Parts COVER control button SU 700 A4000 A5000 EX5 ($8.64)
YAMAHA E/S AIEB1 AIEB2 Rare Power câble EX5 SU700 A5000 4000 A3000 ($31.31)
YAMAHA EX5 ($26.99)
LED Display Upgrade - Yamaha EX5 / EX5R / EX7 Custom (Negative) LED Display ! ($159.49)
Pack power cable I/O Expansion Board AIEB1 / AIEB2 for Yamaha EX5, SU700, A5000, A4000 and A3000 ($16.18)
43 Note Key Contact Assembly For Yamaha SY99, EX5, KX7 & Others ($59.95)
Yamaha EX5R Synth - Disks - Pro Serviced - Warranty ($1,398.17)
Yamaha EX5R flash scsi outputs ($1,781.46)
Yamaha EX5R Rack Synth ($1,241.62)
Yamaha EX5r ($1,299)
Yamaha EX5R Vintage Synthesizer Rack in Very Good Condition ($1,400)
Yamaha - AN1X , CS1X/2X/6X , EX5/7 , Motif XF6/XS6 ,S08/70XS/90XS - Power switch ($9.90)
Yamaha - CLP , P150/200 , EX5/7 , CVP - New Push Button Tact Switch ($4.90)
Yamaha - EX-5 , EX-7 - New Battery holder ($3.90)
Yamaha PF-10 Replacement White B and E Key Assembly For Yamaha Motif, DX-7,SY77, EX5 Keyboards ($7.99)
YAMAHA Asib 1 scsi port for yamaha a3000 su700 ex5 ex7 ex5r ($191.39)
Yamaha EX5 EX5R Flash (EXFLM1) 8MB ($200)
Rullante Yamaha Live Custom 14 X5.5 Ex Demo ($376.81)
Yamaha Hs7 W Monitor Da Studio Attivo Hs7 Bianco Woofer 6.5" Tweeter 1" Ex Demo ($167.26)
YAMAHA lot 2 Barettes x 32 M° Memory RAM 64 MB A-3000 4000 5000 SU-700 EX5R EX-7 ($52.90)
Custom padded cover for Yamaha EX5 61-key keyboard ($54.36)