Synths ⇝ Korg ⇝ Korg Wavestation SR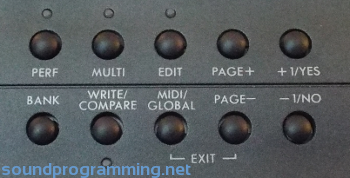 The Wavestation SR is the last hardware synthesizer in the Wavestation series and has the greatest technical capabilities of any of the Wavestation line and is the only one that is compatible with the 01/W expansion cards. Its additional preset memories include sounds from expansion cards previously released by Korg and Sound Source Unlimited.
The Wavestation SR lacks a vector joystick and needs an external controller to take full advantage of its abilities. It pairs nicely with a Yamaha vector synthesizer, such as the SY22, SY35, or TG33 and can be controlled with the MIDI joystick data transmitted by those devices.
Its wave sequencing capabilities are 352 wave sequences and 5500 wave sequence steps.
Specifications
Year Released: 1993
Polyphony: 32 notes
Multitimbral: 16 parts
Preset Patches: 280
User Patches: 105
Preset Performances: 400
User Performances: 150
ROM: 4MB (484 waveforms)
Effects: 55 digital effects, up to 6 at once.
Screen: 16x2 character LCD
This is a 1-space rack unit.
User Demo Videos
Rating
File Downloads
Korg WaveStation SR Reference Guide
Items for Sale on Reverb
OLED Display Upgrade - Korg Wavestation SR (Red/White/Blue/Amber) ($95.44)
Korg Wavestation SR + WPC-12 Performance 2 ROM Card ($396.86)
Korg WaveStation SR ($339)
Korg Wavestation SR ($311.97)
Korg Wavestation SR ($299.99)
Korg Wavestation SR MIDI Synthesizer Module ($349.99)
Korg Wavestation SR ($300)
Korg Wavestation SR Rackmount Synth ($299.99)
Korg Wavestation SR with Voice Crystal Rom Card ($509)
Korg Wavestation SR, 03RW, 03R/W, M3R, Z3, A2, A3, Rack Ears! NEW! ($48.99)
Pile lithium KORG WS EX Wavestation WS-SR Factory reset Sons usine + 200 sons ($15.06)
Korg - 01WR , 03RW , A1 , A2 , Wavestation AD , Wavestation SR - Jack with Gold Lining ($5.90)
Korg Wavestation SR OS 1.15 EPROM Firmware Upgrade KIT ($25)
Korg Wavestation SR firmware OS upgrade update version 1.15 Eprom ($21.46)
Korg Wavestation SR firmware OS upgrade update version 1.15 Eprom ($21.46)
Korg wavestation SR guia interprete Manual book español castellano Dan Philips Ballesteros advert 92 ($21.52)
Korg - M3R . Wavestation SR Rack , 01R/W , 03R/W - Rotary potentiometer Volume ($6.95)