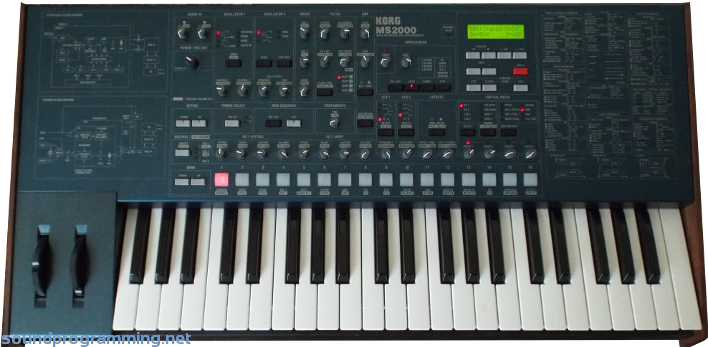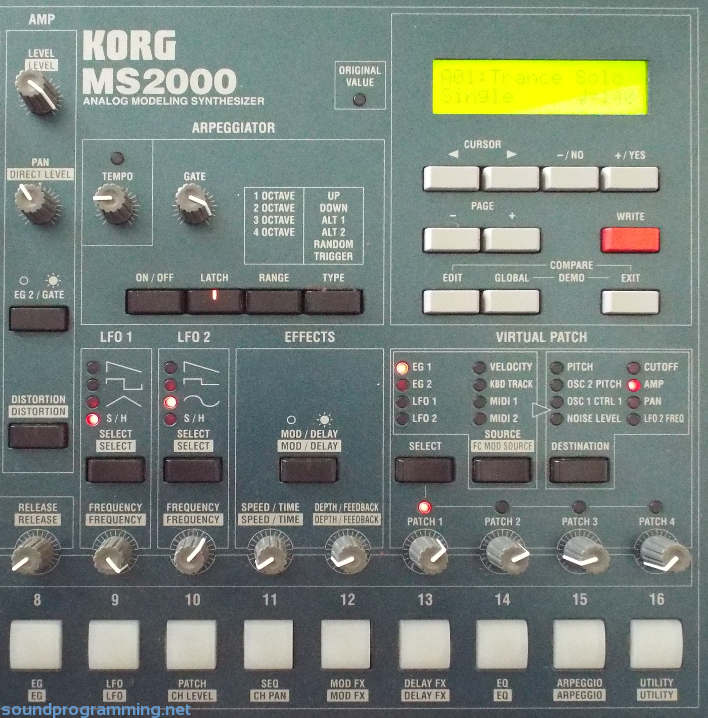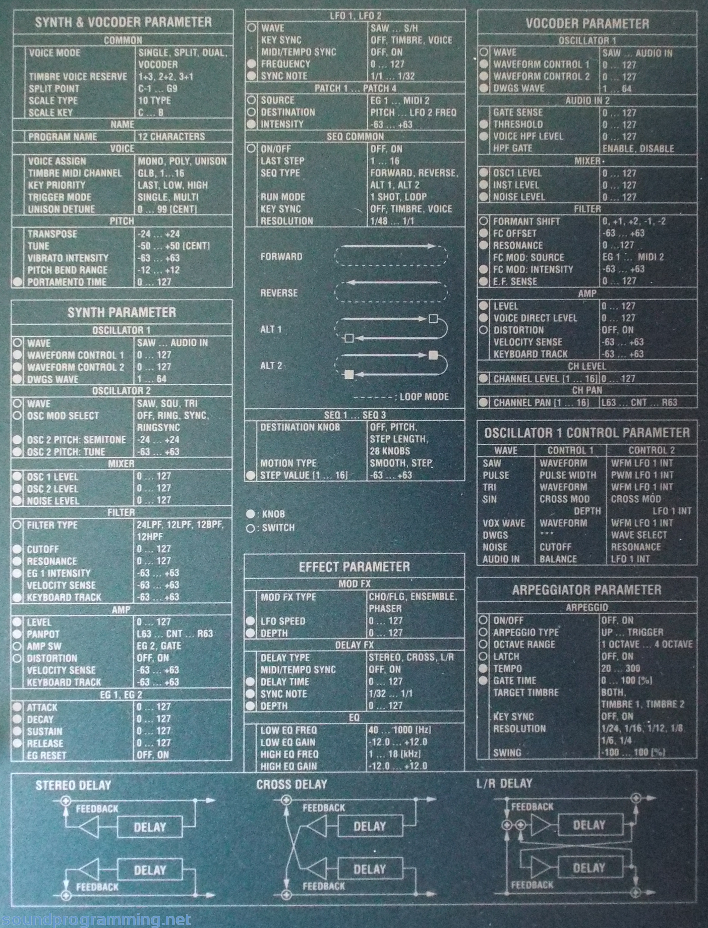 The MS2000 is a virtual analog synthesizer with a metallic blue case and wooden side panels. It has a built-in vocoder with formant shift and is powered by a 9V external power supply.
The MS2000 was also released in rack form as the MS2000R. A later revision with a built-in vocoder microphone and a darker case was released as the MS2000B. Its sound engine was reused in the MicroKorg, but without all of the realtime control knobs.
Specifications
Year Released: 2000
Keyboard: 44 keys with velocity
Polyphony: 4 notes
User Patches: 128
Effects: modulation (3 types), delay (3 types), equalizer
Screen: 16 x 2 character backlit LCD
Power Consumption: 8 watts
Dimensions: 737.8 mm x 371.3 mm x 147.7 mm
Weight: 7.1 kg
User Demo Videos
Rating
Sound Samples
WAV samples are available on freewavesamples.com.
File Downloads
Korg MS2000 and MS2000R Manual
Korg MS2000 and MS2000R Easy Start
Korg MS2000 and MS2000R Manual (Deutsch)
Korg MS2000 and MS2000R Service Manual
Items for Sale on Reverb
KORG MS2000 Analog Modeling Synthesizer ($579.99)
Korg MS2000 ($574.17)
Korg MS2000 ($382.78)
Korg MS2000 ($675)
Korg MS2000 AS NEW ($893.15)
Korg MS2000 ($520)
Korg MS2000 44-Key Analog Modeling Synthesizer ($499.99)
Korg MS2000 ($734.18)
Korg - MS2000 , MS2000B , MS2000R - Rotary potentiometer with switch ($9.50)
Korg - MS2000 Series , iS35 , D1200 - Rotary potentiometer 10KB ($7.90)
Korg - MS2000 Series , D1200 - Rotary potentiometer 10KB with center detent ($6.90)
korg ms2000 knobs lot of 10 ($70.18)
KORG Original Manual for MS2000 & MS2000R German ($12.96)
20 x TACT SWITCH KORG CX3 C6500 Ci8600-9600 KARMA MS2000 M3 M50 KROME N1 OASYS ($12.79)
Silverline Replacement Power Supply/AC Adapter for Korg MicroKORG MS2000 MS2000R MS2000B MS2000BR ($7.99)
Korg MS2000R ($491.16)
Korg MS2000R #4 ($618.82)
Korg MS2000R 2000s Blue ($350)
Korg MS2000R ($485.85)
Korg MS2000R ($600)
Korg MS2000R *Serviced* ($394.25)
Korg MS2000R ($441.59)
Korg MS2000R Analog Modeling Synthesizer ($399.99)
KORG MS2000R Rack Mount Analog Modeling Synthesizer ($429.99)
Korg MS2000R ($599)
Korg MS2000R Analog Modeling Synthesizer Rackmount Module FedEx DHL Ship 010824 ($440)
Korg MS2000R analog physical modeling rackmount synth ($459)
Korg - Contact strip 12-notes - EC150, EC350, IS35, IS40, IS50, IS50B, IX300, KARMA, MS2000, N264 ($11.90)
Korg - Contact strip 13 notes - EC150, EC350, IS35, IS40, IS50, IS50B, IX300, KARMA, MS2000, N264 ($11.90)
Korg MS2000R Analog Modeling Synthesizer in Excellent Condition ($530)
Korg MS-2000 Virtuell-Analoger Desktop-Synthesizer Vocoder Top-Zustand + GEWÄHR ($592.74)
Jameco 9 Volt 9V 500mA AC Adapter Power Supply for Korg MS-2000 MS-2000R ms2000 ($29.99)
Korg - MS-2000 , MS-2000R - 10KA Rotary Potentiometer - audio inputs ($6.95)
Korg - MS-2000 , Kross 61/88 , MicroKorg S - Rotary potentiometer 10KB - pitch bend or mod wheel ($7.95)
Korg KA-183VI AC Adapter for MicroKorg, MS2000 etc. [Three Wave Music] ($19.99)
Jameco Power supply Korg MS-2000 compatible 9 Volt 9VDC 500mA AC Adapter ($26.95)
Pushbutton tact switches full set of 49 for Korg MS2000-MS2000R switch ($21.54)