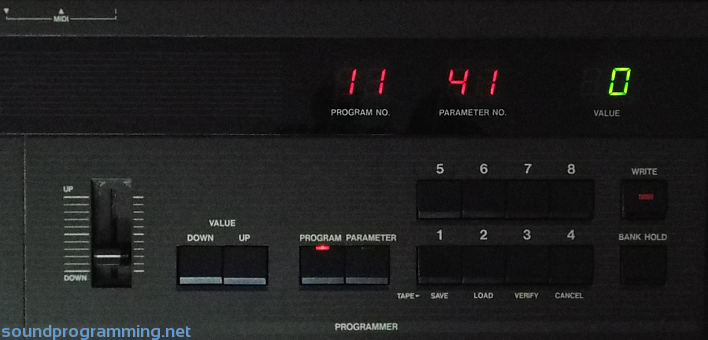 The DW-8000 is a hybrid synthesizer that uses digital single-cycle waveforms along with analog amplifier and filter circuitry. Korg called this the Digital Waveform Generator System (or DWGS). It was released during the years of transition from analog to digital synthesizers and sits firmly in the space between. Other hybrid synthesizers of the era are the Kawai K3 and the Ensoniq ESQ-1.
The DW-8000 is also available in rackmount form as the Korg EX-8000. The DW-6000 is a lower-end version with less polyphony. An optional MEX8000 expansion was available and it provided extra four banks of 64 patch memories.
The arpeggiator can be synchronized to an external MIDI clock, but doing so will disable it when no clock signal is present. If the arpeggiator is not working, check parameter 87 and make sure it's set to 1, 2, or 3.
To check your firmware revision, hold down the 1 and 2 buttons while turning on the power. The last value section of the display will indicate the firmware version. Version 12 is the most recent and fixes a problem with stuck notes. However, an old DW-8000 may also suffer stuck note and mistriggering problems if it has dirty contacts and a good internal cleaning should help with that.
The DW-8000 uses a 3v CR2032 lithium battery for its memory backup. This battery is soldered to one of the circuit boards and is difficult to replace. When replacing the battery, it's a good idea to replace it with a battery holder to make future changes easier.
Unlike most synthesizers of the era, it uses a 2-prong C9-type electrical cord instead of a standard 3-prong IEC computer power cord.
Patches can be loaded and saved via tape. You can also play .wav files on your computer and connect your headphone output to the tape input of the DW-8000 to load patches. The factory preload patch banks are available below. Do not listen to them directly, they are not intended for Human ears.
Specifications
Year Released: 1985
MSRP: $1295.00
Keyboard: 61 keys with velocity and aftertouch
Polyphony: 8 notes
Multitimbral: 1 parts
User Patches: 64
Effects: digital delay with 2-512 millisecond range
Arpeggiator: 64-note arpeggiator
Oscillator: 16 DWGS oscillator waveforms
Power Consumption: 31 watts
Dimensions: 998 mm x 338 mm x 101 mm
Weight: 10.9 kg
MIDI Connections: in, out, thru
User Demo Videos
Rating
Sound Samples
WAV samples are available on freewavesamples.com.
File Downloads
Korg DW-8000 Preload A Tape Dump
Korg DW-8000 Preload B Tape Dump
Items for Sale on Reverb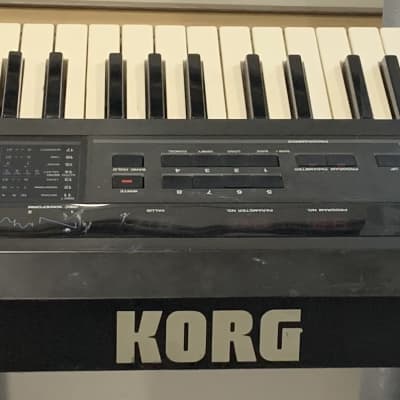 Korg DW-8000 - only, Original Owner ($495)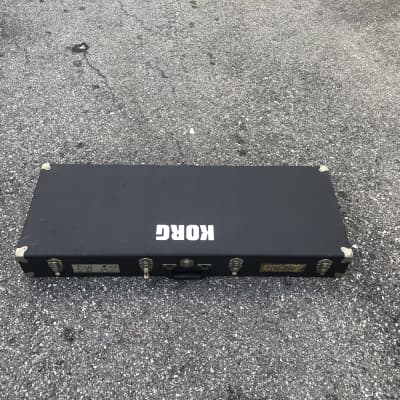 Vintage '80s Korg DW-8000 Hard Shell Synth Case ($299)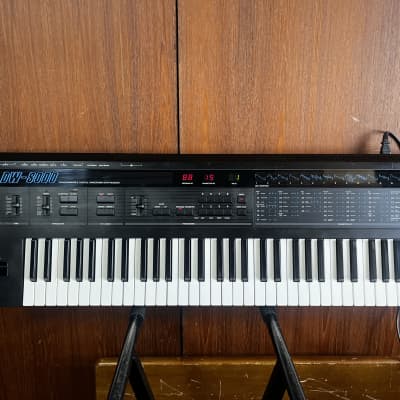 Korg DW-8000 Programmable Digital Waveform Synthesizer DWGS New battery! ($800)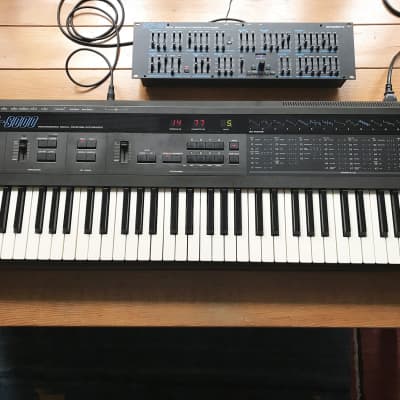 Korg DW-8000 with RetroAktiv DW8P Programmer ($1,702.26)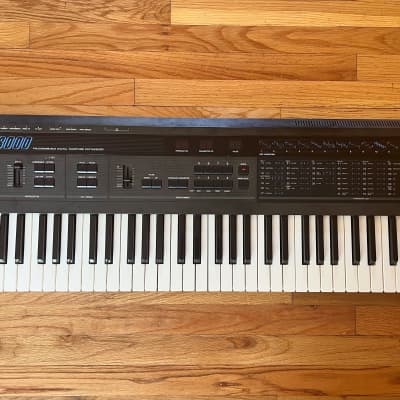 Vintage Korg DW-8000 Synthesizer w/ Brand New Battery - Sounds Amazing! ($600)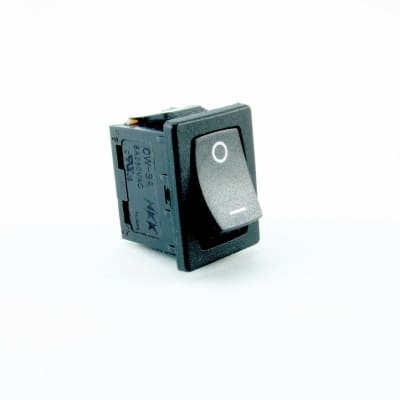 Korg - DW-6000 , DW-8000 , EX-8000 - Replacement Power Switc ($4.50)
Korg DW 8000 Hybrid Wavetable Synth analogue signal flow filters Gem from the 80s vintage ($1,463.94)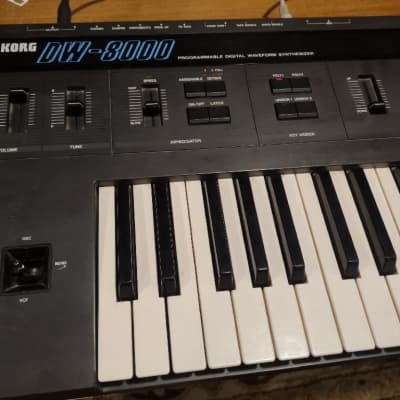 Korg DW 8000 1985 - 1987 - Black Vintage Digital Analog Hybrid Synthesizer Keyboard ($495)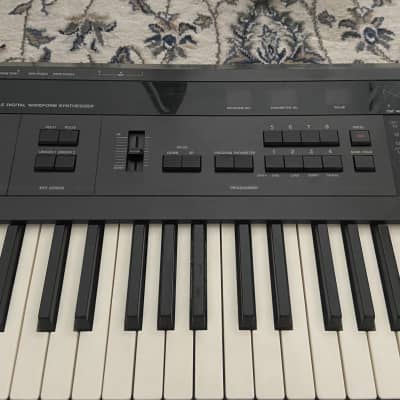 Korg DW 8000 1985 - 1987 - Black ($793.25)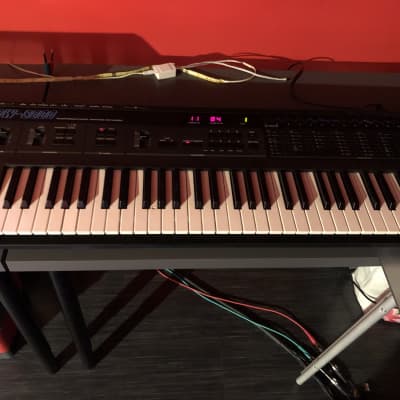 Korg DW 8000 Vintage Synth — Serviced ($907.87)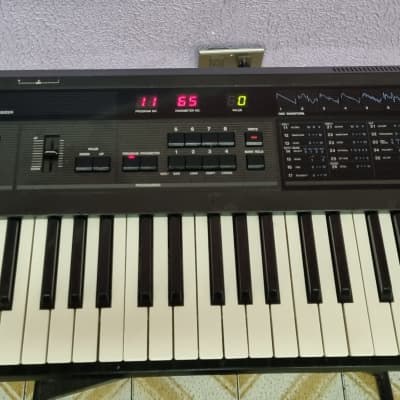 Korg DW 8000 1985 ($700)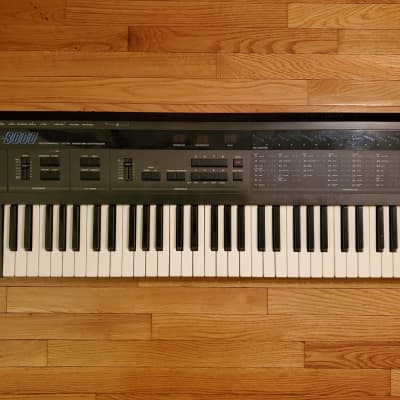 Korg DW 8000 Digital Analog Hybrid Synthesizer ($629)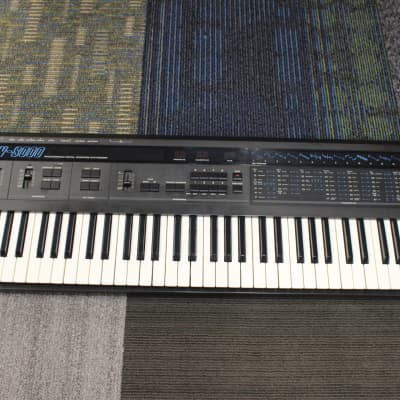 Korg DW 8000 Synthesizer ($950)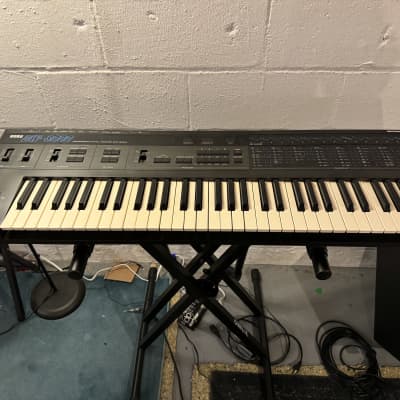 Korg DW 8000 1985 - 1987 - Black ($440)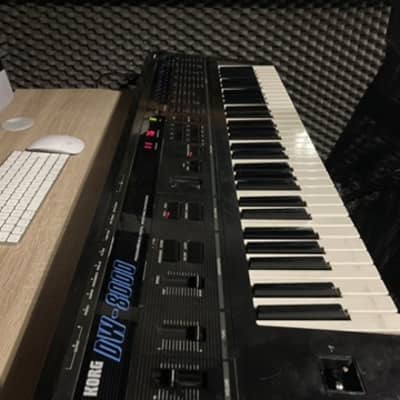 Korg DW 8000 1985 - 1987 - in need of some TLC ($339.32)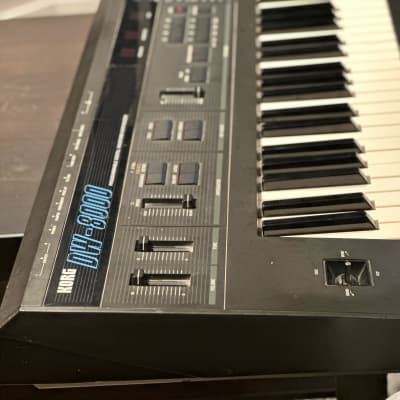 Korg DW 8000 1985 - 1987 - Black 80s ($769.06)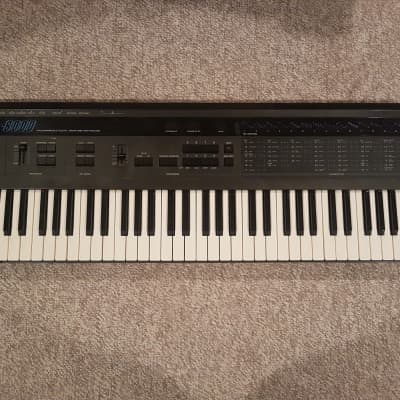 Korg DW 8000 ($772.92)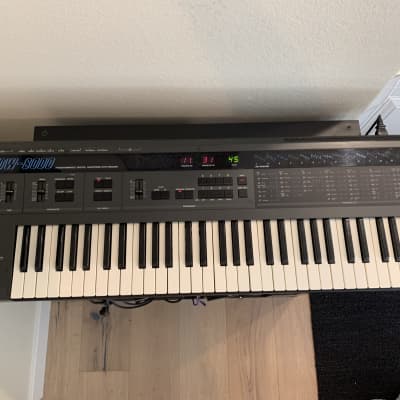 Korg DW 8000 ($600)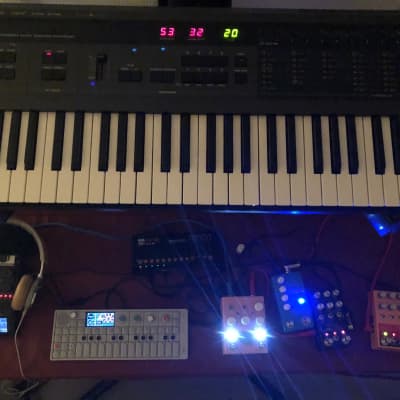 Korg DW 8000 1985 - 1987 - Black ($1,248.32)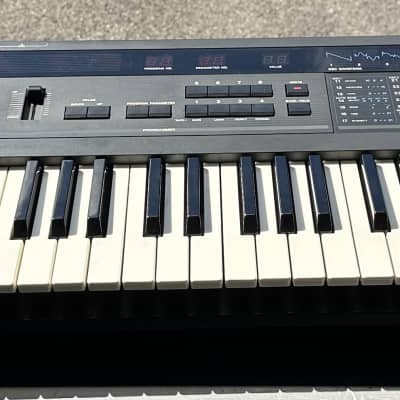 Korg DW 8000 1985 - 1987 - Black ($994.08)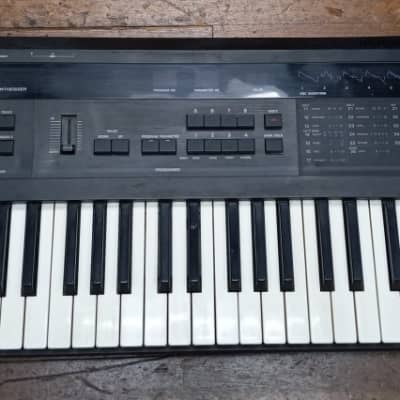 Korg DW 8000 1985 - 1987 ($299.99)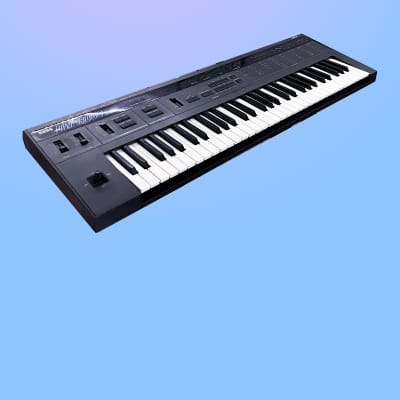 Korg DW 8000 1985 - 1987 - Black ($700)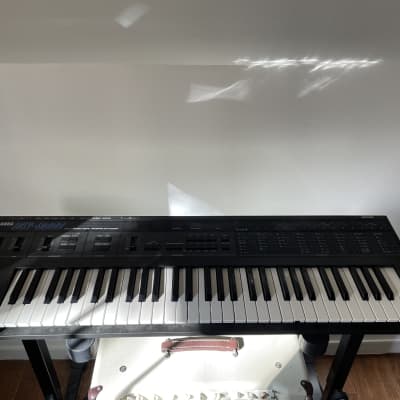 Korg DW 8000 ($425)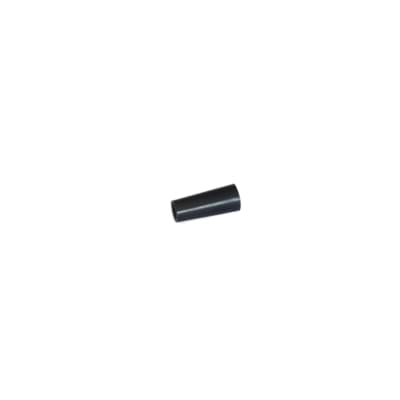 Korg - DSS-1 , Poly-800 , DS-8 , DW-6000 , DW-8000 - Replacement joystick knob ($3.99)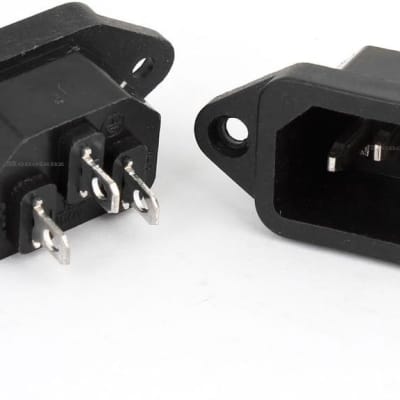 Korg DVP-1, DW-6000, DW-8000 3-Prong Conversion Outlet Replacement ($11.35)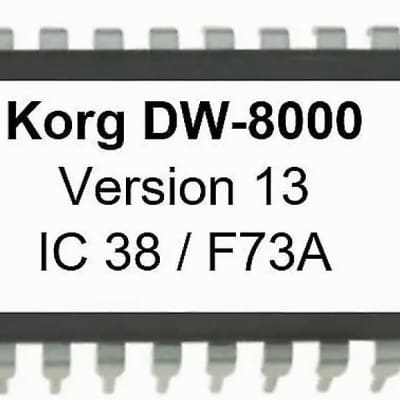 Korg DW-8000 OS 13 Final EPROM Firmware Upgrade Kit for DW8000 ($14.70)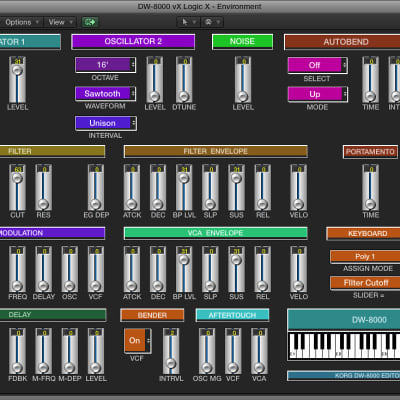 Virtual editor / programmer - KORG DW-8000 / EX-8000 - LOGIC v4 - X ($24.99)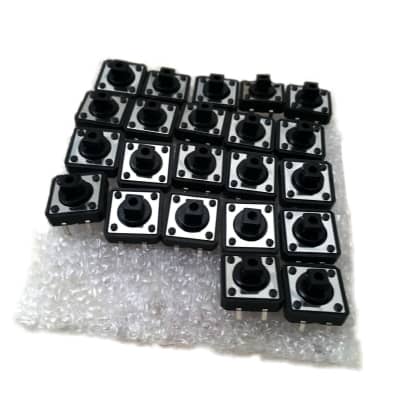 Korg - DW-8000 - Complete set of 22 panel switches - NEW ($17.90)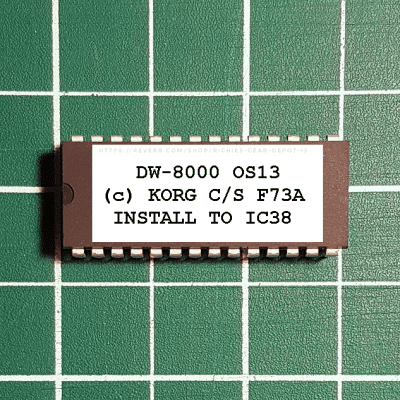 Korg DW-8000 OS 13 Final EPROM Firmware Upgrade Kit ($19.99)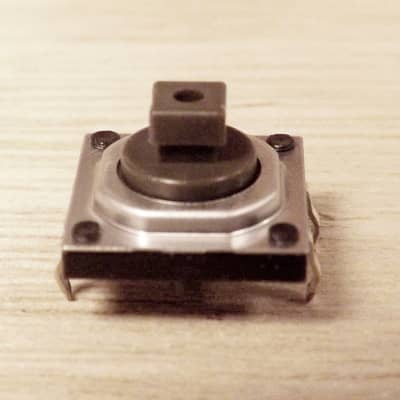 Korg DW8000 parts - ALPS tactile switches ($24.99)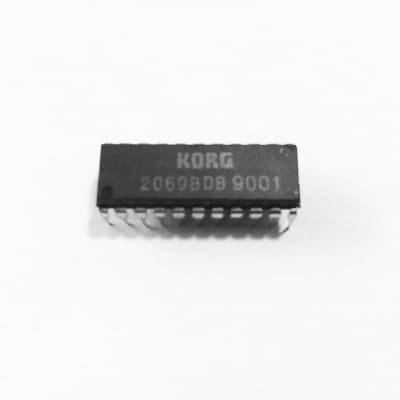 KORG 2069BDB VCF / VCA Chip for Poly-800, DW-6000, DW-8000, DSS-1. Works Great ! ($22.95)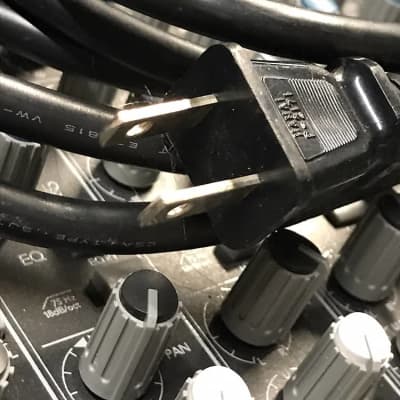 Roland/Korg 2-Prong Power Cord for Juno-106, HS-60, MKS-30/50/70, JX-8P/10, Korg DW-6000/8000, EX-8000, and more ($9.95)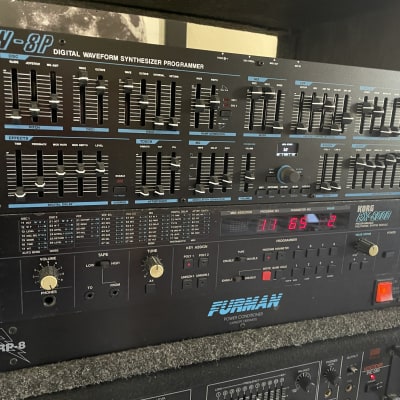 Korg EX-8000 w/ DW-8P Retroactive Expander 1980-2020 - Black ($1,599)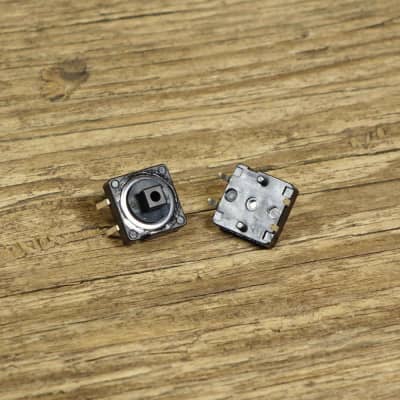 KORG DW 8000 Complete Set 22 tact switches ($19)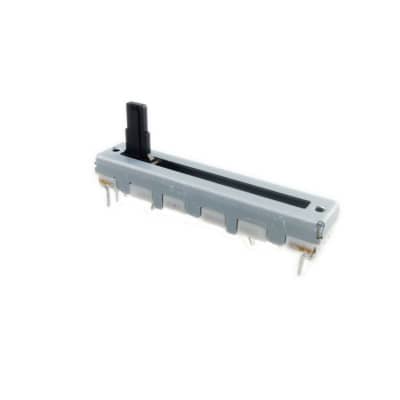 Korg - DW Series , EX-8000 - New Slide potentiometer for Volume ($15.90)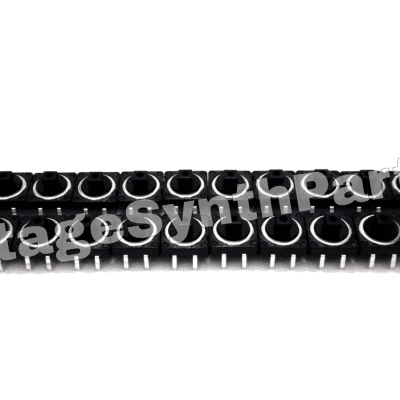 Korg Dw8000 Tact Switches Full Set of 22 for Dw-8000 Panel Buttons Switch Parts Repair ($19.86)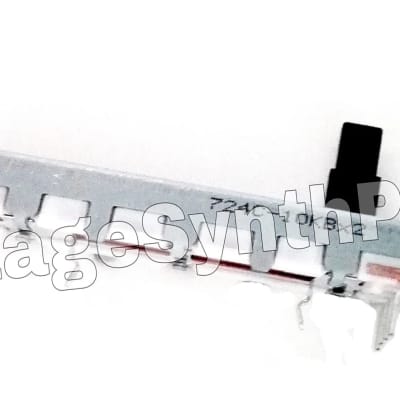 Korg - DW Series , EX-8000 - New Slide potentiometer for Volume ($7.89)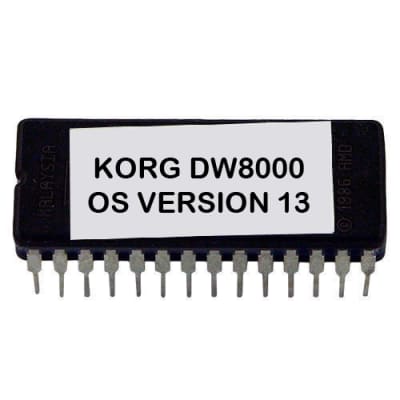 Korg DW-8000 Version 13 firmware latest OS update upgrade EPROM - DW8000 Rom ($14.70)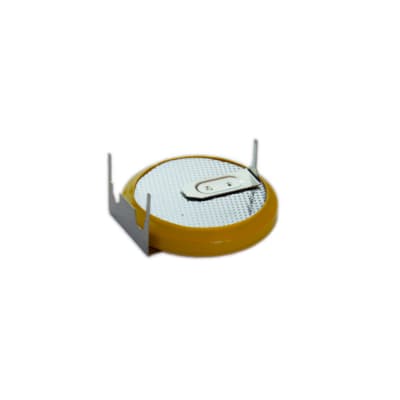 Korg - DS-8, N264, DW-6000/8000 , Trinity, DVP-1, DDD-1 - Battery ($9.90)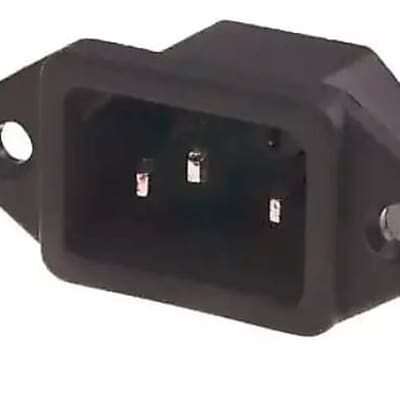 Roland AC for Juno-106, HS Series, Korg DW-6000/8000 ($11.35)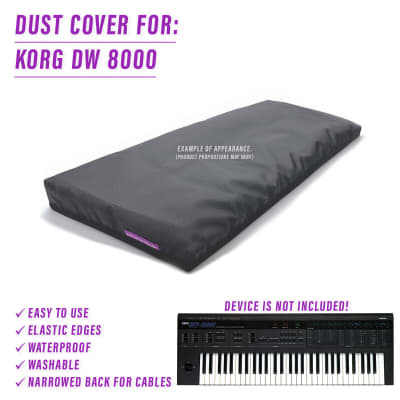 DUST COVER for KORG DW 8000 - Waterproof, easy to use, elastic edges ($28.37)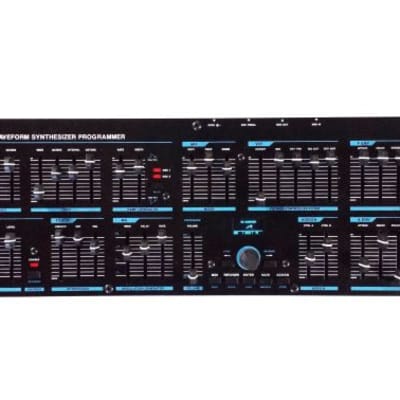 Retroaktiv DW-8P Controller for Korg EX-8000, DW-8000 & DW-6000 ($589)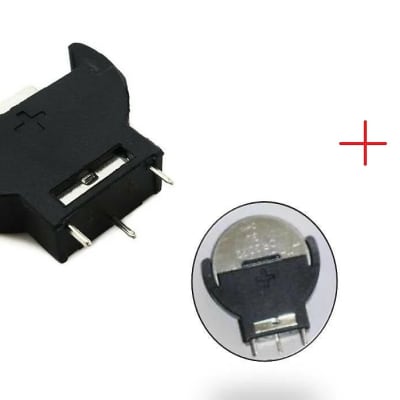 Korg Trinity DW8000 DW6000 N264 N364 EX8000 DS8 - Battery 3V Replacement Repair Fix ($11.29)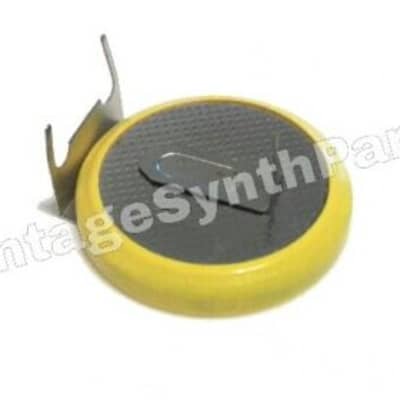 Korg Trinity DW8000 DW6000 N264 N364 EX8000 DS8 - Replacement Battery 3v ($6.75)