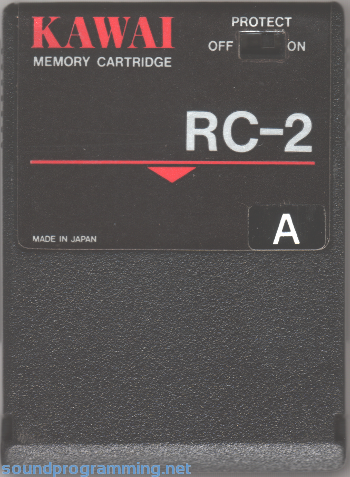 The Kawai K3 is a hybrid synthesizer with two digital oscillators and analog filters. Its architecture and sound is similar to other hybrid synthesizers that it competed with, the Ensoniq ESQ-1 and the Korg DW-8000.
The K3 has a selection of 31 waveforms available plus one user-defined waveform that is built using additive synthesis with 32 harmonics that can be set at a level from 0 to 31. A second user-defined waveform can be stored on a memory cartridge. Kawai later created the K5, a synthesizer based entirely on additive synthesis.
It uses SSM2044 chips for its filters.
The K3 is available in rackmount form as the Kawai K3m.
Specifications
Year Released: 1986
MSRP: $1095.00
Keyboard: 61 keys with velocity and aftertouch
Polyphony: 6 notes
User Patches: 50
ROM: 32 KB (31 8-bit waveforms)
Effects: chorus
Screen: 6-digit LED display
Power Consumption: 38 watts
Dimensions: 964 mm x 373 mm x 118 mm
Weight: 15 kg
Oscillator Waveforms: 32 plus one user-defined additive waveform.
User Demo Videos
Rating
Sound Samples
WAV samples are available on freewavesamples.com.
File Downloads
Items for Sale on Reverb
Kawai K3 Digital Wave Synthesizer ($520)
Kawai K3 - Oberheim Matrix 6 6R volume fader / slide potentiometer slider ($14.27)
Kawai -K1 , K1 ii , K1R , K3 , K3m - New battery ($4.90)
Kawai K3 OS Update ($19.34)
Pushbuttons Tact Switches Full Set Of 58 for Kawai K3 K-3 Micro Switch Tactile ($38.51)
Kawai K3 Synthesizer Spare Parts ($350)
Kawai K3 latest version E upgrade ROM EPROM 5p36 for firmware OS update ($45.14)
Kawai K3 - Serviced - In Great Condition ($850)
Kawai K3 Synthesizer ($1,160.16)
Kawai K3 - Battery 3V Replacement Repair Fix K-3 ($10.96)
Kawai K3 Digital Wave Memory Synthesizer ($849.95)
Pushbuttons Tact Switches Full Set Of 58 for Kawai K3 K-3 Omron ($38.51)
Kawai K3 Synthesizer ($792.77)
Kawai -K1 , K1 ii , K1R , K3 , K3m - New battery ($5.45)
KAWAI K3M Firmware OS 6P-16 Upgrade ROM Latest version EPROM Rom Firmware K3-M ($19.78)
Kawai K3M - Version 6P-16 Firmare OS Upgrade Update Rom K3-M Rack ($19.78)
Kawai K3m 1980's - Black ($696.09)
Kawai K3_FULL replacement membrane_PPG Style inspired 2022 Blue ($62.40)
Kawai K3m - recently serviced ($1,157.04)
Kawai - K3m - New Power switch ($9.90)
KAWAI K3M 1982 - 110 V Rack ($826.46)
KAWAI K3m ($1,212.14)
Akai and Kawai AKAI AX-80 - S-612 - CASIO CZ-1000 - KAWAI K-3 Set Of 10 switches ($8.71)
10 x Front panel pushbutton tact switch for AKAI AX-80 - S-612 - MX73- CASIO CZ-1000 - KAWAI K-3 OMRON ($10.85)
Kawai K300 48" Upright Piano | Satin Mahogany | SN: 2736683 ($7,599.99)
Kawai K300 2015 - Black ($4,000)
Vintage Teisco Kawai Speed Bump Bass Guitar Pickup 4.3k ($69.99)