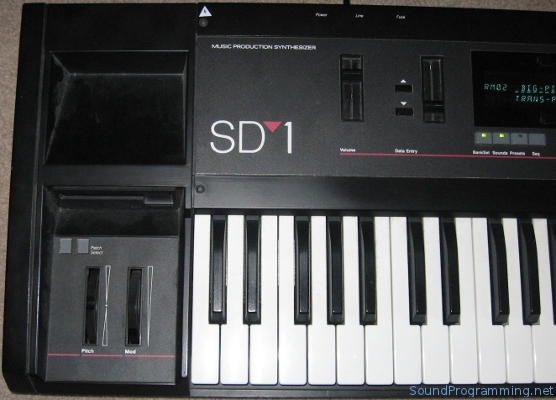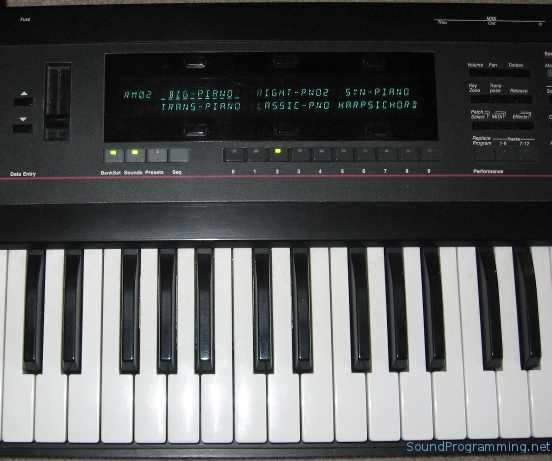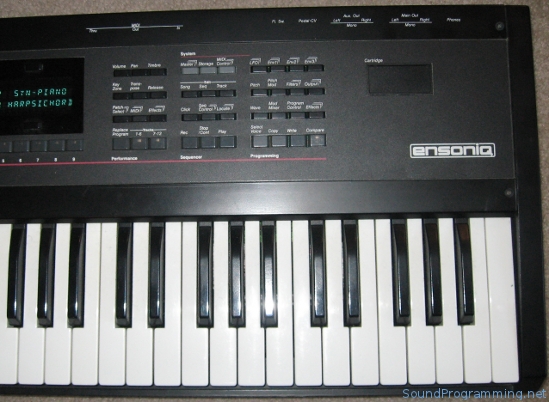 The SD-1 is the follow-up to the Ensoniq VFX-SD. It has 11 notes of additional polyphony beyond the original VFX and adds a 1MB piano ROM.
Like the VFX, it can use up to 6 waveforms together in a single patch and has 11-stage envelopes. The built-in sequencer can record 12 tracks in step or realtime recording mode and can be expanded to 75,000 note capacity with the optional SQX-70 expansion.
The SD-1 contains a set of 17 transwaves that can be used for wave sequencing. Here is the transwave list:
Spectral-X
Digital-X
Vocal-X
Doctor-X
Inharm-X
Synchro-X
Omega-X
Esqbell-X
Formant-X
Planet-X
Electro-X
Pulse.1-X
Pulse.2-X
Resonant1
Resonant2
Resonant3
Resonant4
As the top of the VFX line, the SD-1 usually commands prices significantly above a VFX-SD despite only being a minor upgrade sound-wise.
To check the ROM version of your SD-1, press and hold the PRESETS button and then press the MASTER button.
Thanks to Richard Beeson, we now have a copy of the Ensoniq SD-1 manual available for download.
Specifications
Year Released: 1990
MSRP: $2695
Keyboard: 61 keys with velocity and aftertouch
Polyphony: 32 notes
Multitimbral: 24 parts
Preset Patches: 60
User Patches: 60
Preset Performances: 20
User Performances: 20
ROM: 3.5 MB (168 waveforms at 16-bit resolution)
Effects: dual 24-bit effects processor with reverb, chorus, flange, phaser, delay, distortion, rotary speaker, compressor, wah
Dimensions: 103 cm x 34 cm x 10 cm
Weight: 29 lbs.
Sequencer Memory: 25,000 Notes (Expandable to 75,000 Notes), 60 Patterns, 20 Songs
Latest OS Version: 4.10
Latest OS Version For SD-1/32: 4.10/4.10
User Demo Videos
Rating
Sound Samples
WAV samples are available on freewavesamples.com.
File Downloads
Items for Sale on Reverb
Ensoniq SD-1 Synthesizer SD1 keyboard 32 voices ($550)
Ensoniq SD-1 1990 ($600)
Ensoniq SD-1 1990 plus Flight Case ($1,000)
Ensoniq SD-1 1990 + last os + goodies ($1,800.90)
Ensoniq SD-1 1990 ($1,266.72)
Ensoniq SD-1 ($700)
ENSONIQ SD-1 MUSIC PRODUCTION SYNTHESIZER (VINTAGE) ($699.99)
Panasonic 3 Volt Battery for Ensoniq ESQ1 ESQM SQ80 SD-1 VFX-SD ESQ ($22.95)
Ensoniq SD-1 21 to 32 voice upgrade kit!!! ($55)
Ensoniq - SQ-80 , VFX-sd , SD-1 - New Battery ($14.90)
Ensoniq SD-1 [32 voice] OS v4.10 EPROM Firmware Upgrade SET / Brand New ROM Update Chips for SD1 ($24.99)
Ensoniq SD-1 (32 Voices) EPROM Firmware Upgrade Latest OS Version 4.10 SD1 ($21.05)
Ensoniq SD-1 (32 Voices) EPROM Firmware Upgrade Latest OS Version 4.10 SD1 ($21.05)
Ensoniq SD-1 Operating System Disk v 3.00 ($8.95)
Ensoniq SD-1 Synthesizer black with carry case vintage synthesizer keyboard ($599)
Ensoniq Battery for VFX-SD / SD-1 2020 Yellow ($13.99)
Ensoniq VFX-SD / SD-1 3.5" Floppy Disk Replacement Drive REFURB #2 ($46.99)
Ensoniq SD-1 (32 Voices) EPROM Firmware Upgrade Latest OS Version 4.10 SD1 ($33.47)
Ensoniq SD1 Operating System Disk v4.10 Sequencer OS ($4.25)
Ensoniq - ESQ1, Esqm , SQ80, SD-1, Vfx-Sd - Battery Holder replacement Fix ($14.84)
Ensoniq SDP-1 Sampled Piano Vintage Digital Keyboard c. 1980s ($99)
Ensoniq SQ-80 / ESQ-1 / VFX SD / SQ2 Volume & Data Slider Replacement Kit by Bassmobile.org ($22)
Ensoniq SQX-70 sequencer expansion memory upgrade kit TS-10, TS-12, SD-1, VFX-sd, KS-32, SQ-1, SQ-2 ($31.04)
Ensoniq SDP-1 ($100)
☆NEW☆ 64-IN-1 (3840-Patch) Ensoniq VFX, VFX-SD, SD-1 Rewritable Cartridge ($211.02)
Ensoniq SQX-70 sequencer expansion memory upgrade kit TS-10, TS-12, SD-1, VFX-sd, KS-32, SQ-1, SQ-2 ($45)