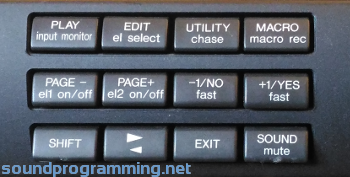 The RM50 is a rackmount drum module version of the Yamaha RY30 drum machine. It uses AWM2 samples in ROM for sound generation. It is the percussion counterpart to the Yamaha TG500 and has the same front panel design.
It has six drum trigger inputs, allowing it to be used as a MIDI drum module, or as the brain of an electronic drum kit. It also has 3 wave card expansion slots for expansion cards from the RY30, SY77, and SY55 synthesizer. A fourth RAM card slot allows saving an additional 500 variations, 100 patterns, and 64 drum kits.
Specifications
Year Released: 1993
Polyphony: 16 notes
Preset Patterns: 1000
User Patterns: 100
Preset Drumkits: 64
User Drumkits: 64
ROM Size: 3MB PCM ROM containing 133 16-bit 48KHz waveforms
Screen: 24 x 2 character backlit LCD
Power Consumption: 14 watts
Weight: 5 kg
Dimensions: 480 mm x 346.7 mm x 44 mm
User Demo Videos
Rating
Sound Samples
WAV samples are available on freewavesamples.com.
File Downloads
Items for Sale on Reverb
Yamaha RM50 Rackmount Programmable Drum Module ($175)
Yamaha RM50 Rhythm Sound Module ($236.23)
Yamaha RM50 ($258.68)
Yamaha RM50 Rhythm Sound Module ($301.40)
Yamaha RM50 Rackmount Drum Module [Three Wave Music] ($229.95)
Yamaha RM50 Rhythm Sound Module. Super Clean! Near mint condition! ($209)
Yamaha RM-50 version 1.06 EPROM Firmware Upgrade KIT / New ROM Update Chip RM50 ($22)
YAMAHA RM50 LATEST OS V 1.06 EPROM FIRMWARE UPGRADE UPDATE RM-50 EPROM ($17.66)
YAMAHA RM50 LATEST OS V 1.06 EPROM FIRMWARE UPGRADE UPDATE RM-50 EPROM ($17.66)
YAMAHA RM50 LATEST OS V 1.06 EPROM FIRMWARE UPGRADE UPDATE RM-50 EPROM ($14.17)
Yamaha RM 50 ($165.36)
Yamaha RSC3074 Peter Erskine Rhythm Sound Card RY30 RM50 SY/TG rare! ($125)
Yamaha RSC3071 Dave Weckl Rhythm Sound Card RY30 RM50 SY/TG rare! ($125)
Yamaha RSC3073 Matt Sorum Rhythm Sound Card RY30 RM50 SY/TG rare! ($125)
Yamaha RY30/RM50 Sound Card RSC3073 "Matt Sorum" [Three Wave Music] ($99.95)
Yamaha RM-50 Rythm Sound Module ($307.34)