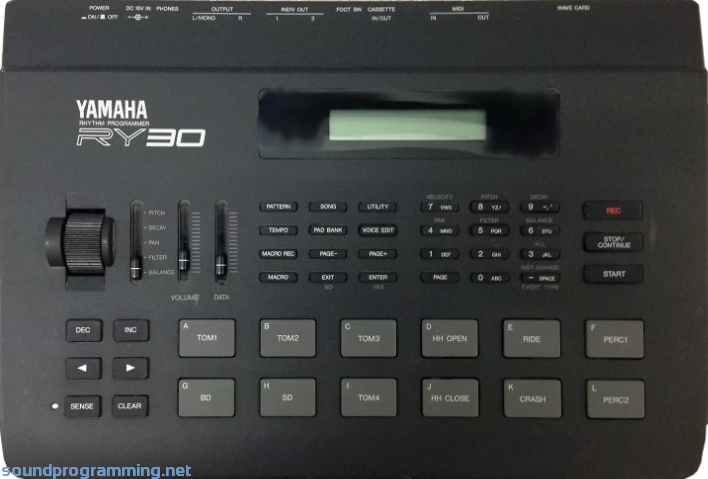 The RY30 can load an additional 32 waveforms via ROM cards. In addition to RY30 and RM50 cards, it can also load sounds from some of SY/TG series expansion cards.
Some available ROM expansion cards are:
RSC3001: Percussion Rhythm Sound Card
RSC3002: FX Drums
RSC3003: House and Rap Rhythm Sound Card
RSC3004: Dance and Soul Rhythm Sound Card
RSC3071: Dave Weckl Artist Series
RSC3072: Tommy Aldridge Artist Series
RSC3073: Matt Sorum Artist Series
RSC3074: Peter Erskine Artist Series
Specifications
Year Released: 1991
Number of Pads: 12
Polyphony: 15 notes
Multitimbral: 16 parts
Preset Patterns: 100
User Patterns: 100
User Songs: 20
Tempo Range: 40 - 250 BPM
Sequencer Resolution: 96PPQN
ROM Size: 96 16-bit 48KHz samples
Effects: High-pass (12 and 24 dB/octave) and Low-pass (12 and 24 dB/octave) digital filters.
Screen: 24 x 2 character backlit LCD
Weight: 2.1 kg
Dimensions: 370 mm x 254 mm x 67 mm
User Demo Videos
Rating
File Downloads
Items for Sale on Reverb
Yamaha RY30 Rhythm Programmer Original Manual ($20)
Yamaha RY30 operating owners manual ($15)
Yamaha RY30/RM50 Sound Card RSC3073 "Matt Sorum" [Three Wave Music] ($99.95)
Yamaha RSC3073 Matt Sorum Rhythm Sound Card RY30 RM50 SY/TG rare! ($125)
Yamaha RSC3072 "Tommy Aldridge" cartridge for the RY30 - 1990's ($114.76)
Yamaha RSC3074 "Peter Erskine" cartridge for RY30 - 1990's ($114.76)
Yamaha RSC3002 "FX Drums" cartridge for the RY30 - 1990's ($114.76)
Yamaha RSC3074 Peter Erskine Rhythm Sound Card RY30 RM50 SY/TG rare! ($125)
Yamaha RSC3071 Dave Weckl Rhythm Sound Card RY30 RM50 SY/TG rare! ($125)
YAMAHA RY 30 PROGRAMABLE DRUM MACHINE ($400)
Kawai R100 R50 - Yamaha RY-30 RY30 Sound set eprom for R-100 R-50 ($23.52)
Yamaha RY-30 RY30 Sounds Eprom for KAWAI R100 and R50 drum machine ($23.52)