Synths ⇝ Roland ⇝ Roland SRX Expansion Boards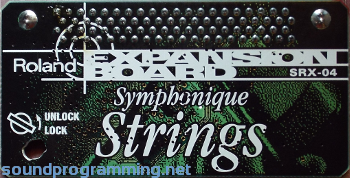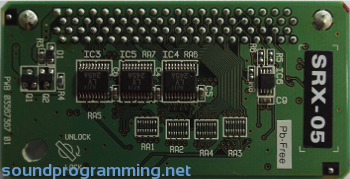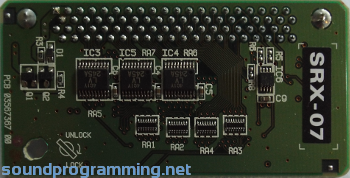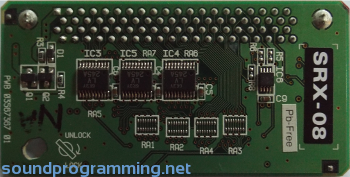 Roland released a line of 12 expansion boards over the course of a few years starting in 2000. Many of their synthesizers have expansion slots and they are an easy way to increase a synthesizer's capabilities with a specific type of sound set.
The Roland SRX expansion boards are compatible with the XV and Fantom series of synthesizers.
The G-70, MC-909, Juno-G, and V-Studio 700 each support 1 expansion board.
The Fantom FA-76, XV-88, XV-3080, RD-700, Juno Stage 2, VR-760, XV-2020, XV-5050 and Sonic Cell each support 2 expansion boards.
The XV-5080, Fantom-S, and Fantom-X each have 4 SRX expansion board slots.
The Fantom XR has 6 SRX expansion slots.
The Integra-7 comes with all twelve expansion boards preloaded in its operating system, but it can't use them all at once, so they have to be installed in "virtual expansion slots".
The following boards were produced:
SRX-01 Dynamic Drum Kits (Manual)
SRX-02 Concert Piano (Manual)
SRX-03 Studio SRX (Manual)
SRX-04 Symphonique Strings (Manual)
SRX-05 Supreme Dance (Manual)
SRX-06 Complete Orchestra (Contains all waveforms from SR-JV80-02 Orchestral, SR-JV80-13 Vocal, SR-JV80-16 Orchestral II, and selected waveforms from SR-JV80-07 Super Sound Set) (Manual)
SRX-07 Ultimate Keys (Contains all waveforms from SR-JV80-04 Vintage Synth, SR-JV80-08 Keyboards of the '60's and '70's, SR-JV80-10 Bass and Drums, and selected waveforms from SR-JV80-09 Session and SR-JV80-03 Piano) (Manual)
SRX-08 Platinum Trax (Contains waveforms from SR-JV80-11 Techno, SR-JV80-12 Hip Hop, SR-JV80-15 Special FX, and SR-JV80-19 House) (Manual)
SRX-09 World Collection (Contains waveforms from SR-JV80-05 World, SR-JV80-14 Asia, SR-JV80-17 Country, SR-JV80-18 Latin) (Manual)
SRX-10 Big Brass Ensemble (Manual)
SRX-11 Complete Piano (Manual)
SRX-12 Classic EPs (Manual)
SRX-96 World Collection and Legendary XP Essentials
SRX-97 Jon Lord's Rock Organ (Only compatible with Fantom-X series, contains 12 patches)
SRX-98 Analog Essentials (Only compatible with Fantom-X series, contains 78 patches)
SRX-99 Special Wave Expansion
Specifications
ROM: 64 MB
User Demo Videos
Rating
Items for Sale on Reverb
Roland Srx 01 Srx1 Dinamic Drum Srx01 ($182.35)
ROLAND SRX-03 Studio SRX Expansion Board Worldwide Shipment ($149.99)
Roland SRX-03 Studio SRX Expansion Board ($150)
Roland SRX-03 Studio SRX Expansion Board Card ($229.99)
ROLAND SRX-01 DYNAMIC DRUM KITS BOXED ($120.21)
Roland Fantom-S 61-Key Workstation Keyboard ($2,790)
Roland Fantom-XR Rackmount Synth / Sampler ($1,250)
Roland SRX-11 Complete Piano Expansion Board [new old stock] ($267.40)
Roland SRX-10 Big Brass Ensemble Expansion Board Card ($229.99)
Roland SRX-01 Dynamic Drum Kits Expansion Board. Works Perfect !... ($99)
Roland Expansions SRX-05 Supreme Dance for SRX-Compatible Synths ($229.99)
ROLAND SRX-01 Dynamic Drum Kits Expansion Board Worldwide Shipment ($89.99)
Roland SRX-01 Dynamic Drum Kits Expansion Board ($208.57)
Roland SRX-11 Complete Piano Expansion Board W/ CD & Origianl Box ($300)
Roland SRX-12 Classic EPs Expansion Board ($255)
Roland SRX-01 Dynamic Drum Kits ($160)
Roland SRX-05 Supreme Dance Expansion Board ($200)
Roland SRX-05 Supreme Dance Extension Board In Excellent Working Condition ($150)
Roland SRX-11 Complete Piano Expansion Board ($299)
Roland SRX-08 Platinum Trax Expansion Board ($280)
Roland SRX-01 Dynamic Drum Kits Expansion Board ($104.82)
Roland SRX-01 Dynamic Drum Kits for SRX-Compatible Synths ($119.99)
ROLAND SRX-02 EXPANSION CARD CONCERT PIANO ($159)
Roland SRX-08 Platinum Trax Box ($9.52)
Roland SRX-06 Complete Orchestra Expansion Board W/ CD & Original Box ($200)
Roland SRX-11 Complete Piano  Expansion Board ($260)
Roland SRX-06 Complete Orchestra ($200)
Roland SRX-02 Concert Piano Expansion Board ($159)
Roland SRX-08 Platinum Trax Expansion Board ($225)
ROLAND SRX-04 Symphonic Strings Expansion Board Worldwide Shipment ($119.99)
Roland SRX-01 Dynamic Drum Kits Expansion Board ($118.75)
Roland SRX-01 -1 Dynamic Drum Kits Drums Expansion Board Sound ROM Card SRX01 4 XV & Fantom X Synths ($139)
Roland SRX-07 Ultimate Keys Expansion Board ($350)
Roland SRX-08 Platinum Trax Expansion Board ($260)
ROLAND SRX-05 Supreme Dance Expansion Board Worldwide Shipment ($179.99)
Roland SRX-05 Supreme Dance Expansion Board ($200)
Roland SRX-02 Concert Piano Expansion Board ($149)
Roland SRX-10 Big Brass Ensemble Expansion Card In Excellent working condirtion ($250)
Roland SRX-04 Symphonique Strings Expansion ($249.99)
Roland SRX-10 Big Brass Ensemble Expansion Board ($165.79)
Roland SRX-04 Symphonique Strings Expansion Board ($144.39)
manuals Roland SRX-03 Studio SRX-01 Dynamic Drums SRX-06 Complete Orchestra SRX-04 Symphonic Strings ($29)
4 Roland SRX-06 SRX-03 SRX-01 SRX-04 manual expansion board card brochure ($29)
Vintage Roland Expansion Board SRX-01 Dynamic Drum Kits ($88.58)
Vintage Roland Expansion Board SRX-03 Studio SRX ($177.15)
Roland XV-3080 w SRX-02 Exp. Card ($407.92)
Roland Fantom-X8 Fully Weighted 88-Key Workstation Keyboard 4 SRX Expantion Slots Like New Condition ($1,100)
Roland INTEGRA-7 Super NATURAL 12 SRX Expansions Flagship Sound Module MINT ($1,199.99)
Roland Srx-98 ($85.57)
Jon Lord Roland SRX-97 Deep Purple sound card board Smoke on the Water yeah ($229)