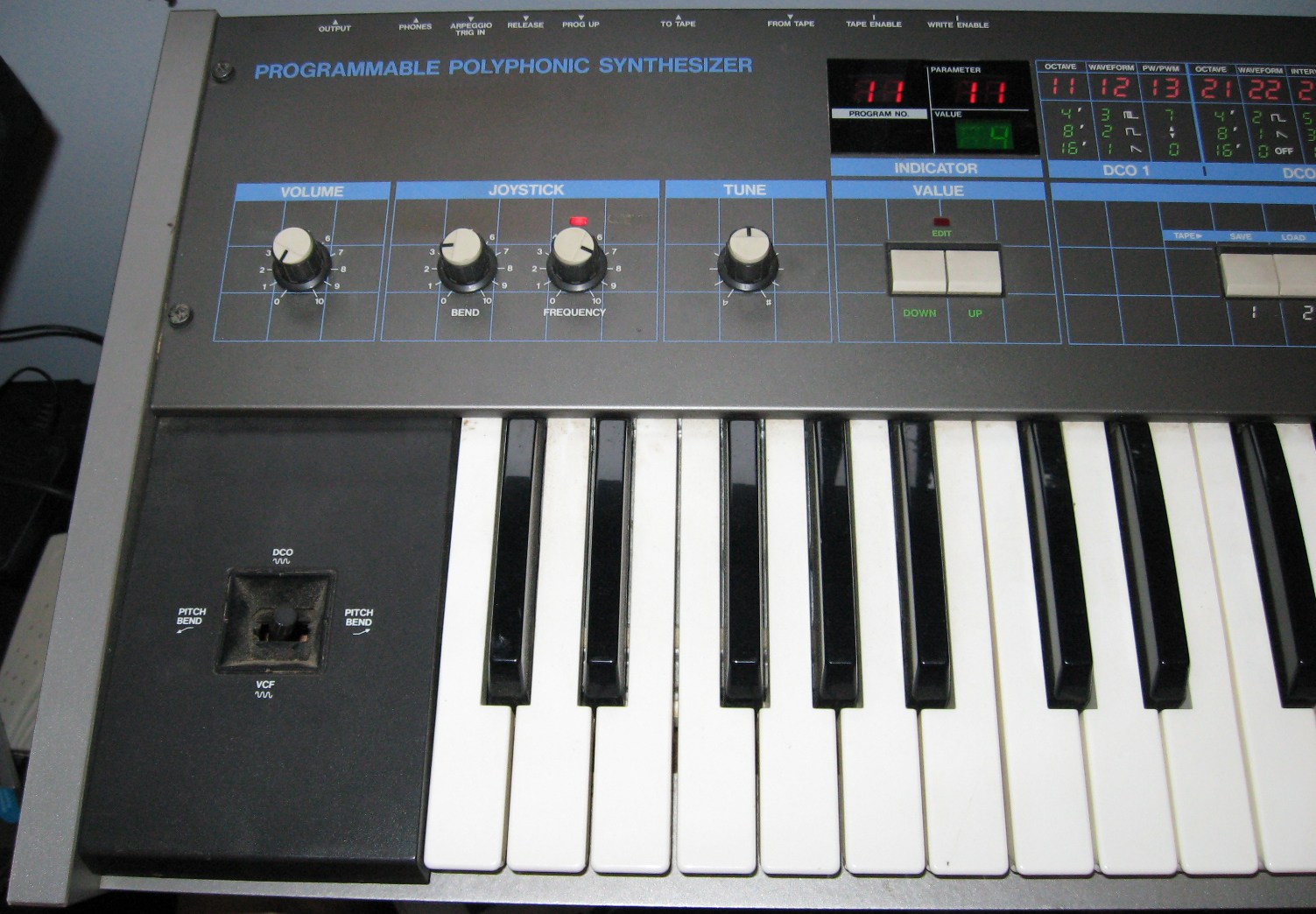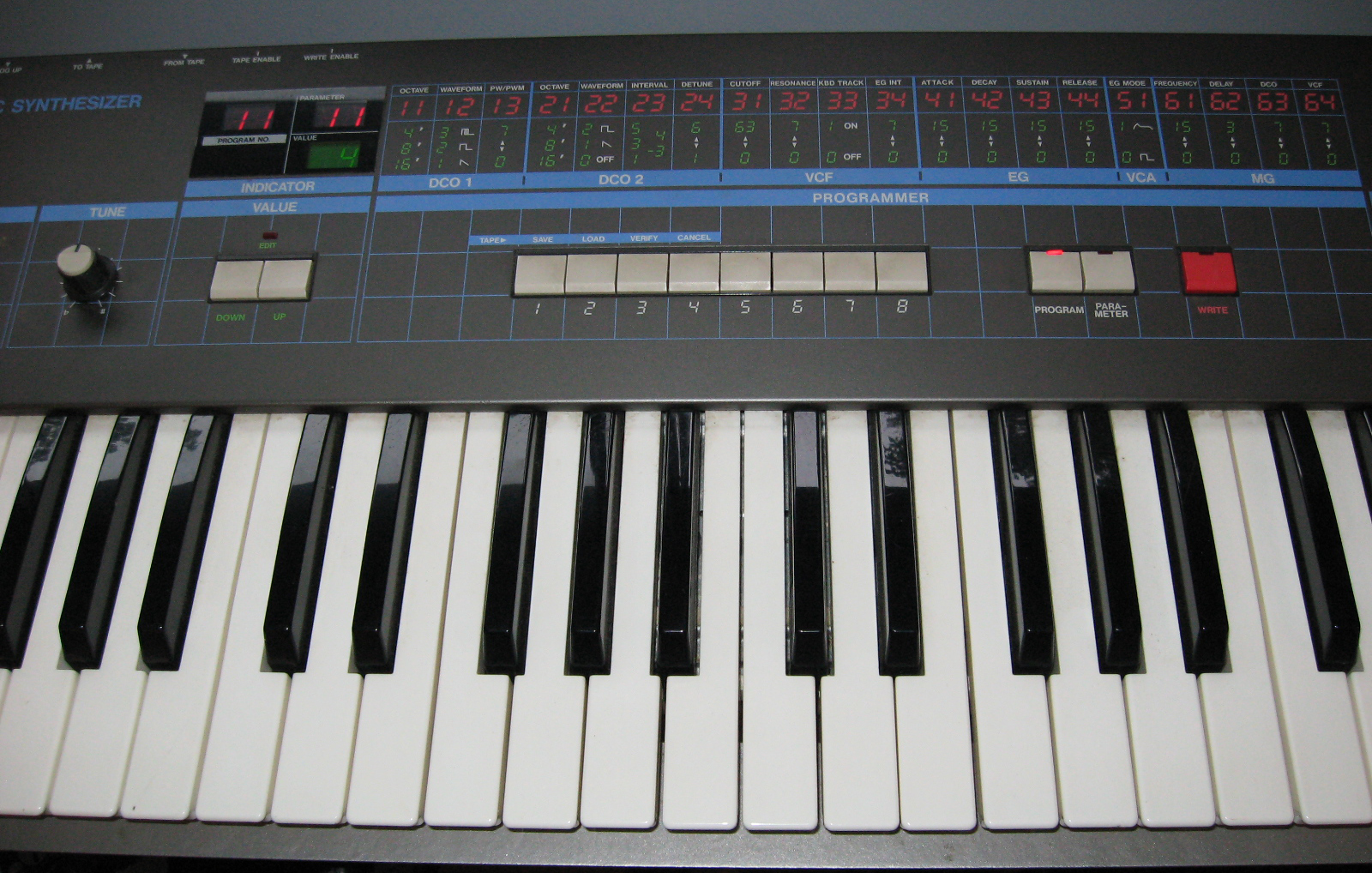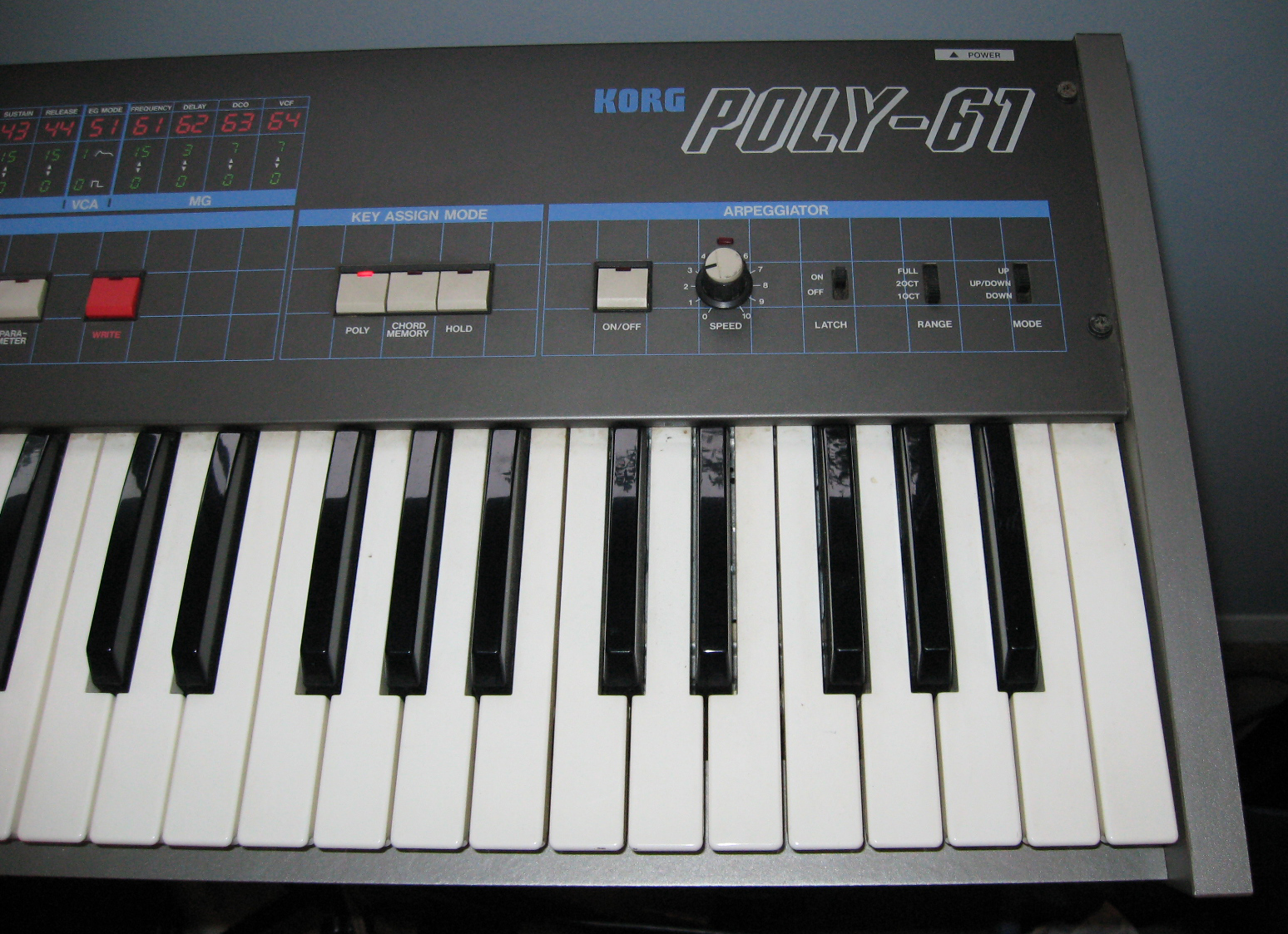 The Poly-61 is a two-oscillator digitally-controlled analog synthesizer that was released just before MIDI became popular. A later version, the Poly-61M, was released with MIDI support.
The successor to the Korg PolySix, its control panel has fewer knobs and relies on selecting a parameter by its number and then changing its value, making it less suited to real-time sound tweaking than the PolySix.
The first oscillator can use a saw, pulse, or PWM waveform, while the second oscillator can generate a saw or square waveform. It uses a pair of NEC D8049C 8-bit processors to control its systems and a set of six SSM-2056 chips to controls its envelopes.
The Poly 61 has a patch memory battery that will leak and cause damage to the CPU board. This battery will need to be replaced at some point. If it's not, it will eventually destroy the circuit board. A standard 3.6v 3-cell rechargeable cordless phone battery is a suitable replacement.
Specifications
Year Released: 1982
MSRP: $995
Keyboard: 61 keys
Polyphony: 6 notes
Multitimbral: 1 parts
User Patches: 64
Power Consumption: 28 watts
Dimensions: 985 mm x 350 mm x 110 mm
Weight: 12 kg
User Demo Videos
Rating
File Downloads
Korg Poly-61 Manual Missing Pages
Items for Sale on Reverb
Korg Poly-61 with TUBBUTEC Mody Poly MIDI Upgrade Analog Synthesizer ($1,099)
*Serviced* Korg Poly-61 Analog Synthesizer w/ Tubbutec MIDI ($1,350)
Korg Poly-61 Analogue Programmable Polyphonic Synthesizer ($755)
Korg Poly-61 Analogue Programmable Polyphonic Synthesizer ($850)
Korg Poly-61 Analogue Programmable Polyphonic Synthesizer ($650)
Korg Poly-61 Analogue Programmable Polyphonic Synthesizer  ($829.19)
Korg Poly-61 and Flight Case ($1,999)
Korg Poly-61 Synthronics Board ($711.74)
1982 Korg Poly-61 Vintage Analog Synthesizer Works Good! ($779)
Korg Poly-61 with new battery installed ($600)
Korg Poly-61 Analogue Programmable Polyphonic Synthesizer ($900)
Vintage 80's Korg Poly-61 Synthesizer Top Chassis Panel - Replacement Repair Parts Only ($120)
Korg Poly-61 Poly61 - PARTS Lot ($169.69)
Korg Poly-61 Analogue Programmable Polyphonic Synthesizer ($626.21)
Korg Poly-61 Analogue Programmable Polyphonic Synthesizer Upgraded ($1,146.04)
Korg Poly-61 Vintage Synthesizer (Serviced!) ($675)
Korg Poly-61 Analogue Programmable Polyphonic Synthesizer ($600)
Used Vintage Korg Poly 61 analog Synthesizer ($999.99)
Korg Poly-61M Analogue Programmable Polyphonic Synthesizer ($971.70)
Korg Poly-61 Analogue Programmable Polyphonic Synthesizer ($862.66)
Korg Poly-61 Programmable Polyphonic Synthesizer in Very Good Condition ($800)
Korg Poly 61 Synthesizer with Flight Case ($809.75)
Korg Poly 61 ($866.07)
Korg Poly 61 ($701.79)
Vintage Korg Poly 61 analog polyphonic synth with original hard case ($669.07)
Korg Manual Korg Poly-61 Booklet / English / Spanish ($12.96)
Korg - PolySix , Poly-61 , Poly-800 , EX-800 - NTE374 PNP transistor ($6.50)
Korg Poly-61 Transformer ($30)
KORG Poly-61 Complete Set 17 tact switches ($13.77)
Korg Poly-61 Programmable Polyphonic Synthesizer 1980s Dealer Brochure ($19.99)
Korg Poly-61 2 pcs. FFC Socket 18 Pol, 2,54 mm pitch, new, socket ($13.42)
Korg Poly-61 Synthesizer Replacement Solid Walnut Chassis / Body / Case ($259)
KORG DW6000 - KPR-77 - POLY-61 - YAMAHA DX7 - DX9 - KX8 10 tact switches OMRON8 ($10.74)
CHD Elektroservis P61-KBD - Korg Poly-61 MIDI Interface ($117.04)
Battery replacement For Korg Poly61 Poly61 M Vintage Synth Parts Poly-61 ($12.90)
Korg Poly 61 Knob ($15)
Replacement Key Spring for Korg Polysix/Poly-61/Poly-800/DW-6000, Memorymoog, Oberheim OB-8, Prophet ($1)
Replacement Sharp/Black key for Korg Polysix/Poly-61/Poly-800/DW-6000, Memorymoog, Oberheim OB-8, Pr ($10)
Replacement F key for Korg Polysix/Poly-61/Poly-800/DW-6000, Memorymoog, Oberheim OB-8, Prophet-600, ($14)
Replacement E key for Korg Polysix/Poly-61/Poly-800/DW-6000, Memorymoog, Oberheim OB-8, Prophet-600, ($14)
Replacement G key for Korg Polysix/Poly-61/Poly-800/DW-6000, Memorymoog, Oberheim OB-8, Prophet-600, ($14)
Replacement F key for Korg Polysix/Poly-61/Poly-800/DW-6000, Memorymoog, Oberheim OB-8, Prophet-600, ($14)
Replacement B key for Korg Polysix/Poly-61/Poly-800/DW-6000, Memorymoog, Oberheim OB-8, Prophet-600, ($14)
Replacement Sharp/Black key for Korg Polysix/Poly-61/Poly-800/DW-6000, Memorymoog, Oberheim OB-8, Pr ($10)
Replacement D key for Korg Polysix/Poly-61/Poly-800/DW-6000, Memorymoog, Oberheim OB-8, Prophet-600, ($14)
Replacement D key for Korg Polysix/Poly-61/Poly-800/DW-6000, Memorymoog, Oberheim OB-8, Prophet-600, ($14)
Replacement A key for Korg Polysix/Poly-61/Poly-800/DW-6000, Memorymoog, Oberheim OB-8, Prophet-600, ($14)
Replacement C key for Korg Polysix/Poly-61/Poly-800/DW-6000, Memorymoog, Oberheim OB-8, Prophet-600, ($14)
Korg Poly 61Analog Synthesizer front Panel Very Clean ($115)
Replacement E key for Korg Polysix/Poly-61/Poly-800/DW-6000, Memorymoog, Oberheim OB-8, Prophet-600, ($14)