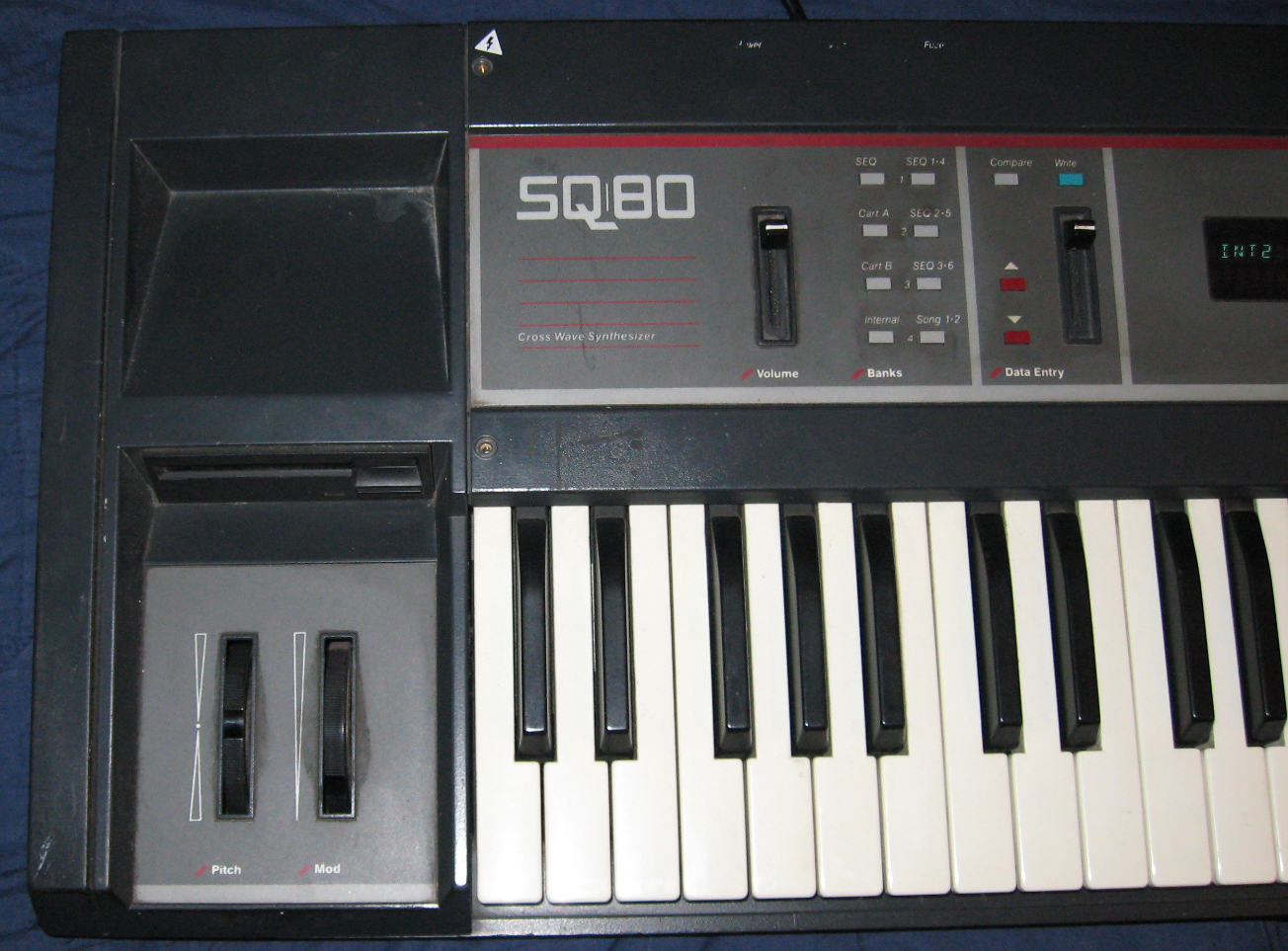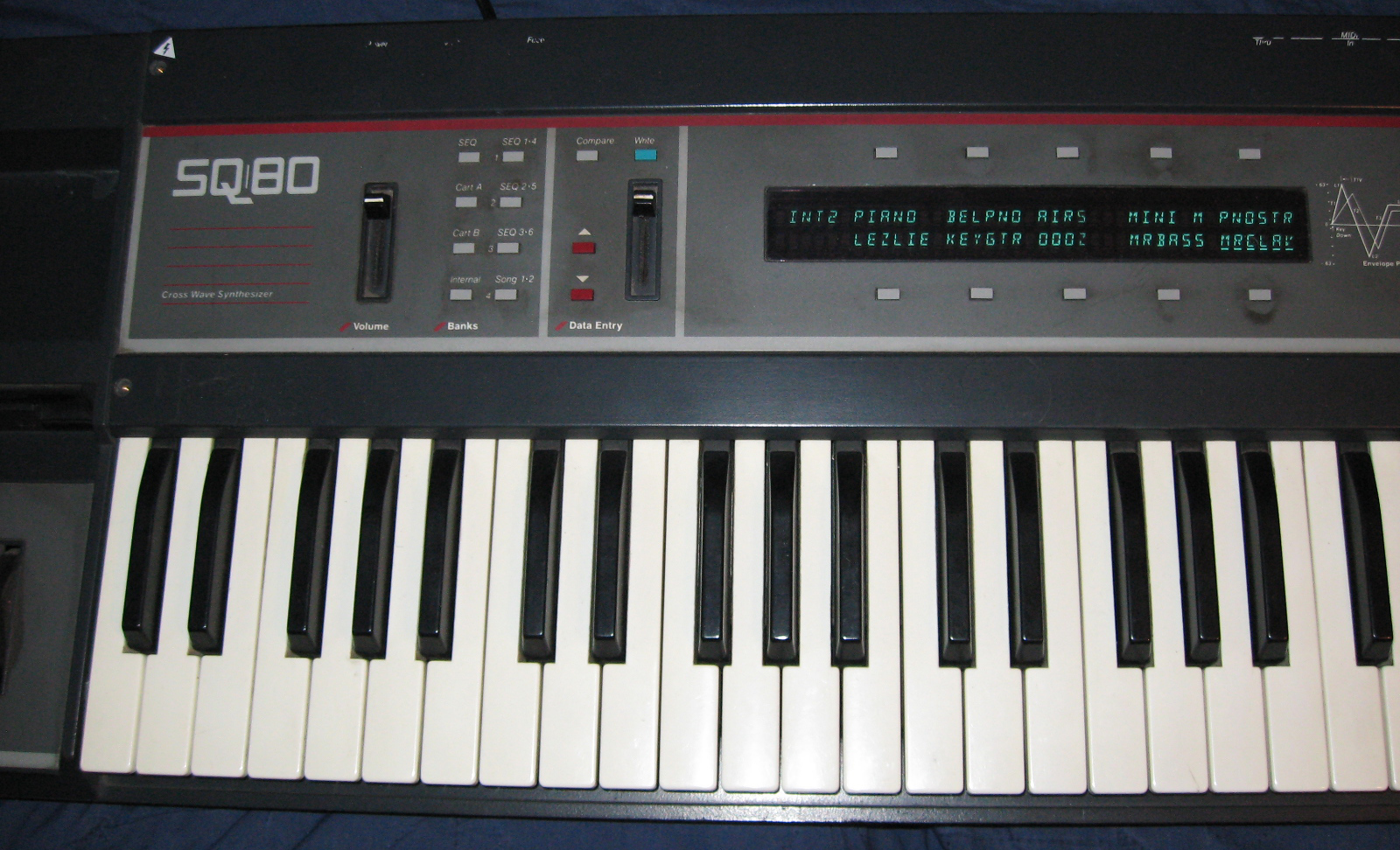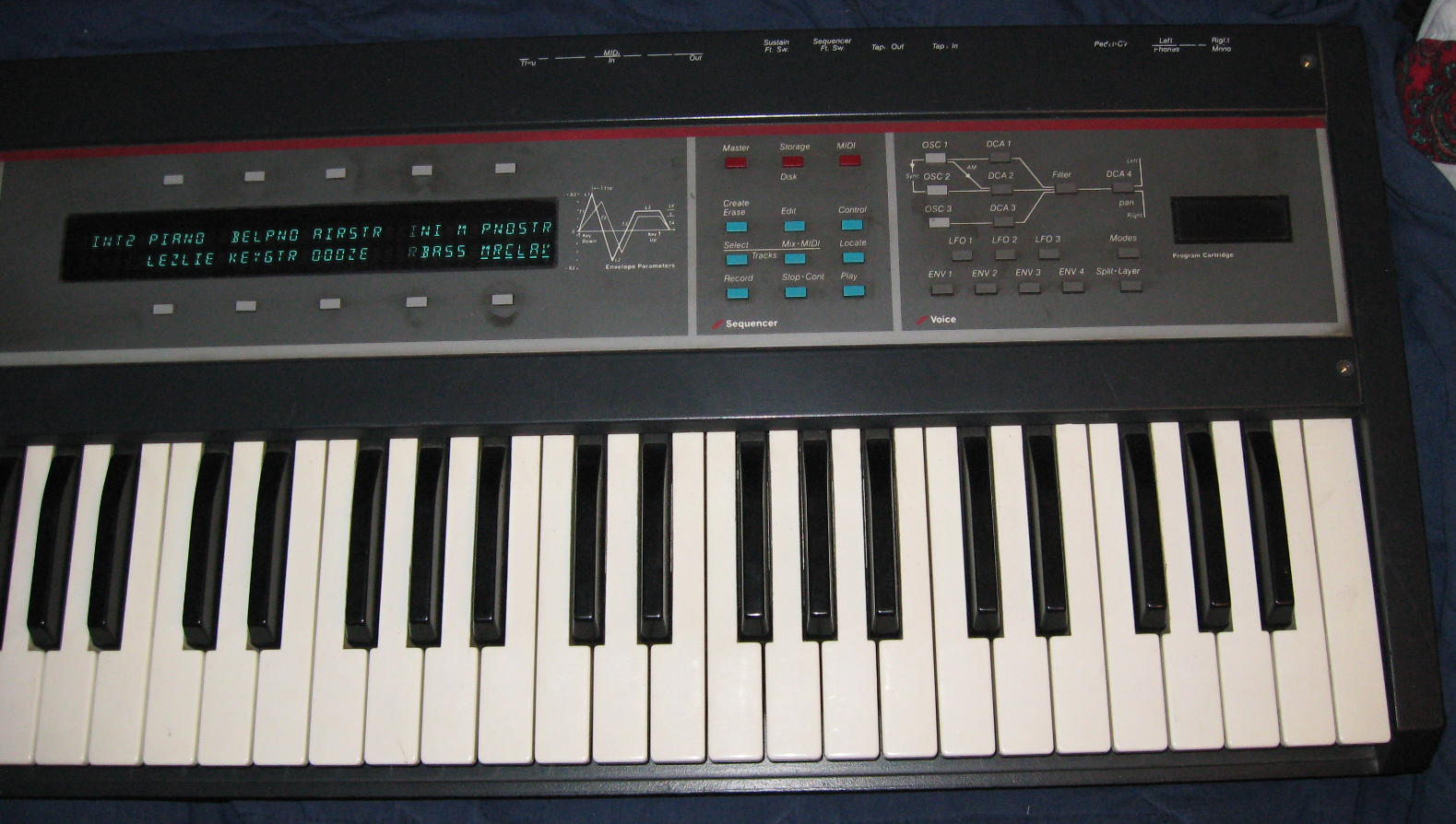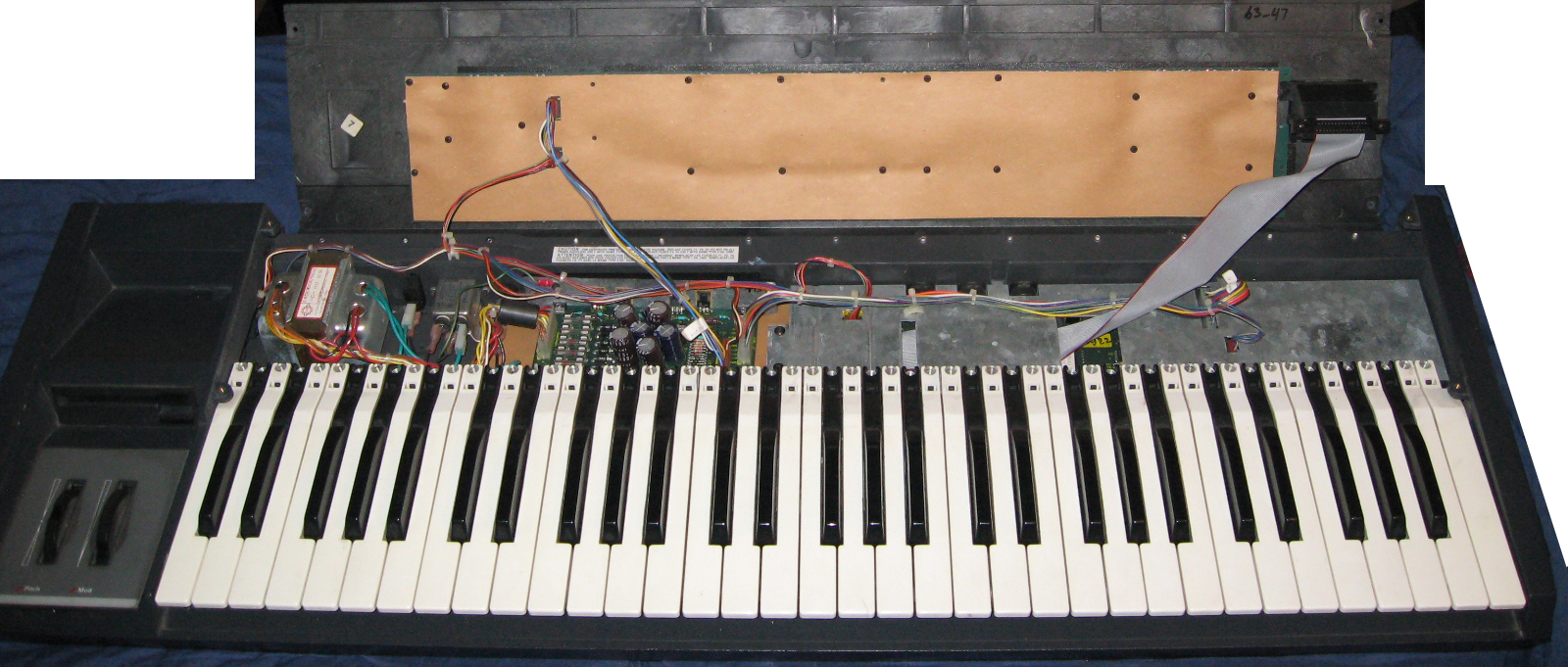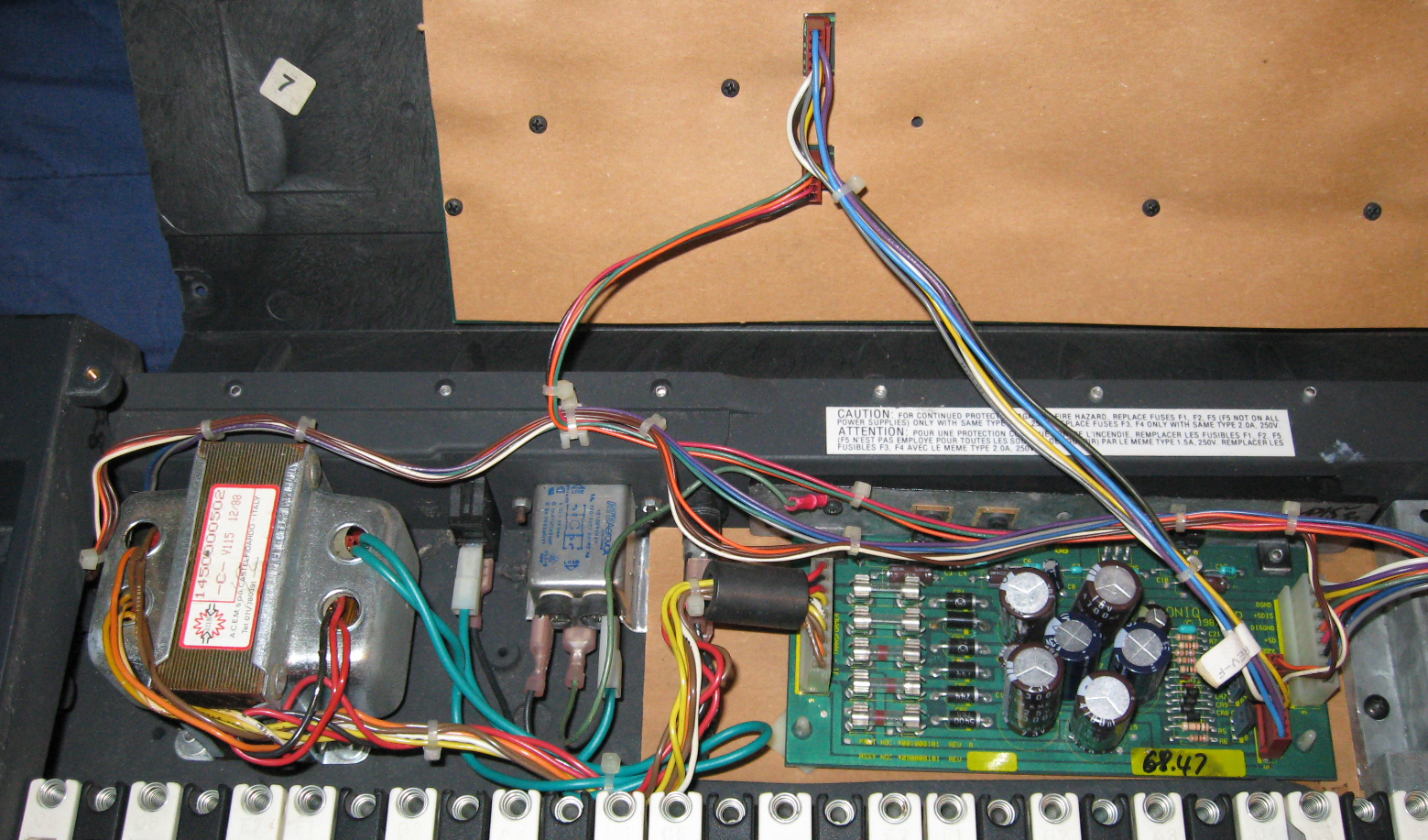 The Ensoniq SQ-80 is the successor to the Ensoniq ESQ-1 and has a few upgrades, including a larger selection of waveforms (plus all of the ESQ-1's original waves), a keyboard with polyphonic aftertouch, a floppy drive, and expanded sequencer memory.
The expanded waveforms include a selection of waveforms meant to aid in the simulation of acoustic instruments. They include inharmonic loops (5), transient attacks (11), sustain loops (17), drum sets (5), and drum sounds (5).
An optional memory cartridge adds 80 more user-programmable patch memories. Patches can also be saved to floppy disk.
The SQ-80 uses CEM3379 analog filter chips.
It was followed a year later by the Ensoniq VFX.
Specifications
Year Released: 1988
MSRP: $1895
Keyboard: 61 keys with velocity and aftertouch
Polyphony: 8 notes
Multitimbral: 8 parts
User Patches: 40
ROM: 75 waveforms
Sequencer Memory: 20,000 notes
Oscillator: 3 oscillators per voice
Screen: 40 x 2 character fluorescent display
Dimensions: 98 cm x 34 cm x 9 cm
Weight: 13.2 kg
MIDI Connections: In, Out, Thru
LFOs: 3
Filter: Analog 4-pole low-pass.
Newest OS Version: 1.80
User Demo Videos
Rating
Sound Samples
WAV samples are available on freewavesamples.com.
File Downloads
Ensoniq SQ-80 Firmware Version 1.8 (Low ROM Image)
Ensoniq SQ-80 Firmware Version 1.8 (High ROM Image)
Items for Sale on Reverb
Ensoniq SQ-80 Cross Wave Synthesizer ($909.35)
Ensoniq SQ-80 Cross Wave Synthesizer ($700)
Ensoniq sq 80 ($500)
Ensoniq SQ-80 OS v1.8 EPROM Firmware Upgrade SET [with Hidden Waves Enabled] / Brand New ROM Chips ($24.95)
Floppy Drive Emulator USB for Ensoniq SQ-80 Incl. 2000 blank disks for SQ80 ($77.08)
Ensoniq SQ-80 v 1.8 OS EPROM Firmware Upgrade + [Hidden Waves enabled] for SQ80 ($19.77)
Ensoniq SQ-80 OS ROMs HI/LO V 1.50 1988 ($9.99)
Ensoniq SQ-80 - Keyscan Versione 1.5 Update Firmware [Latest Kpc OS ] For SQ80 ($15.36)
Ensoniq - SQ-80 , VFX-sd , SD-1 - New Battery ($19.90)
Ensoniq - KS-32 , SQ-80 - Crystal 4.00000 MHz ($2.95)
Ensoniq - ASR-10 , EPS , ESQ , Mirage , SQ-80 - Push button Tact Switch ($2.90)
Ensoniq - ESQ-1 , ESQ-M , SQ-80 - Slide potentiometer - 10kb ($13.90)
Ensoniq ESQ-1 SQ-80 Prophet IC, CEM3379 Voltage-Controlled 24 dB/oct. VCF, VCA, VC pan Chip. ($49.99)
Full set of 51 pushbuttons front panel tact switches for ENSONIQ ESQ-1 / SQ-80 ($36.28)
Ensoniq ESQ-1 SQ-80 Original Display Bezel. Good Condition ! ($29)
Ensoniq ESQ-M Digital Wave Rackmount Synthesizer Module w/ SQ80 Upgrade Kit || ESQM SQ-80 Hybrid ($950)
Ensoniq SQ-80 / ESQ-1 / VFX SD / SQ2 Volume & Data Slider Replacement Kit by Bassmobile ($22)
Ensoniq SQ-80 v 1.8 OS EPROM Firmware Upgrade + [Hidden Waves enabled] for SQ80 ($17.56)
Ensonic SQ 80 Manual 205 Pages Xerox 1990s White ($35)
Ensoniq ESQ-1 / SQ-80 Replacement Volume / Data Slider Cap ($12)
Ensoniq FSW-1 foot switch ESQ-1 SQ-80 TS-10 SD-1 ASR ($100)
Ensoniq SQ-80 Patch Bank Disk includes 1,200 Unique Patches by Bassmobile ($14.99)
ensoniq eeprom e2 ram cartridge for the ESQ-1 and SQ-80 ($100)
Slide potentiometer For Ensoniq Esq-1 Esq-m Sq-80 volume or data Slider ($10.96)
Ensoniq Manual Brochure Transoniq Hacker Magazine ASR10 ESQ1 SQ80 EPS16+ 80s Patches ($75)
Ensoniq - ESQ1 , ESQM . SQ80 . SD-1 - Battery ($13.99)
Ensoniq 1280 Sound Cartridge ROM SQ80, ESQ1, ESQM ($121.25)
Ensoniq - ESQ1, Esqm , SQ80, SD-1, Vfx-Sd - Battery Holder replacement Fix ($13.16)
Ensoniq ESQ1,SQ80, VFX,VFXSD1, TS10, TS12 DISPLAY ($53.96)
Ensoniq SQ-80M Eprom Upgrade Latest OS Version 1.3 Update SQ80M ($21.97)
☆NEW☆ 64-IN-1 (5120-Patch) Ensoniq ESQ-1, ESQ-M, SQ-80 Rewritable Cartridge RAM ($209.10)
SynthArk MSP-ESQx for Ensoniq ESQ-1, ESQ-m, SQ-80 ($416)
Ensoniq Hex Wrench for Mirage, ESQ-1, ESQ-M, SQ-80, ASR-X, ASR-X Pro, VFX, VFX-SD, SD-1, more! ($13.65)