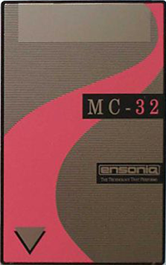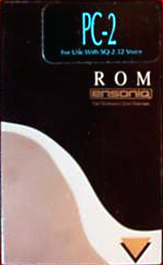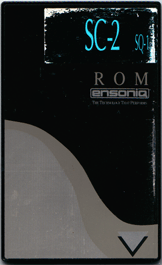 The Ensoniq SQ-2 is a digital synthesizer based on ROM waveforms (a ROMpler). It is patch-compatible with the Ensoniq SQ-1 (the 61-key version with the same engine) and the Ensoniq KS-32.
The Ensoniq MC-32 RAM and SC-2/PC-2 ROM cards work with this synthesizer. The PC-2 will not work with an SQ-1 or SQ-1 Plus.
The SQ-2 contains a set of 9 transwaves that can be used for wave sequencing. Here is the transwave list:
Formant-X
Planet-X
Electro-X
Pulse 1-X
Pulse 2-X
Resonant 1-X
Resonant 2-X
Resonant 3-X
Resonant 4-X
The Ensoniq KS-32 is the follow-up to the SQ-2 that was released about a year later.
There is also a freeware Windows-based editor available for the SQ-2 called KSEdit.
Manual
To our knowledge there wasn't a copy of the SQ-1 Plus / SQ-2 manual available in PDF form, so we scanned our copy. It's available below.
Specifications
Year Released: 1992
Keyboard: 76 keys with velocity
Polyphony: 32 notes
Multitimbral: 24 parts
Preset Patches: 80
User Patches: 80
ROM: 3MB (167 waveforms) at 16-bit. 1MB piano, 2MB other sounds
Sequencer Resolution: 96 PPQN
Effects: 24-bit Digital Effects
Dimensions: 123.8 cm x 34 cm x 13 cm
Weight: 13.6 kg
Latest OS Version: 1.2
Latest OS Version For SQ-2/32: 2.03
Patch Memories: 180 (80 Preset, 80 Internal, 20 Drum Kits). Memory card adds two banks of 80.
Waveform Memory: 120+ Waveforms (Manual says 121 on page 5-2 and 124 on page 5-11).
Sequencer: 16 Tracks, 9000 Notes, 70 Sequences (Expandable to 58,000 Notes with SQX-70).
User Demo Videos
Rating
Sound Samples
WAV samples are available on freewavesamples.com.
File Downloads
Ensoniq SQ-1 Plus and SQ-2 Manual
KSEdit for Ensoniq SQ Synths (Windows Freeware Works with Ensoniq KS-32, SQ-1, SQ-2, and SQ-R)
Items for Sale on Reverb
Ensoniq SQ-2 Digital Synthesizer New Battery LED Slider!!! Ac Cord Included ($399)
Ensoniq SQ-2 Digital Synthesizer ($290)
Ensoniq SQ-2 Digital Synthesizer As-Is (backup battery low) ($199.99)
Ensoniq SQ-2 OS update ROM firmware set kit ($19.99)
Ensoniq SQX-70 sequencer expansion memory upgrade kit TS-10, TS-12, SD-1, VFX-sd, KS-32, SQ-1, SQ-2 ($30)
Ensoniq SQX-70 sequencer expansion memory upgrade kit TS-10, TS-12, SD-1, VFX-sd, KS-32, SQ-1, SQ-2 ($28.68)
Ensoniq Musician's Manual SQ-1 Plus SQ-2 Personal Music Studio Book ($19.99)
Ensoniq SQ2 1990 ($300)