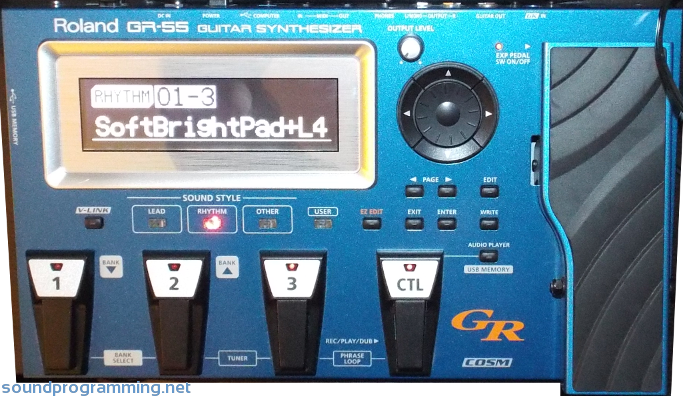 The GR-55 is a guitar synthesizer that includes a wide variety of sounds. Not only does it feature a good selection of synthesizer sounds, the onboard COSM effect modeling gives it the ability to create some sounds similar to V-Guitar systems like the VG-88, but it isn't a full V-Guitar system. It is the follow-up to the Roland GR-33 guitar synthesizer.
Some of the factory patches are musically unusable and only exist to demonstrate the capabilities of the device. For example, the patch "Comedian" is a laughter sample transitioning into applause. That is not something likely to be useful, but it is good for a "wow, a guitar can actually do that!?" moment.
The original GR-55 shipped with 360 factory patches (270 guitar, 90 bass) and 297 user patch memories. The 1.50 firmware update expands the factory patches to 468 (360 guitar, 108 bass).
Specifications
Year Released: 2011
Preset Patches: 468
User Patches: 297
ROM: 910 waveforms
Effects: multi-effects (20 types), preamp (42 types), modulation (14 types), chorus (7 types), delay (5 types), reverb (4 types), EQ
Screen: 260 x 64 pixel LCD
Power Consumption: 9V, 700 mA
Weight: 3.3 kg
Dimensions: 405 mm x 244 mm x 106 mm
User Demo Videos
Rating
File Downloads
Items for Sale on Reverb
Roland GR-55 S-BK Black Guitar Modelling Synth with out Pickup ($622.91)
Roland GR-55 GK BK ($698.62)
Roland GR-55GK-BK Guitar Synthesizer W/ GK-3 Divided Pickup, Black ($799.99)
Roland GR-55S BK ($581.99)
Roland GR-55S-BK Black ($608.82)
Roland GR-55 2018 + Roland GK3B and Cable ($524.84)
Roland GR-55 Guitar Synthesizer - GR-55S-BK ($699.99)
Fender Stratocaster Roland GC-1, Includes Roland GR-55 COSM Synth ($1,725)
Roland GR-55 Guitar Synthesizer ($431.54)
Roland GR-55 GK-BK guitar synthesizer w/ GK3 pickup ($799)
Roland GR-55 Guitar Synthesizer Black With GK-3 Divided Pickup ($699)
Roland GR-55 Guitar Synthesizer with GK-3 Pickup Black ($799)
Roland GR-55 2010's blue ($523.68)
Roland GR-55 Guitar Synth - Black - Without GK-3 Pickup ($699.99)
Roland GR-55 guitar synthetiser ($487.52)
Roland GR-55 Guitar Synthesizer, Black ($699.99)
BOSS Roland GR-55 guitar synth synthesizer pedal modeler with GK-3 pickup ($762.03)
Used Roland GR-55 Guitar Synthesizer ($599.95)
Roland GR-55 Guitar Synthesizer ($565.69)
Roland GR-55 Guitar Synthesiser ($423.57)
Roland GR-55 Guitar Synthesizer ($499.99)
Roland GR-55 Guitar Effects Synthesizer GK-3 Pickup + Mogami Cable + MIDI Cable ($799.99)
Roland GR-55 Blue ($500)
Roland GR-55 Guitar Synthesizer with GK-3 Divided Pickup - Black ($626.41)
Roland GR-55GK BK ($698.62)
ROLAND GR55GK Guitar Synth + GK3 Pickup Esafonico ($768.60)
Roland GR-55 GK Guitar Synthesizer ($698.62)
Roland GR-55 Guitar Synthesizer ($500)
RMC OPT-01 MKII subsonic filter module for Roland GR-55 ($215)
Roland GR-55 Guitar Synthesizer, Black, GR-55GKBK, with GK Pickup ($799.99)
Roland GR-55 Guitar Synthesizer with GK-3 Pickup - Black ($799.99)
Roland GR-55 Guitar Synthesizer with GK-3 Divided Pickup - Black ($799.99)
Roland GR-55 Guitar Synthesizer Regular Black With GK-3 Divided Pickup ($743.99)
Roland GR-55 Guitar Synthesizer w/GK-3 pickup ($799.99)
Roland GR-55 Guitar Synthesizer with GK-3 Pickup - Black ($799.99)
Roland GR-55 Guitar Synthesizer ($500)
Roland GR-55 with Anvil Hardshell Case ($725)
Roland GR-55 Guitar Synthesizer with Power Supply! ($449)
Roland GR-55 Guitar Synth with GK-3 Pickup ($799.99)
Roland GR-55 Guitar Synthesizer (USED) ($499.95)
Roland GR-55 2010s Black / Silver ($635.18)
Roland GR-55 Guitar Effects Synthesizer GK-3 Pickup + Mogami Cable + MIDI Cable ($799.99)
Roland GR-55S Guitar Synthesizer ($499)
Roland GR-55 Guitar Synthesizer Without Pickup ($699.99)
Roland GR-55-BK Guitar Synthesizer with GK-3 Pickup ($799.99)
Roland US-20 Unit Selector for GK Series GR-55 ($299.99)
Vintage Circa 1981 Roland GR-300 Guitar Synthesizer Blue ($599)
Roland GR-55 Guitar Synth Black With GK-3 Pickup (GR-55GK-BK) with Fre ($799.99)
Roland GR-55 Guitar Synthesizer with GK-3 Pickup - Black ($624)
Roland GR-55S-BK Guitar Synthesizer No Pickup ($699.99)