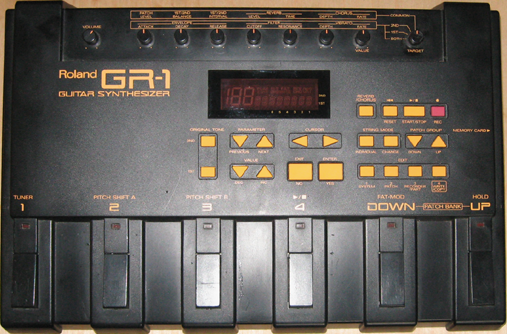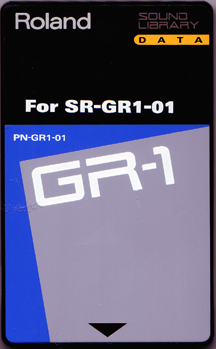 The GR-1 uses a 13-pin connector and is compatible with the Roland GK-2A, Yamaha G1D, or other similar hexaphonic guitar synth pickups. Guitars with built in synthesizer pickups like the Brian Moore i8.13, Godin LGX-SA, and Roland-ready Stratocaster are also compatible.
The pitch tracking circuitry in the GR-1 is the same as those used in the GR-09, GR-50, GM-70, and GI-10 and note response will be at the same speed as in those units.
It uses an external 9-volt power supply.
Factory Reset:
(CAUTION: All USER information will be lost. Be sure to back up any information you wish to keep.)
1. Power on while holding WRITE/COPY. The display will show "ALL INIT" and "OK?" flashing.
2. Release WRITE/COPY and then press YES. "WAIT" will show in the display for a few seconds. When the Factory reset is complete, "11RHODES" will show in the display.
Expansion
The GR-1 has 200 built-in waveforms and another 200 are available via the PN-GR1-01 expansion board, which comes with the SR-GR1-01 memory card.
SR-GR1-01 Expansion Board Demo Song (192 Kbit MP3, 3MB)
Specifications
Year Released: 1992
Polyphony: 24 notes
Multitimbral: 4 parts
User Patches: 64
ROM: 200 waveforms (expandable to 400)
Effects: Reverb, Delay, Chorus, Flange
Screen: custom fluorescent display
Weight: 3.2 kg
Dimensions: 426 mm x 290 mm x 70 mm
Sequencer: 2000 Notes
User Demo Videos
Rating
Sound Samples
WAV samples are available on freewavesamples.com.
File Downloads
Items for Sale on Reverb
Roland GR-1 Guitar Synthesizer Floorboard Effects Pedal System Modulator MIDI in/out, Pedal only ($125)
Roland GR-1 Guitar Synthesizer ($250)
Roland GR-1 Expanded 2000 Black ($400)
Roland GR-1 Guitar Synthesizer with AC adapter ($199)
Roland GR-1 Guitar Synthesizer ($139)
Roland GR-1 GUITAR SYNTHESIZER + GK-2 ($291.58)
Roland GR-1 OS v1.04 EPROM Firmware Upgrade KIT / Brand New ROM Update Chip with Service Manual GR1 ($20)
Roland GR-1 - Version 1.04 Firmware OS Update EPROM for GR1 Guitar Synthesizer ($17.44)
Roland GR-1 Synthesizer Pedal & GK-2A Pickup 1990s Black Complete ($219.99)
Boss GR-1 Guitar Synthesizer ($99.99)
Fender Stratocaster Roland GC-1, Includes Roland GR-55 COSM Synth ($1,725)
Roland GR-50 PN-RG50-01 Sound Library No .1 ($65)
5 Roland Space Echo Tape Loops, 1 Meter Long, TL1m, by GRS 2019 ($25.97)
4 GRS Roland Space Echo Tape Loops, 1 Meter Long, X-TRA Long Life, TL1m, 2019 ($23.97)
5 Roland RE-301, RE-501, SRE-555 Chorus Echo Tape Loops, 1 Meter Long, TL1m, by GRS 2019 ($25.97)
Roland 80017A #1 (replacement VCF/VCA chip for Juno-106, HS-60, MKS-30, MKS-7, GR-300, etc) ($45)
Roland GM-70 Guitar to MIDI converter with GK-1 Pickup GR ($199)
Dean Razorback Black with Roland GK-2a pickup installed plus Roland GR-1 synthesizer ($550)