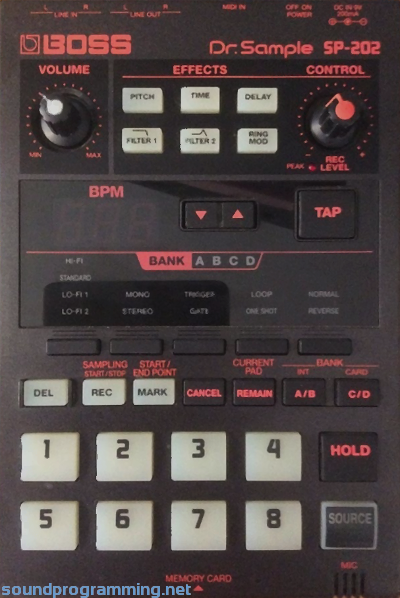 The SP-202 Dr. Sample was followed by the Boss SP-303.
Specifications
Year Released: 2000
Standard Sample Memory: 16 samples, 32 to 260 seconds depending on sample rate.
Max Sample Memory: 31.25 kHz
Bit Depth: 16
Max Sample Rate: 31.25kHz, 15.63kHz, 7.81kHz, and 3.91kHz
Min Sample Rate: 3.91 kHz
Sample Time at Max Rate: 32 seconds
Polyphony: 4 notes
User Patches: 16
Screen: 3-character 7-segment LED
Dimensions: 145 mm x 221 mm x 83 mm
Weight: 0.95 kg
This is a tabletop unit.
User Demo Videos
Rating
File Downloads
Items for Sale on Reverb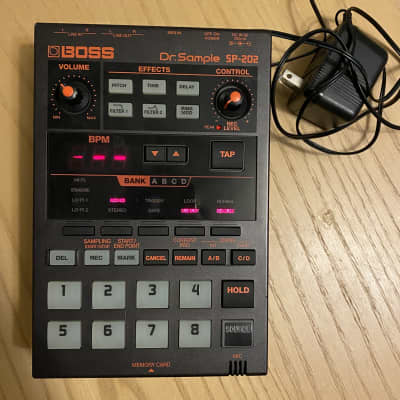 Boss SP-202 Dr. Sample Sampler 1998 - 2001 *Clean & Excellent Working Condition ($400)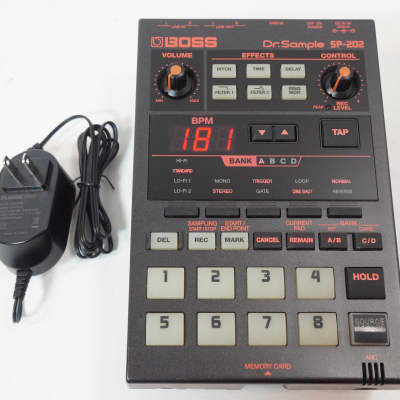 BOSS SP-202 Roland Dr. Sample Sampler Looper w/ 100-240V PSU ($249.99)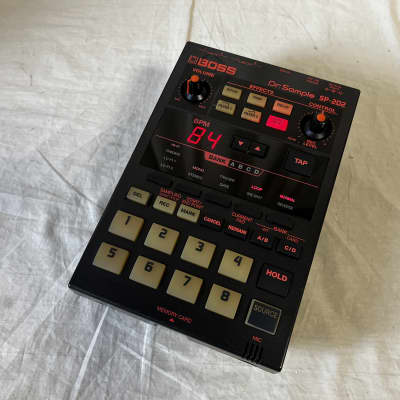 BOSS SP-202 Dr. Sample Sampler Looper Drum Machine Roland sp202 ! ($280)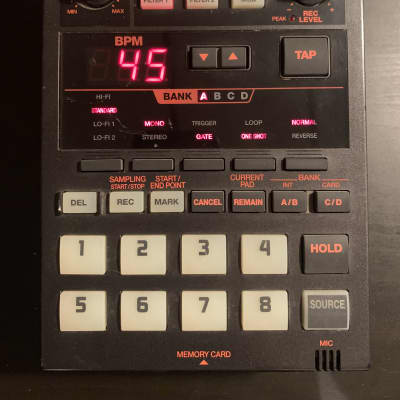 Boss SP-202 Dr. Sample 1998 - 2001 - Black ($350)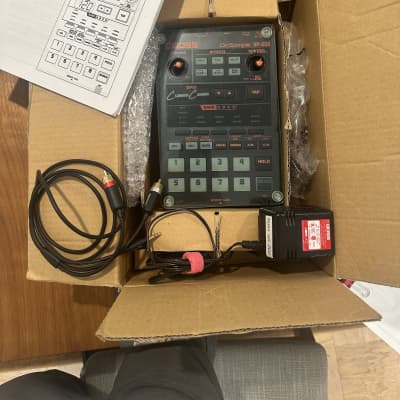 Boss SP-202 Dr. Sample w/ 2MB Smart Media Card, Curry Cases Acrylic Cover, original Power Supply and original Box ($399)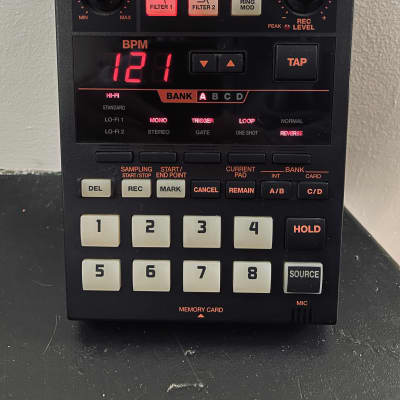 Boss SP-202 Dr. Sample 1998 - 2001 - Black ($399)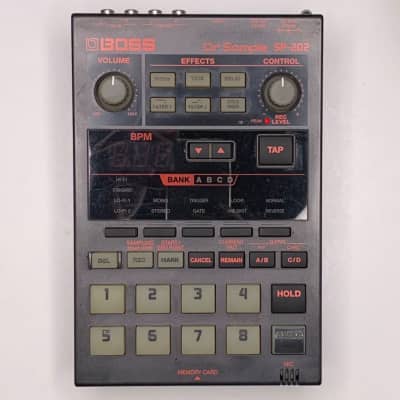 Boss SP-202 Dr. Sample Sampler 1998 - 2001 ($360.01)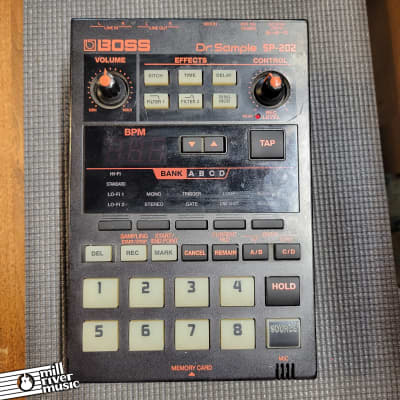 Roland Dr. Sample SP-202 Sampler Used ($425)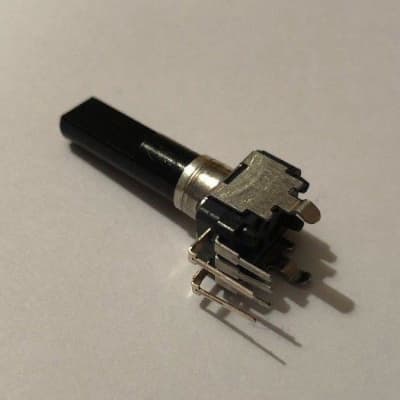 Roland Boss SP 202 DR 202 spare Part Volume Potentiometer Replacement ($6.17)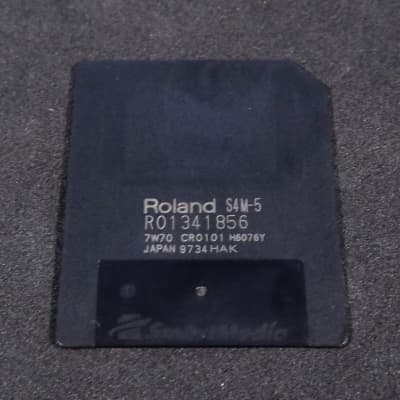 Boss SP-202 parts - 4Meg 5 Volt Smartmedia card ($174.99)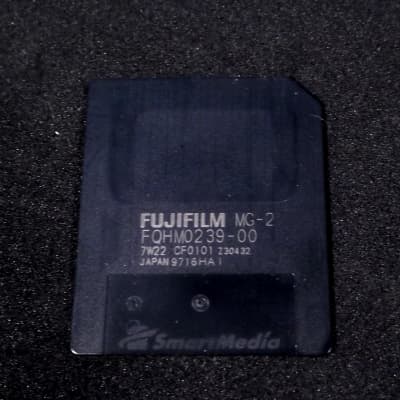 Boss SP-202 parts - 2Meg 5 Volt Smartmedia card ($99.99)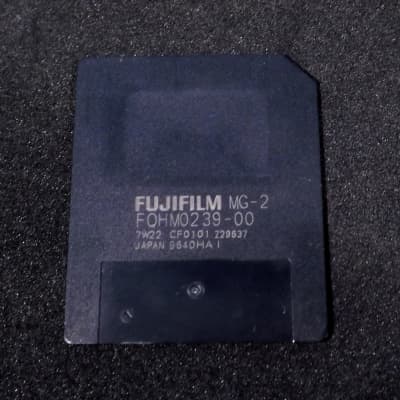 Boss SP-202 parts - 2Meg 5 Volt Smartmedia card ($99.99)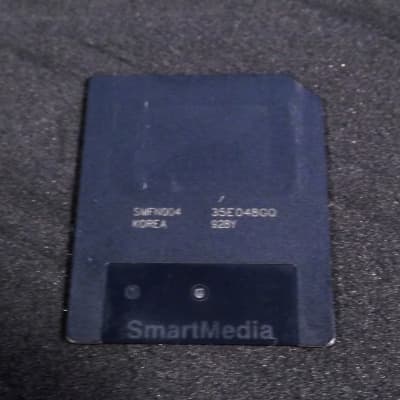 Boss SP-202 parts - 4Meg 5 Volt Smartmedia card ($149.99)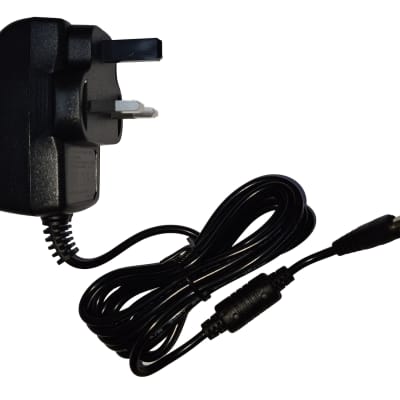 Power Supply Replacement for Boss Sp-202 Sp202 Adapter 9V ($14.22)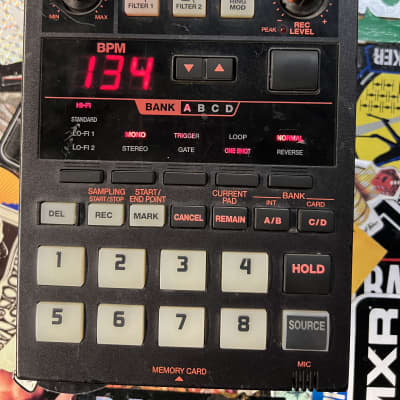 Boss Dr. Sample SP-202 ($439)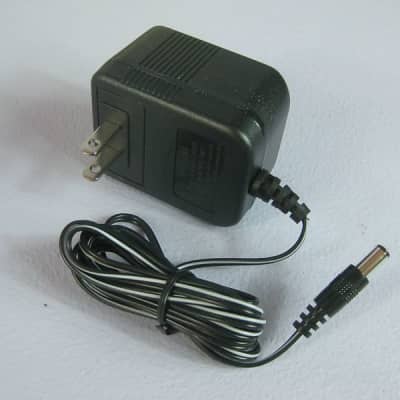 Jameco Power supply Roland AX-7 MC-303 Boss SP-202 compatible 9 Volt 9VDC 1000mA AC Adapter ($32.95)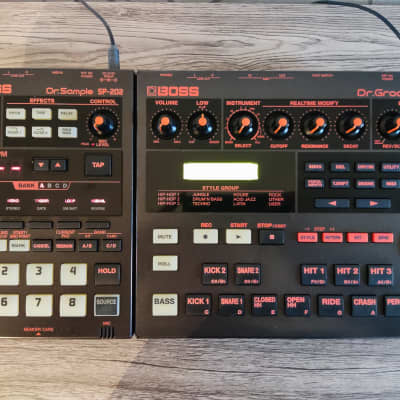 Boss DR-202 Dr. Groove + SP-202 Dr. Sample ($731.27)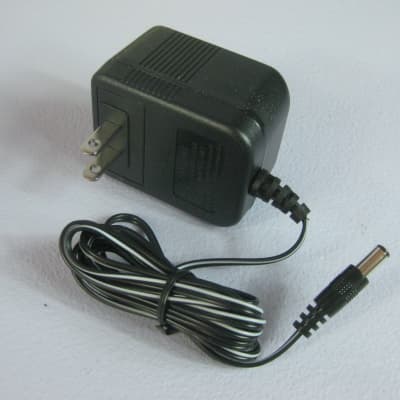 Power supply Roland AX-7 MC-303 Boss SP-202 compatible 9 Volt 9VDC 1000mA 1AMP AC Adapter ($31.95)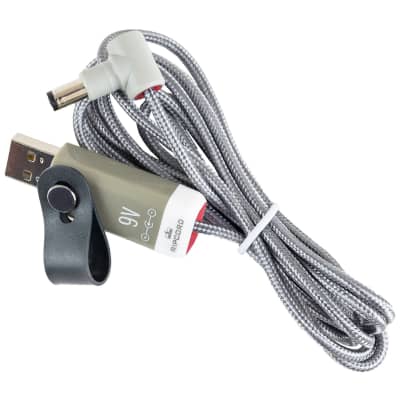 Ripcord USB to 9V Boss SP-202 Sampler-compatible power cable by myVolts ($22.49)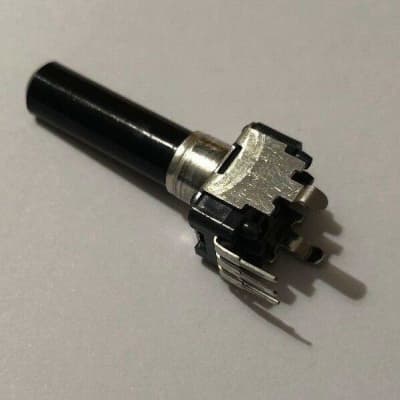 Roland Boss SP DR 202 Spare Part Control FX Potentiometer Replacement ($6.17)