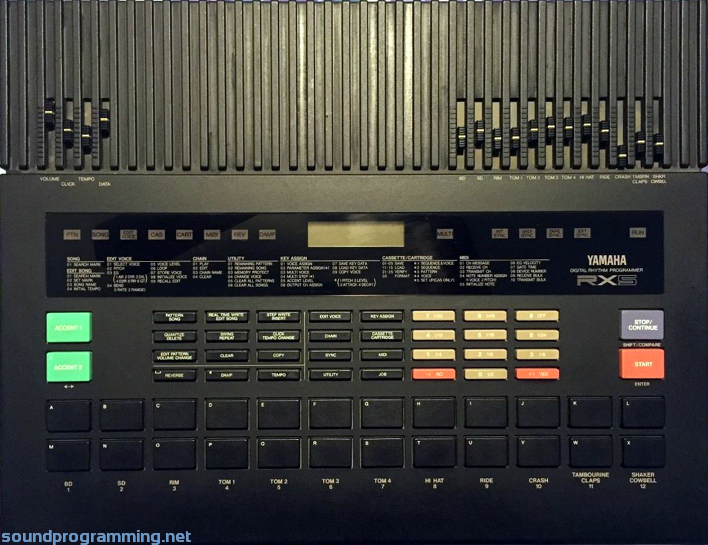 The RX5 is a 12-bit sample-based drum machine.
It shipped with an additional WRC-01 waveform cartridge containing 28 samples and could also be expanded with the following cartridges:
WRC-02 Jazz/Fusion
WRC-03 Heavy Metal
WRC-04 Effects
With a built-in 12-channel mixer and adjustable pitch, envelope, and velocity, the RX5 is capable of a good variety of sounds despite its limited sample set. It can also play samples in reverse.
Specifications
Year Released: 1986
MSRP: $1200
Number of Pads: 24
Polyphony: 16 notes
User Patterns: 100
User Songs: 20
ROM Size: 24 samples at 12-bit resolution
Outputs: 1/4" stereo outputs plus 12 individual 1/4" outputs
Screen: 16x2 character LCD
Weight: 8.3 lbs.
Dimensions: 17 in. x 13 in. x 3.4 in.
User Demo Videos
Rating
File Downloads
Items for Sale on Reverb
Yamaha RX5 Digital Rhythm Programmer Drum Machine ($318.37)
Yamaha RX5 w/ gligli mod (rx5usb) ($507.04)
Yamaha RX5 ROM waveform data cartridge ($45)
Yamaha Ram4 DX7ll-D/FD TX802 RX5/7 ($70.75)
Yamaha RX-550 Stereo Receiver ($99.99)