Drum Machines ⇝ Roland ⇝ Roland Boss DR-5 Dr. Rhythm Section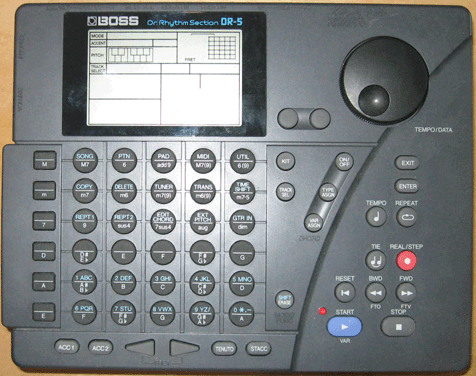 The Boss DR-5 is a drum machine with backing accompaniment and can be used to sequence entire songs. Its design is geared toward guitarists who want to add drum, bass, and keyboard parts to their songs.
It has a guitar input with a built-in tuner and amp simulator.
To reinitialize a DR-5 to factory settings, hold down the two FRET SHIFT keys and then turn the power on. Then let go of the FRET SHIFT keys. You should see "System Init?" on the screen. Press ENTER to reinitialize the device, or EXIT to cancel.
There is a freeware software editor for Windows available from Rubicon Systems.
Specifications
Year Released: 1994
Number of Pads: 36
Polyphony: 19 notes
Preset Patterns: 200
User Patterns: 200
User Songs: 20
Preset Drumkits: 48
User Drumkits: 16
Tempo Range: 40 - 250 BPM
Sequencer Resolution: 48 PPQN
ROM Size: 256 waveforms at 16-bit resolution
Screen: custom LCD
Weight: 0.93 kg
Dimensions: 226 mm x 180 mm x 45 mm
The DR-5 can be powered with six AA batteries.
User Demo Videos
Rating
File Downloads
Items for Sale on Reverb
Boss DR-5 Dr. Rhythm Section Drum Machine ($114.62)
Boss DR-5 Dr. Rhythm Section Drum Machine ($177.05)
Boss DR-5 Dr. Rhythm Section Drum Machine ($122.65)
Boss DR-5 Dr. Rhythm Section Drum Machine ($147.16)
Boss DR-5 Dr. Rhythm Section (used) ($162.71)
BOSS DR-5 Dr. Rhythm Section drum machine 90s composer mint! ($200)
Boss DR-5 Dr. Rhythm Black ($200)
Boss DR-5 Dr. Rhythm Section Drum Machine ($200)
Boss DR-5 Dr. Rhythm Section Drum Machine ($139)
Boss DR-5 Dr. Rhythm w/ Power Supply ($140)
Boss DR-5 Dr. Rhythm Section Drum Machine ($98)
Boss DR-5 Drum Machine ($134.99)
Boss DR-5 Drum Machine ($134.99)
Boss DR-5 Dr. Rhythm Section Drum Machine with Power Supply ($199.99)
Boss- DR-5 Dr. Rhythm Section - Encoder knob ($10.90)
LASE Replacement Boss BRC-120 Power Supply 14v 800mA BOSS for DR-770, SP-505,VF1 ( FX:BRC-120 ) ($29.99)
Boss DR-550 Dr Rhythm Vintage Drum Machine ($132.37)
Boss DR-550 Dr. Rhythm ($111.37)
Boss Replacement Input Knob for Boss DR-5, DR-660, DR-770 ($14.99)
Boss Replacement Fader Knob for for Boss DR-5, DR-660, DR-770 ($8.99)
Boss BRC-120 Ac Adapter 14 Volt 800 mA For DR-880,SP-505,VF-1,GR-33/20,JS-5,GT-3/6/6B/8, AF-70, & More ($39.99)
Boss Driver DB-5 Mid 1970's ($625.49)
BOSS DR-880 Drumcomputer Drummaschine Amp Modeler +Fast Neuwertig+ 1.5J Garantie ($512.68)
BOSS DR-880 Drumcomputer Drummaschine Amp Modeler + Neuwertig + 1.5J Garantie ($524.60)
Roland Boss AC Adapter for DR-770/880, SP-505, VF-1, GR-33, GR-20, JS-5, GS-10, GT-3, GT-6, GT-6B, GT-8, GX-700 ($39.99)
BOSS DR-880 Drumcomputer Drummaschine Amp Modeler + Wie Neu + 1.5J Garantie ($572.29)