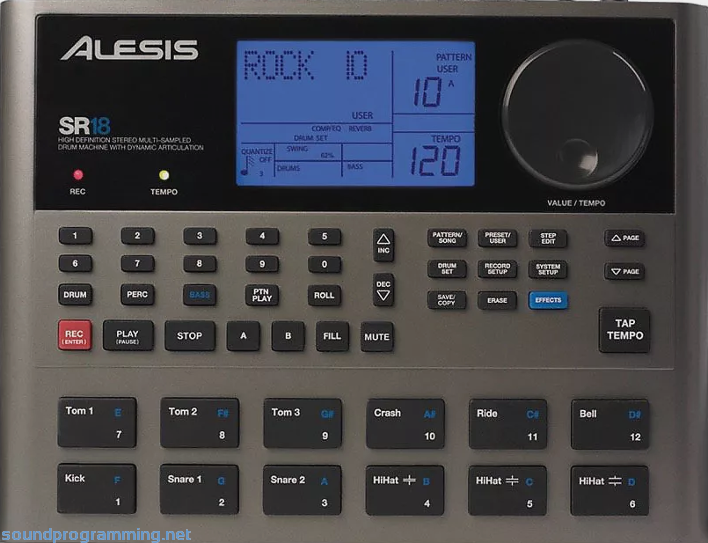 The SR-18 is the follow-up to the popular Alesis SR-16 drum machine. It has a much larger sound set, more than doubling that of the SR-16.
Its pads can register 8 different volume levels, but it can receive 127 levels via MIDI.
The SR-18 can be powered with a 12 volt AC adapter or with six AA batteries.
Specifications
Year Released: 2009
Number of Pads: 12
Polyphony: 32 notes
Preset Patterns: 100
User Patterns: 100
User Songs: 100
Preset Drumkits: 100
User Drumkits: 100
Sequencer Memory: 150000 notes
ROM Size: 32MB (500 drum waveforms, 50 bass waveforms at 16-bit resolution)
Effects: reverb, compressor, EQ
User Demo Videos
Rating
File Downloads
Items for Sale on Reverb
Alesis SR18 Drum Machine SR-18 ($316.62)
Alesis SR-18 Drum Machine ($319.75)
Alesis SR-18 2014 grey ($189)
Alesis SR-18 High Definition Drum machine 2017 ($269.95)
Alesis SR-18 ($200)
Alesis SR-18 upper casing ($9.99)
Alesis SR-18 Portable Drum Machine ($259)
Alesis SR18 Drum Machine with Effects Engine ($399)
Alesis SR18 ($140)
Alesis SR18 ($259.99)
Alesis SR18 drum machine ($245.62)
Alesis SR18 Portable Drum Machine *BRAND NEW* ($259)
Alesis SR18 Pro Drum Machine ($304.47)
Alesis SR18 Drum Machine with Effects Engine ($259)
Alesis SR18 ($259)
Alesis SR18 Drum Machine *Authorised UK Dealer* ($318.37)
Alesis SR18 Drum Machine with Effects Engine ($169)
Alesis SR18 Drum Machine ($174.99)
Alesis SR 18 PROFESSIONAL DRUM MACHINE ($259.99)
Alesis SR18 Drum Machine ($249)