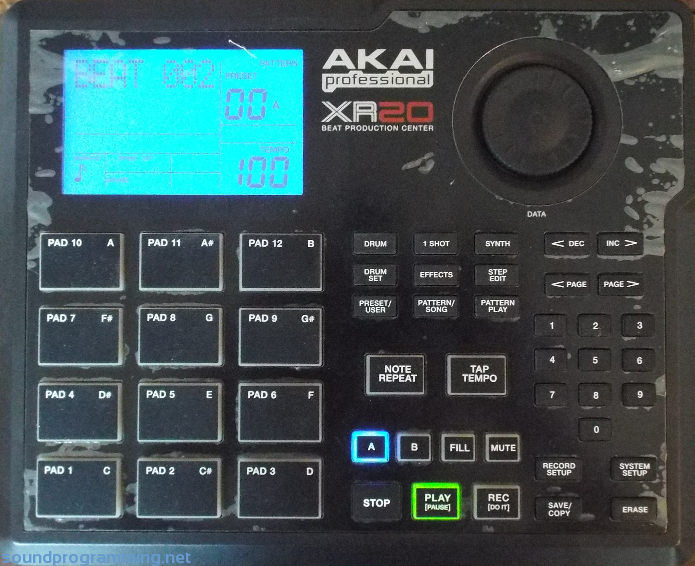 The Akai XR20 is a different kind of drum machine. Roland has rock and dance covered. The Boss DR-880 is arguably the best drum machine available for hard rock enthusiasts and those who like "music with a guitar in it". Starting with the TR series and continuing on to their modern grooveboxes, Roland also has a lock on dance grooves. Anything you can't get from Roland in that area can be filled in with Yamaha gear.
For those who like jazz, groove, R&B, and funk music, Roland's coverage is less excellent. That's why the XR20 is an important machine. From the presets it's clear what type of music this is meant for. It's hard to listen to this machine without wanting to bob your head, grab a bass guitar, or play some electric piano grooves.
Many of the presets range from 80 to 100 beats per minute and include bass lines, synth lines, orchestra hits, vocal samples, or other accents to build a solid backing orchestration. This coupled with a microphone input make it the perfect practice tool for aspiring lyrical poets. A few of the beats might be almost Casio-cheesy and nobody is going to use the presets to create a hit song, but spending time practicing with the XR20 can only make you a better musician.
The biggest flaw with the device is the limited velocity articulation with the pads. There are very few velocity steps, and the device defaults reduce that even further. That can make it a challenge to create "humanized" grooves.
Years from now people might complain that the XR20 sounds dated, but it's extremely rare for a piece of gear to have presets that could be considered "inspiring", but that is definitely the case with the XR20.
Specifications
Year Released: 2008
MSRP: $499
Number of Pads: 12
Polyphony: 32 notes
Preset Patterns: 100
User Patterns: 100
User Songs: 100
Preset Drumkits: 100
User Drumkits: 100
Tempo Range: 30 - 300 BPM
Sequencer Memory: 150000 notes
Sequencer Resolution: 96 PPQN
ROM Size: 32MB - 720 samples (414 drums, 316 instruments and fills)
Effects: reverb, compressor, EQ
MIDI Connections: In, Out
User Demo Videos
Rating
File Downloads
Items for Sale on Reverb
Akai Akai Professional XR20 Beat Production Center ($185)
Akai XR20 Beat Production Center ($299)
Akai Professional XR20 Drum Machine ($299)
Akai XR20 Beat Production Center 2015 Black / Blue -- Akai Dealer ($299.98)
Akai XR20 Beat Production Station Sound Library ($299)
Akai XR20 Drum Machine ($301.28)
Akai XR20 Beat Production Station ($299.99)
Akai XR20 Drum machine ($269)
Akai XR20 XR-20 XR 20 Beat Production DRUM MACHINE - NEW - PERFECT CIRCUIT ($299)
Akai XR20 Drum Machine Groovebox with 700 sounds ($364.55)
Akai XR20 Beat Production Station ($290.50)
Akai Professional XR20 Beat Production Center, Very Good, USED! #43298 ($229)
Akai XR20 Beat Production Station ($299)
Akai XR20 XR 20 Beat Production Station ($257.99)
Akai XR20 Power Adapter ($29.99)
Boîte à rythme Akai XR20 ($364.55)