Drum Machines ⇝ Roland ⇝ Roland Boss DR-5 Dr. Rhythm Section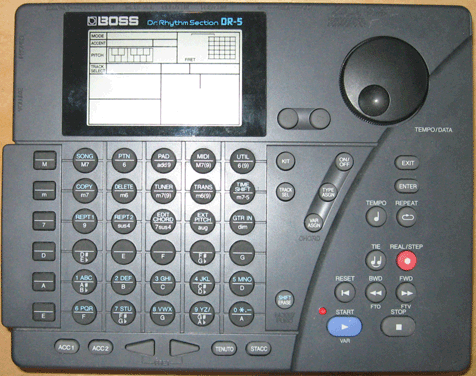 The DR-5 is a drum machine with backing accompaniment and can be used to sequence entire songs. Its design is geared toward guitarists who want to add drum, bass, and keyboard parts to their songs.
Specifications
Year Released: 1994
Number of Pads: 36
Polyphony: 19 notes
Preset Patterns: 200
User Patterns: 200
User Songs: 20
Preset Drumkits: 48
User Drumkits: 16
Tempo Range: 40 - 250 BPM
Sequencer Resolution: 48 PPQN
ROM Size: 256 waveforms at 16-bit resolution
Screen: custom LCD
Weight: 0.93 kg
Dimensions: 226 mm x 180 mm x 45 mm
The DR-5 can be powered with six AA batteries.
User Demo Videos
File Downloads